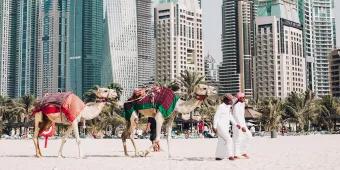 ...holiday planning starts here.
Planning a trip to Dubai and not sure when the best time to visit is?
Weather
The great thing about Dubai is that its desert climate means that it's hot all year round, with temperatures rarely falling below the mid 20's. It's an amazing destination for a bit of winter sun which, let's face it, we could all do with a bit of in the bleak British winter months!
The peak season for Dubai runs from February to April, which is when temperatures generally remain between 25c and 32c – the perfect temperature to explore the city and enjoy the beach on the same holiday. If you prefer the quieter season, the height of summer is a great time to go for less crowds but, be warned, temperatures can reach up to 43c so you'll want to have a hotel pool or tickets to a Dubai water park to help cool you down!
Events
Dubai is home to dozens of unique festivals and events for sports, arts and culinary fans. Kicking off with sporting events, the year begins with the Dubai Marathon in January/February followed by the most popular golfing event in the UAE, the Dubai Desert Classic and the Dubai Tennis Championships in February/March.  If Rugby is more your game, the Rugby Sevens descends on Dubai in November/December and is a hugely popular and fun event for Rugby fans and newbies to the sport alike.
Art lovers should visit in March/April time to be able to attend the Art Dubai fair and enjoy an enigmatic mix of artists', curators and art lovers, as well as a celebration of local art and artists, while film lovers could attend the Dubai International Film Festival in November/December.
Price
Flight prices from the UK to Dubai are consistent throughout the year, only starting to rise in June and July. Visiting over Christmas will also set you back slightly more, but it's a price we'd be willing to pay to escape the snow!
Dubai attraction tickets are also generally not seasonal as the weather is the same throughout the year, so you can visit the Burj Khalifa or pay a visit to Wild Wadi Waterpark throughout the year for one great price.
The good news is that Dubai is fantastic all year round and the only real factor you need to consider is how much sunshine you think you can take!
To browse the attractions you could be enjoying in Dubai, click here.