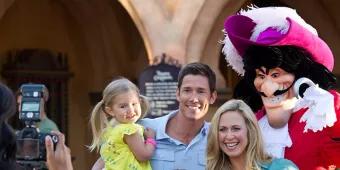 Create magical memories on your 2021/2022 Disney trip...
My Memory Maker photo package for all adult tickets booked for travel in 2019/2020!
My Memory Maker is your family's opportunity to make sure you get some wonderful family photos at Disney PhotoPass locations as well as select attractions and dining locations.
Pose for those iconic photos in front of Cinderella's Castle or of your children's first meeting with Mickey and Minnie without having to worry about getting the camera out.  Your photos are linked to your Disney account, so you can download them right from the Disney PhotoPass site and add your favourites straight to your cart.
Download as many photos as you want as many times as you like! You can even share your photos with family and friends using the Disney Family & Friends list.
My Memory Maker normally comes in at $169, so it's a fabulous offer that will add a lot of value to your trip. Not having to hold a camera all the time is a great bonus, and means you won't need to leave it with someone as you head on the rides. Even better, it means you will have a great selection of professionally taken photos to choose from and memories to cherish forever. 
Book your Disney tickets for a magical holiday at Walt Disney World in 2021 or 2022.
Like this post? You might also like: