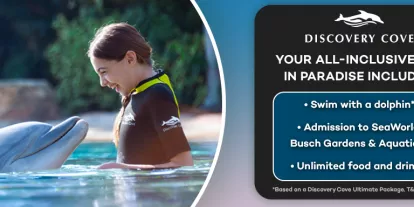 Experience An All-Inclusive Day At Discovery Cove
Tickets included in this offer
Added Happiness! Experience an all-inclusive day at Discovery Cove
Explore a lush landscape of rocky lagoons, waterfalls and pristine sandy beaches. You'll feel as if you've stumbled upon an undiscovered tropical island. Snorkel through The Grand Reef® teeming with thousands of colourful fish and rays. Wade and float in Freshwater Oasis®, and gaze at the otters at play. Let colourful birds eat out of your hands. For a dream come true, step into Dolphin Lagoon™ to be greeted by a beautiful bottlenose dolphin. You can move at your own pace through this sun-soaked oasis, doing as much as you want, or as little as you'd like.
Terms and Conditions:
People interested in also viewed...
Back to offers