Valentine 's Day is just around the corner.
Love is in the air once again!
This day only comes once a year so why don't you treat your special someone to something spectacular? I'm thinking Paris because it's one of the most romantic cities on Earth.
I'm sure everybody will agree with me on this.
Love is literally in the Parisian atmosphere. The romantic place will surely rekindle your love and infatuation with each other because you'll be both feel special that you're together in one of the most captivating places ever created by humanity.
You'll never run out of things and places to visit in the beautiful Paris. With centuries of welcoming tourists from every corner of the world, Paris truly became a melting pot of culture, tradition, cuisines, art, and Science. Whether you're visiting for a couple of days or a week, your to-do list must include these things – tour, shop, drink, and dine. By "dine", I mean eating at the most romantic restaurants in the city.
1.    Lapérouse
Everything in this room is simply elegant. Photo from luxeaboire.com
Situated at 51 Quai des Grands Augustins in the 6th arrondissement of Paris is the world- renowned quaint Lapérouse restaurant which stood there since 1776.
I'm pretty sure you'll fall in love with the golden lights, grand murals, and vintage-looking interior design of the place.
You'll be surprised to know that literary figures such as Victor Hugo and Guy de Maupassant once graced the walls of the diner, along with the royalties of the past era.
The place received a Michelin Star, which makes it a celebrity among fine dining restaurants around the globe.
The restaurant serves an array of gastronomic gourmet cuisines and old local and imported wines. The prices are quite high, but you're paying not just for the food, but for the unique dining experience.
The restaurant is a place to be for couples with its candle-lit tables, fragrant atmosphere, and the overlooking Seine River. You should try their delicious lobster and local wines. C'est Magnifique!
The restaurant opens from 7 PM until midnight. If you're visiting during the peak season, be sure to book in advance.
   Buvette Gastroteque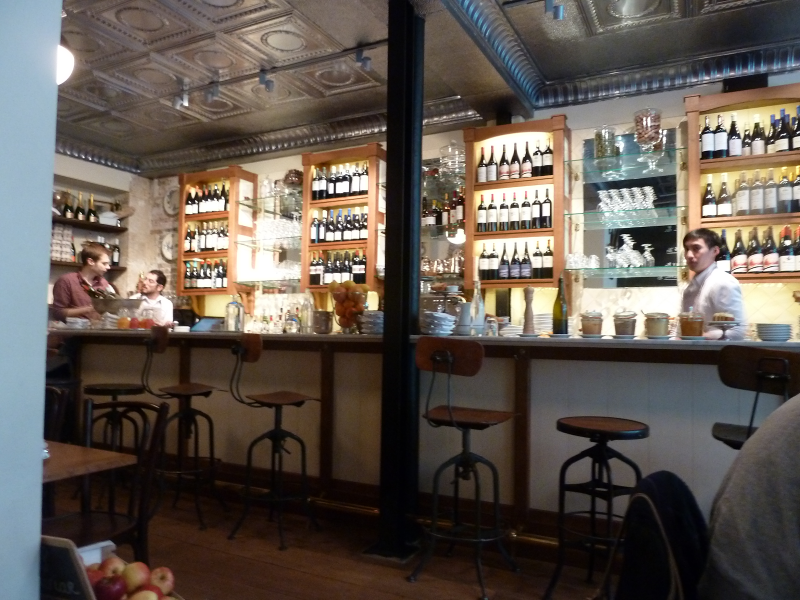 The very diverse wine collection in Buvette is awesome. Photo from johntalbottparis
Another diner serving gastronomic cuisine in our list is the Buvette restaurant located at the off-the-beaten path of 28 rue Henry Monnier, Paris.
The restaurant has American roots brought by its New Yorker owner, thus the affection of the restaurant for wines and a wide range of liquors.
There's nothing fancy about the place – just a well-lit interior, bronze bricks, wooden tables, and an elegant wine bar with a variety of wines listed by region.
If you're out for a late night romantic drink, the Buvette should be your go-to place.
The laid-back look and ambiance of the restaurant give a "chill" feeling, like you can just walk in here with your gym clothes and have the sweetest time drinking with your love.
The simplicity of the place is simply impressive, and the menu is very affordable.
The best picks in this restaurant would be their freshly made ratatouille sandwich, chocolate mousse, and cocktails.
The Buvette doesn't allow online reservations so you can just walk-in anytime. Sometimes the place is crowded but don't despair, wait for a few minutes to be seated. I promise you'll have a satisfying experience!
3.   The Allard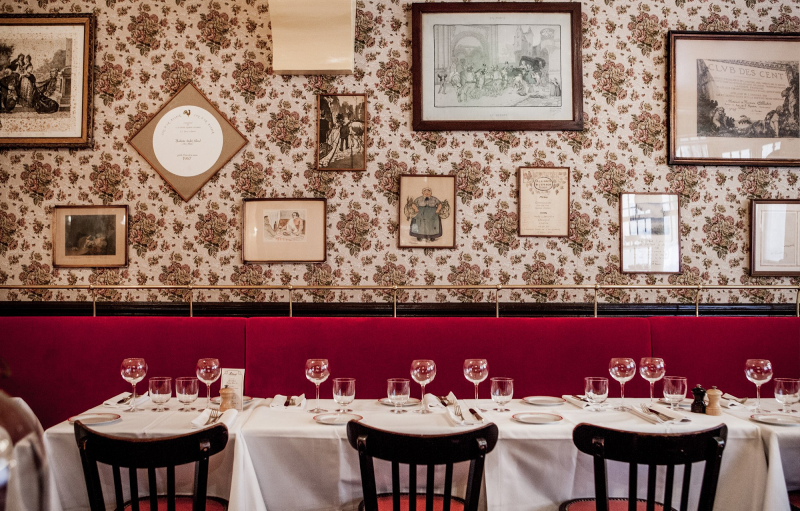 The magnificent interior of the Allard restaurant. Photo from http://www.restaurant-allard.fr/en
If you're a person who has a penchant for storied places, you might want to dine at the Michelin Star awardee, the Allard restaurant stationed at the center of the Saint-Germain-des-Près, Paris.
The Allard has been serving traditional French food for tourists and locals for around 80 years, starting in 1932 when a peasant by the name of Marthe Allard moved to Paris, bringing with her a list of secret family recipes.
The place is a picturesque one – a glossy wooden exterior, a luxe interior, contrasting burgundy curtains, and sleek tables.
Book a table for two and spend a long evening indulging on appetizers like green bean salad, a sumptuous meal of the classic challand duck with olives and a rum savarin with whipped cream to cap off the night.
What's more romantic than an evening of stuffing yourselves? A trip to the restaurant is certainly the best place for lovers to hang out.
   Le Cinq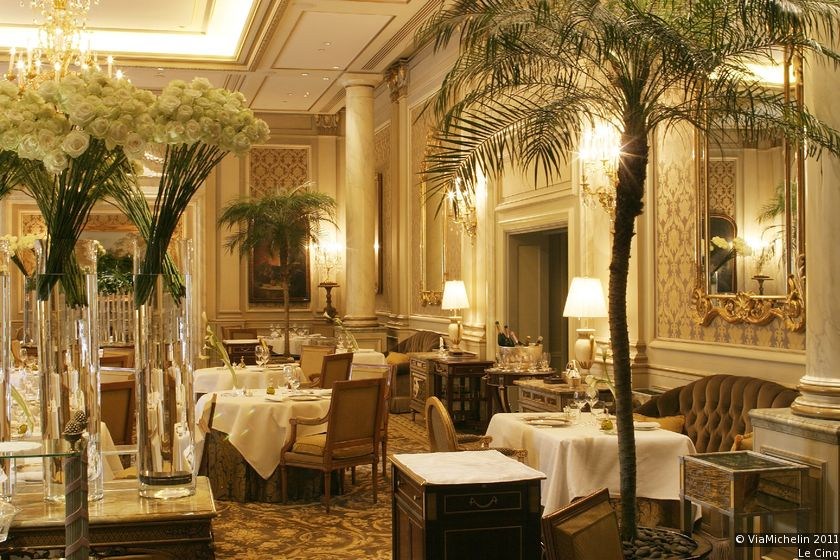 Paris is the absolute home to Michelin-star fine dining restaurants. They are numerous, and it's hard to choose where to dine.
You'll want to go and dine on each of them! But make sure to drop by Le Cinq restaurant at 31 Avenue George V, Paris to top off your Paris vacation.
You'll be in awe upon seeing the elegant restaurant with all its gold wall trimmings, enormous chandeliers, beautiful fresh flowers, golden lamps, and miniature palm trees dotting the entire place.
It certainly is the picture of a classy date.
For foodies, this restaurant is your mecca. You can choose from a variety of modern and traditional French gourmet cuisines such as seafood, steaks, soups, appetizers, cheeses, and desserts. The desserts here are a must-try! You'll be amazed by their many forms and appearances.
The restaurant opens from 7 AM to 10 PM daily. Book early because the place is always swarming with Parisians.
Paris is one of the few places in the world where fine dining prevails. You'll be greeted with gourmet restaurants in every corner of the city. Yes, there are a lot, but not all have that "romantic setting" like the ones we have on the list.
It certainly is a unique and fulfilling experience to dine in Paris because everything in Paris feels out of movie clip – the atmosphere, luscious surroundings, old and new establishments, fashionable people, glimmering streetlights, and especially, the Eiffel Tower. Everything in Paris makes the dining experience one of a kind.
Have a great time in Paris!
Author Bio: Jessica Kim
I am an ultimate travel enthusiast and the founder of 'Justanomadiclife.com'. I am a 26 year old-something, fun, passionate and free-spirited individual who set up 'justanomadiclife' blog as my public diary to document all of my amazing personal travel experiences which hopes to provide answers to your travel questions and (hopefully) inspire you to go places.