Just because you live in London it doesn't mean you can't have a taste of the countryside.
If you fancy donning your hunter wellies and getting some fresh air with the children, a day out at one of London's city farms could make a refreshing change from the park.
Farms are magical places for little ones, and kids' love cute animals.
Dakota Murphey, an independent content writer working with London based nanny and childcare specialist, Harmony at Home, has put together a review of our favourite London farms and some good reasons why you should give it a go.
A farm visit won't only get you out in the fresh air, it will tick the education box too.
Mudchute Farm and Park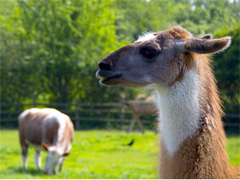 It's a working farm with stables, a kids' nursery and a wide range of educational activities.
There are over 100 animals and fowl, including some rare breeds. As well as horses, ponies, donkeys, llamas and alpacas, there's a pets corner with smaller and cuddlier species too. In addition, there's an aviary with a range of colourful birds from budgies to golden pheasants.
Try horseriding (you'll need to book), and there are pony days during the school holidays for older children, which include stable management lessons and 2 riding sessions.
Take a packed lunch, or there's a café offering home-cooked breakfast and brunches, as well as the usual sandwiches and cakes.
There's a shop selling farm-related accessories, including some items made from farmyard wool. It's an environmental project, so there's no parking. It's a 10-minute walk from the Crossharbour DLR station. It's free entry, but as a charity project, donations are greatly appreciated.
Hackney City Farm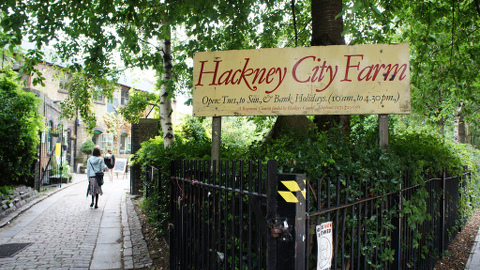 On the site of a former brewery, Hackney City Farm is a hub for the neighbourhood.
Offering a veg box scheme for locals it has a real community vibe. The farm has a range of farmyard animals including goats, sheep, chickens and donkeys as well as some smaller animals such as rabbits and guinea pigs.
Animals are rotated with time also spent on a farm in Kent.
There's a weekly mini farmers club, as well as art and pottery classes and regular events, such as a spring-clean day, jumble sales and a winter craft fayre. For eats, there's a great rustic Italian restaurant offering breakfasts, lunches and weekly supper nights.
There's no car parking, but plenty of bicycle loops for bike parking.
The nearest tube is Bethnal Green, and the nearest train station is Hoxton. It's also close to bus routes 55, 48, 26 and 394.
Deen City Farm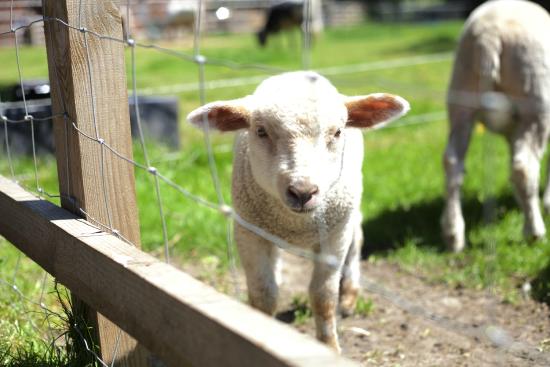 Part of The National Trust's Morden Hall Park, Deen City Farm is the perfect picturesque farmyard.
This urban farm near to Wimbledon offers pony rides, animal feeding and petting. You'll see sheep, cows, goats, pigs and alpacas, as well as smaller animals like guinea pigs, ducks and chickens.
There's also an aviary, along with a resident barn owl.
Set over 5 acres, this urban farm has an educational focus.
As well as the farmyard animals, there's a riding school, as well as a community garden, a café and a shop.
Recycling here is a big theme, which you'll encounter as you wander the site; it includes a cob building with a roof made entirely from plastic bottles. In the school holidays there are 'young farmer' and 'own a pony' day schemes (you'll need to book).
There's limited car parking. The farm is within walking distance of both Colliers Wood and Wimbledon tube stations, and Morden Road tram stop. Stops on both the 93 and the 200 bus routes are also within walking distance of the farm.
Vauxhall City Farm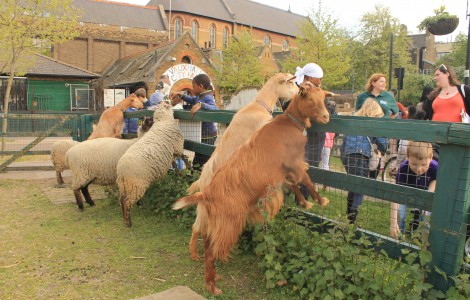 A hidden gem, this little piece of countryside in central London gives a sneaky peek at rural life.
The vision of this urban farm (set up 35 years ago as a community project) is to give its visitors an experience of nature to enhance their health, well-being and life chances, by offering a range of educational and therapeutic activities.
As well as pigs, sheep, goats and alpacas, the farm boasts a collection of smaller animals too, from guinea pigs and rats to bunny rabbits and ferrets.
There's a riding school offering lessons and 'own a pony' days in the school holidays (booking essential).
There are also lots of extra activities during the holidays, such as cooking workshops, and growing a mini garden, as well as tutorials on how to look after small animals. In addition, there are regular community events.
For eats, there is a modern café. To get there, the farm is a short walk from Vauxhall tube or train station, and there's street parking next to the farm (it's metered).
It's also inside the congestion zone, so on weekdays there'll be a charge for that too, so public transport may be your best option.
Here are some of the educational benefits of visiting a farm:
Encourages language development – so many questions
Sensory learning – petting the animals
Appreciation of nature – understanding the food chain
Promotes healthy living – being active
Enhances problem solving skills – trivia questions
Boosts motor skills – picking fruit and vegetables, feeding and petting animals
Have a great day at the farm.