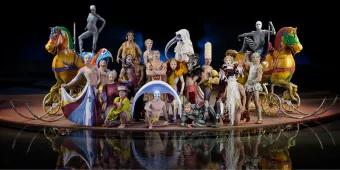 Discover the breath-taking world of Cirque du Soleil!
If you didn't already know, there's not just one Cirque du Soleil show in Vegas- there's 7! Find out which of the incredible shows is best for you…
The name Cirque du Soleil® is famous all over the world, known for being one of the most extraordinary performances on the planet. But did you know, that Cirque isn't just one show? There are actually a total of 9 different varieties of the spectacular, which include touring Big Tops and permanent "resident" shows, all which have amazed over 160-million spectators worldwide! Resident shows take place in Orlando, New York, Las Vegas and even Riviera Maya, Mexico. In Las Vegas, there are 7 different Cirque offerings, which can make it hard to choose between them. So, if you're planning a visit to Sin City, and are thinking about seeing one of them (and you definitely should!) let us help you decide which show is right for you…
Best for… everyone
"O™" by Cirque du Soleil®
This one-of-a-kind show is suitable for everyone, no matter what your age, as you simply can't fail to be amazed by its beauty. The huge theatre was purposely built to allow the show to centre around a 1.5-million-gallon pool. The stunning aquatic display is guaranteed to be like nothing you've seen before and is inspired by the "concept of infinity and the elegance of water's pure form". Watch in awe as talented acrobats leap through the air, divers plunge into the water and synchronized swimmers perform in perfect unison. This is one you really won't want to miss.
Best for… mind-blowing illusions
Criss Angel MINDFREAK® LIVE!
The newest of the Cirque du Soleil® shows stars "magician of the century" Criss Angel and is based on the most popular magic TV series of all time- Criss Angel MINDFREAK. Get ready for a night of pure magic, as he performs one astonishing illusion after another. Find yourself staring in disbelief as the unbelievable magic happens right before your eyes. The whole experience is brought to life with a live DJ, state-of-the-art lasers, 3-D special effects and an incredible LED virtual world. 
Best for… fans of the Beatles
The Beatles™ LOVE™ by Cirque du Soleil®
After celebrating 10 years, The Beatles™ LOVE™ by Cirque du Soleil® recently unveiled some new and exciting acts to enhance the already fabulous show. There's also new innovative choreography and new music to go along with classic Beatles hits like 'Lucy in the Sky With Diamonds', 'Help!', 'Strawberry Fields Forever' and 'Love is All You Need'. The show's music director has gone as far as to say that the quality of sound is so good that this is "the closest anyone can get to being in the studio with the band". Enjoy a stunning production that is bold, bright and colourful with performers wearing vibrant 60's style costumes. Look out for the amazing trapeze, trampoline and aerial acts.
Best for… those wanting to see a classic
Mystère™ by Cirque du Soleil®

If you want to see a classic, you must see Mystère™ by Cirque du Soleil®. The original Cirque show to appear in Las Vegas kicked off its permanent residency in 1993, and has dazzled audiences ever since. The performance is action-packed from start to finish, and features an international cast of 75 talented artists, performing high-energy acrobatics, dynamic dance routines and striking aerial silk acts, all set to the booming sound of the Japanese Taiko drums. You'll love the flying trapeze act too!
Best for… music lovers
Michael Jackson ONE™ by Cirque du Soleil®
The jaw-dropping acts of Cirque du Soleil® are set to the world-famous hits of Michael Jackson, in this totally unique show. If you're a fan of the legendary King of pop, this is the Cirque show for you. Filled with a catalogue of number one hits played through a state-of-the-art surround sound system, you'll be on your feet in no time dancing and singing along to classics like 'Beat It', 'Smooth Criminal', 'Billie Jean' and 'Thriller' to name just a few. The story follows four misfits who journey into Jackson's world, taking you along with them. The impeccable dancing, aerial acts and acrobatics are simply sensational.
Best for… the unbelievable acts
KÀ™ by Cirque du Soleil®
During the show, you'll find yourself wondering how such seemingly impossible acts are being carried out right in front of you. The extraordinary performance uses acrobatics, puppetry and martial arts to immerse you into the fascinating story, as an entire empire appears on stage. The enormous stage rotates 360-degrees, meaning you won't miss a bit of the action. Over 4,000 speakers project the music throughout the auditorium, with a pair of speakers in each seat heightening the experience for each individual. Our favourite acts are 'The Storm' that features a specially designed boat weighing 1800 pounds, and the daring 'Wheel of Death'.
Best for… a fun night out:
Zumanity™ by Cirque du Soleil®
Zumanity™ by Cirque du Soleil® is an adults only production that's great for a fun night out and ideal for hen and stag parties. Offering a seductive twist on reality, the tasteful show promises "sensational acrobatics and naughty fun". Part cabaret and part burlesque this fantastic show lets you experience Cirque du Soleil® in a different way. Music comes from Simon Carpentier, with velvet, lace and feather-covered costumes created by French designer Thierry Mugler. There are aerial acrobatics, balancing acts, and even a champagne filled bath tub. You have to see it to believe it! 
Want to experience Cirque du Soleil® for yourself? Click here, to view our range of Las Vegas show tickets.
Liked this post? You may also like…