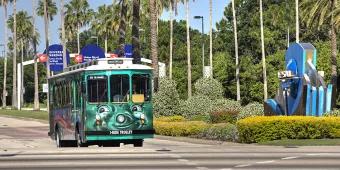 It's the happiest trolley around
The I-RIDE Trolley is one of the easiest ways to get around International Drive, but why should you pre-book your tickets?
If you've ever been to Orlando's International Drive Area before, you may have seen a smiley-faced green trolley travelling up and down the street; this is the I-RIDE Trolley. With services every 20 to 30 minutes from 8am to 10:30pm, this is one of the easiest and most affordable ways to see all kinds of destinations, from theme parks to golf courses. 
You can buy tickets as and when you need them onboard the I-RIDE Trolley, but here are just four reasons why you should consider pre-purchasing an Unlimited Ride Pass instead. 
You can't buy unlimited passes on the Trolley
Unlimited ride passes are only available for pre-purchase, which means you can't buy them directly on the Trolley. Without a pass, a single fare costs $2 per ride, so if you're planning on making just two return journeys it can be cheaper to purchase a Ride Pass. When purchasing individual tickets on the Trolley, you also need to have exact change, so the Unlimited Pass is a great option if you're not planning on carrying cash. 
You can get 14 days for the price of 7 
We all love a bargain, and the 14-Day Unlimited Pass currently offers a big one. With our 14-day for the price of 7 offer, you can get two whole weeks of rides on the I-RIDE Trolley for less than €1 per day. That's less than the cost of one Uber or taxi ride, for your whole holiday! For guests staying on I-Drive who are planning to visit many of the surrounding attractions, this is definitely the most cost-effective way to get there. Plus you have the freedom of being able to go on any day of your holiday.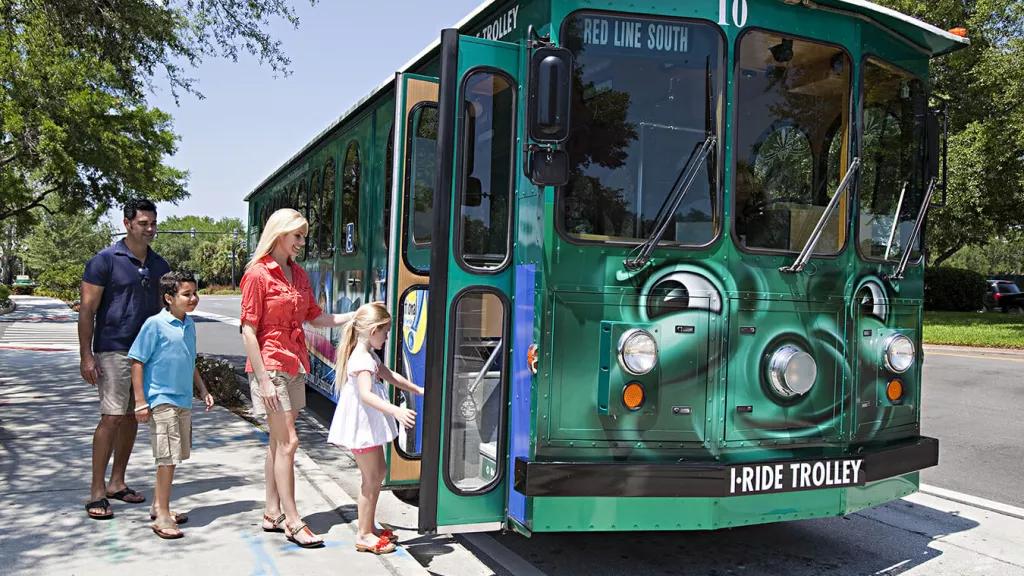 You can hop on and off at over 100 stops 
The International Drive Area is home to some of Orlando's most famous attractions, including SeaWorld and Aquatica, ICON Park, the Orlando Premium Outlets and Fun Spot, and the I-RIDE Trolley can take you directly to them all. Plus, there's even a stop that's just a couple of minutes walk from Universal Orlando Resort! 
With more than 100 stops, if you're staying at a hotel on International Drive there's sure to be a stop close by, giving you direct access to some must-see locations. 
You'll get an exclusive gift at the Florida Mall
When you book your I-RIDE Trolley Unlimited Ride Pass with AttractionTickets.com, you'll get even more value for money, as you'll also receive a FREE exclusive gift that can be redeemed at the Florida Mall, plus a Destination Passport offering over $1000 in savings. If you want to get a taste of America outside of the theme parks, the Florida Mall is a great place to do so at shops like Macy's and Sephora, and dining locations including Taco Bell, Popeyes and the famous Carlo's Bakery. 
The I-RIDE Trolley Unlimited Ride Pass is valid for first use 12 months from the date you download it from your account, and can be cancelled with a full refund up to your holiday departure date. This means you can book with confidence without worrying about plans changing. Choose from 3, 5, 7 or 14 days and book now!