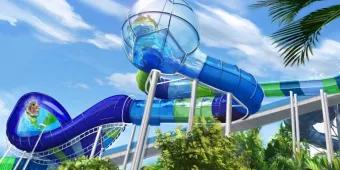 Breaking news…
An hour ago it was announced that SeaWorld's Aquatica waterpark will be getting a new ride for 2018, opening as early as Springtime next year.
The new ride will be a family raft ride called Ray Rush and will transport passengers through an ar-RAY (gettit?) of enclosed tubes, transparent spheres and even an open-air half pipe! Passengers will be propelled into the 60-foot tall ride at an epic 33 feet per second to really make sure the ride goes off with a bang. 
The new ride is designed to look like a manta ray in colour, shape and ride experience, with the half-pipe section being the ride's real highlight. Each raft will accommodate 4 passengers and has been designed for the family thrill market – anyone over the height of 42" can ride.
This new attraction takes the place of HooRoo Run, a straight out thrilling ride that sends riders down in rafts of up to 4 people. Next to this ride and leaving from the same tower is Walhalla Wave, which will remain in place with a brief closure period from October 31st until Ray Rush opening day to allow for construction. HooRoo run will close permanently on the 31st October so if you're visiting before that time, this is your last opportunity to ride this family favourite attraction.  
The new Ray Rush will leave from this tower when it opens in Spring next year and share a splash pool with Walhalla Wave, which will need to be extended by an astonishing 10-feet to accommodate the splash zone trajectory of the new ride. The new attraction will be so big that adjustments will have to be made to the perimeter of the park to accommodate it – that's how big this thing really is!  
The last new ride to open at Aquatica was Ihu's Breakaway Falls, a multi-slide drop attraction which opened in 2014, so we're excited to see the latest addition to this incredible park! To find out more about what you can find at Aquatica, check out this video of a day at the park:
Planning your 2018 Orlando holiday? Make sure you book your gate ready tickets in advance to save yourself time and money at the gate.
Liked this post? You may also like...