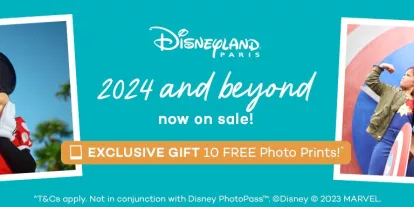 Disneyland Paris Tickets for Easter and Summer 2024 Now on Sale
Added Happiness! Plan early for 2024. Disneyland Paris One Day Tickets are now available for arrivals up to 2 October 2024 and Disneyland Paris Multiday Tickets can be purchased from arrivals through to March 2025. Tickets can be amended for free or cancelled with a full refund up to 72 hours before the ticket start date.
Terms and Conditions:
Your gate-ready Disneyland Paris Ticket(s) will be uploaded instantly to your online order upon receipt of payment. You must download your tickets to your smartphone or print your ticket before you visit Disneyland® Paris. Upon arrival at Disneyland® Paris, simply scan the ticket barcode at the gate for admission to the Disney Parks.
This Disney Paris ticket is only valid for the date selected at the time of booking. 
Height and age restrictions apply on certain rides.
Parks, attractions or entertainment may change operating hours, close due to refurbishing, capacity, weather, or special events, and may otherwise change or be discontinued without notice and without liability.
Standard admission tickets do not include admission to any separately ticketed special events such as Halloween and Christmas Party events. 
CANCELLATION POLICY: Free Cancellations for booking cancellations received more than 72 hours prior to your visit date. No refunds are given for cancellations or amendments made within 72 hours. Email cancellations will only be registered as received on the next working day (Monday-Friday). If you need to cancel close to the 72-hour cut-off, cancellations must be made by calling our customer service team.
People interested in also viewed...
Back to offers