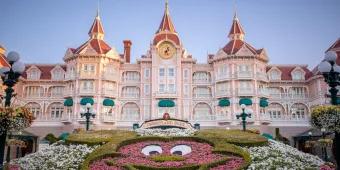 Disneyland Paris' iconic hotel is receiving an ambitious royal renovation.
Royal magic will be transforming the Disneyland® Hotel at Disneyland® Paris, in this exciting refurbishment project.
Taking inspiration from Disney's royal heroes, the Disneyland Hotel is to undergo an exciting makeover and be reimagined into a celebration of some of our favourite princesses, princes, and queens. 
This will be the first hotel to feature a royal theme - Imagineers will be infusing Disney storytelling into the accommodation, alongside magic inspired by the famous regal Characters. 
From classics such as "Cinderella" and "Sleeping Beauty", to modern favourites like "Frozen" and "Tangled", all of the rooms and suites at Disneyland Hotel be will be rethemed to make for an exciting new immersive experience, without losing the elegant feel of the Victorian-style architecture. 
Get the royal treatment at the expanded pool area and spa too, and enjoy an unforgettable meal or drink in one of the rethemed restaurants and bars. 
The refurbishment is the next step in a multi-year renovation plan at Disneyland Paris, which will see over 5,700 rooms receive exciting updates. 
Stay tuned for more details as we get them!