Shop, eat, drink and be merry with ten of the best Christmas Markets around the UK.
Christmas is almost here and this means the Christmas markets are back again.
We've put together a list of the top 10 Christmas markets around the country, perfect to fill yourself up on traditional Christmassy food and drink and festive activities!

Bath
28th November to 15th December
Bath Christmas Market is one of the prettiest going, with over 150 stalls lining the picturesque streets around the ancient Roman baths and Abbey. There will be plenty of locally made jewellery, handmade Christmas decorations and personalised presents. You can get all your seasonal shopping done whilst knowing that you are supporting local businesses. 

Birmingham
7th November to 23rd December
One of the largest German markets outside of Germany and Austria, this year the Birmingham Christmas Market celebrates its 20th anniversary. Twinkling lights and the smell of Bratwurst will fill Victoria Square and New Street, where you'll find all the festive treats you could ask for, including pretzels, schnitzels and roasted almonds!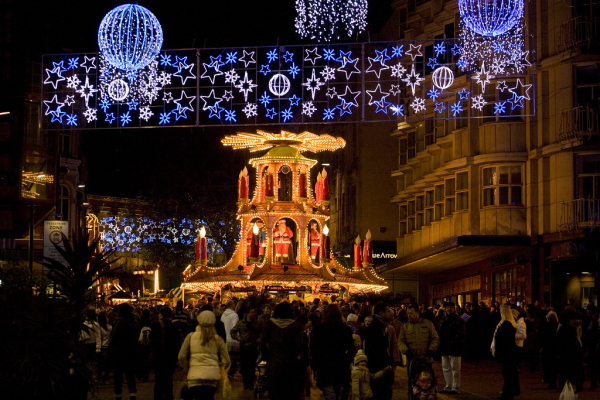 Bristol
8th November to 23rd December
Bristol Christmas Market is home to over 50 unique stalls located in the heart of Bristol City Centre, selling all kinds of handmade trinkets and treasures. Little ones can visit Santa and his reindeer, whilst the grown ups can enjoy live music in the Jäger Barn Bar and try their hand at curling – all in one trip!

Hyde Park
21st November the 5th January 
The iconic Winter Wonderland returns to Hyde Park for another year this festive season. There's guaranteed to be something for everyone, no matter your age, with attractions ranging from 'A Christmas Carol' at the Magical Ice Kingdom to the UK's largest open-air ice rink. Hyde Park Christmas market also offers loads of restaurants, cafes and bars to keep you feeling merry the whole time!

Leeds
8th November to 21st December
The German market known as Christkindelmarkt opens in Millennium Square, providing over 40 stalls to those who want to get into the seasonal spirit. There are also free children's activities every Sunday morning, including things such as face painting and creative arts and crafts. There is a range of German delicacies available to purchase at Leeds Christmas Market too, and don't forget to take a ride on a Christmassy carousel! There are lots of things to do for the whole family.

Lincoln
5th December to 8th December
Christmas celebrations span 4 days in December at the Lincoln Christmas market, which brings a whole host of food and drink, shopping and family entertainment, including the famous Big Wheel. This event is small, but traditional market, however has plenty on offer – you won't be disappointed!

Manchester
8th November to 22nd December
Quite possibly the biggest Christmas market in the UK , Manchester Christmas market is spread across 10 different locations and attracts thousands of visitors each year. There's a multitude of food and drink stalls, with seasonal cuisine from all around the world, along with handmade decorations and items and boutique jewellery. There's also an ice rink located in the Ice Village at Cathedral Gardens, where little ones can meet Santa himself.

Newcastle
16th November to 24th December 
Newcastle Christmas market welcomes over 70 stalls in 2019, with something for everyone on offer. All market traders are independent and offer the best quality products going, from artisan cheeses to unique artwork. Visitors can also ride a traditional carousel and go tobogganing down Blackett Street. 

Norwich
6th December to 7th December 
Norwich Christmas Market, or the Norfolk Christmas Fayre, arrives at Norwich Cathedral for two days this year. A bit different to your usual Christmas market, but festive all the same, visitors are invited to browse homemade gifts from around the country, along with festive food and drink. 

York
14th November to 22nd December 
One of the most medieval cities in the UK welcomes its festive markets for another year. The annual York Christmas Market takes up most of the city and gives the city a Scandinavian feel due to the city's ties with the Vikings, rather than the Germanic feel that we're used to. Boasting stalls rife with festive food and drink, as well as the very best in handmade crafts, this city was voted the most festive city in Britain in 2017 -these markets are certainly not one to be missed!