Four of these adrenaline surging water rides reside in sunny Florida!
Plummet, plunge, splash, swoop, breakaway or free fall! You'd better have your wits about you for this thrilling, chilling and exhilarating list of the world's eight scariest water rides!
We need to start this article by saying that, by no means are we being biased! As much as we love Orlando and happen to be Orlando experts, we are also theme park enthusiasts and very passionate about travel. Indeed, four of the world's scariest water rides happen to reside in Florida - our favourite destination, and indeed, this makes us proud.
However, it is not because of our affection and affiliation with the Sunshine State that would have these water rides make our Eight Scariest Water Rides list, the stats, the facts and the photos speak for themselves. And considering Central Florida makes home to such a vast number of theme parks and water parks all in such close proximity, we'd expect most of these insanely chilling water rides to find a home in the theme park capital of the world.
What makes us particularly delighted is, that of the eight scariest water rides in the world, Attraction Tickets Direct can provide our customers with theme park tickets to over half of these stomach flipping attractions! 
So here we go....HOLD ON TIGHT!
Summit Plummet
Blizzard Beach - Walt Disney World, Florida
Starting at 120 above the ground, this free - falling 12 storey water ride is one of the world's fastest and tallest and was once the tallest in Florida! Summit Plummet makes it onto most crazy water ride lists! Riders travel across a 360 ft flume reaching speeds of 50 - 60 miles per hour!
Insano - Beach Park Brazil
You'd have to be pretty much Insano to submit yourself to this swooping, swooshing, shockingly vertical Guiness Book of Records breaking water slide! At 14 storey's high and plummeting down at speeds of up to 65 mph, this ride is over in a matter of seconds! We can't even look at this ride without feeling just a little dizzy. 
Jumeirah Sceirah - Wild Wadi Water Park Dubai
Dubai does nothing by halves and Wild Wadi have cut no corners on this water slide - in fact these two tandem slides cover an impressive 390 ft. Regardless of how much ground the Jumeirah Sceirah covers, this lightning fast descent has its riders reach speeds of 50 mph and again - is over in seconds!
Leap of Faith - Atlantis The Palm, Aquaventure Dubai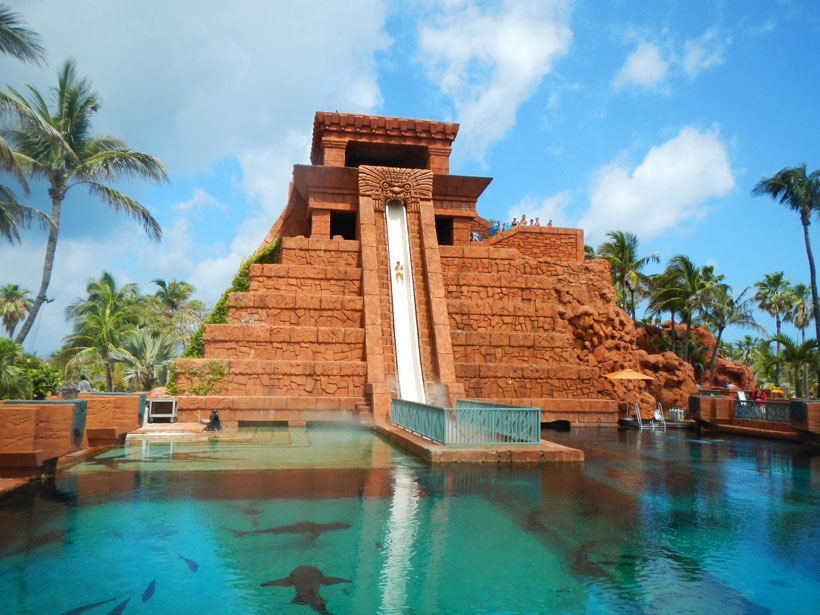 This Mayan temple themed slide looks pretty scary! Sacrifice yourself you will on this nearly verticle 60ft slide which sends riders soaring through a shark filled lagoon in a transparent tunnel! This Leap of Faith is an adrenaline junkies best friend!
Brain Wash - Wet n Wild Orlando
This water ride gets five stars just for its originality! This is a multi person ride, which means riders can share the fun with friends! Falling down a vertical 53ft drop and landing in a 65ft funnel dome complete with flashing colourful lights and pumping music, this is definitely a one of a kind!
Scorpion's Tale - Noah's Ark Wisconsin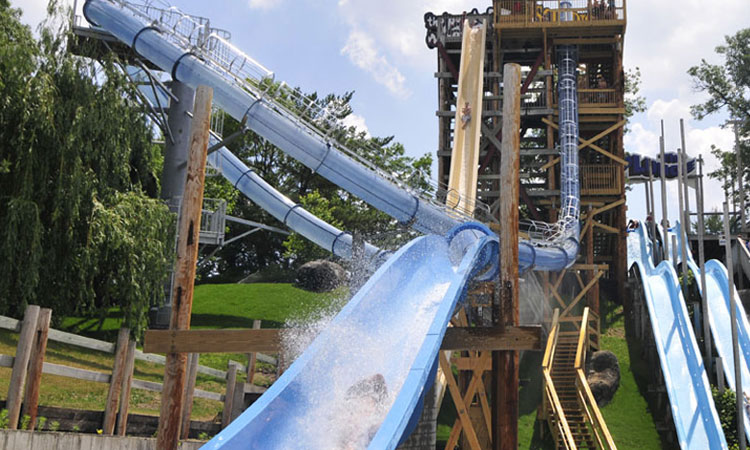 As riders step into the Scorpian's tale, they'll feel their stomachs plummet as the floor is pulled from beneath their feet. Shooting across a 400ft slide - that's long, in just five to seven seconds - that's fast, from ten storey high, this scorpion's tail is lethal! 
Der Stuka - Wet n Wild Orlando
Another big thrill slide from Wet n Wild is Der Stuka. Riders brave enough to let themselves slip over the edge of this slide will be subject to an almost vertical plummet from 72 ft high, travelling across a 250 ft long slope. There's one word for this ride 'intense'.
Ihu's Breakaway Falls - Aquatica Orlando 
You've heard all about this ride! We haven't stopped talking about it! The new record breaking water slide coming to SeaWorld's Aquatica in May is immense and will soon be the tallest, fastest and steepest multi - drop tower of its kind. Riders will wait apprehensively in transparent tubes, butterflies building, waiting to see who is going to breakaway first! From there on it's a free fall all the way down!
Theme park lovers, we know there's only one way to cool down on holiday! So get your theme park tickets and a find a great big slide with an even bigger splash to keep cool this summer!