Experience the adrenaline-pumping thrill of go-karting with Nascar.
Fun Rate: 5*
Duration: 1-2 hours
Affordability: Excellent value 
Genre: Families (with teens), Conference Breakdown, Races & Fun Seekers
Top Trump Score: 100
I'm super excited to write this blog with a genuine and heartfelt smile on my face!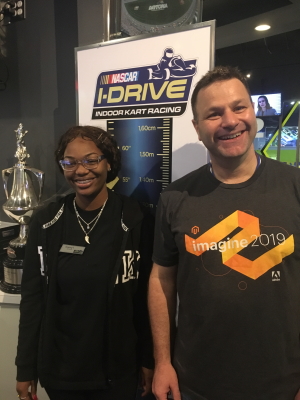 Bit of Background
Having spent a little over 50 hours inside a hotel at an engaging industry-related conference – Arival, the walls were closing in. With some 1200 incredible people from over 50 countries discussing the 'Best Part of Travel' – tours, activities and in-destination experiences, there was a buzz of anticipation.  
Having befriended some willing volunteers to come and race, it was a perfect excuse to forget about the jet-lag, the introductory party the night before and sample a unique Go-Karting experience, not a difficult sell after 47 (1:1) meetings, keynote speakers and a myriad of technical innovations. 
The Gang
Breaking out of the hotel provided a sense of freedom – not doubt about that. Joining me were some remarkable people, Arielle from San Francisco, USA, Penny from Wanaka, New Zealand, Peter from Dublin, Ireland and Harmeet from Delhi, India – it was to be a truly international line up, a Red Bull moment for beginners.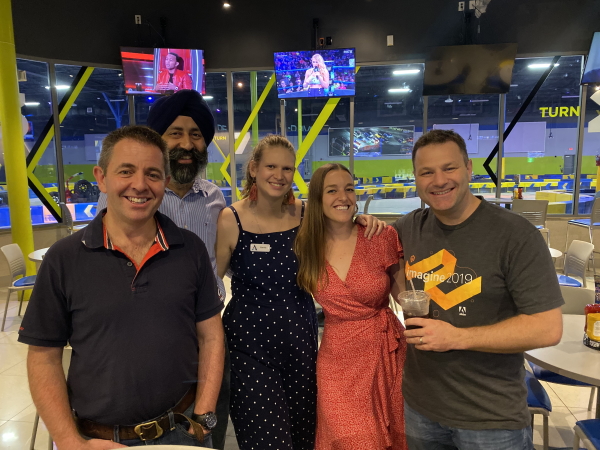 With such diverse backgrounds, an unknown venue and an experience that none of us had done in the last 3 years, it was anyone's race.
Transport
Uber for 5 people, 11 miles from the Hotel – 20 minutes, $23 – Perfect!
Plenty of parking (200 spaces) with room from taxis to drop off outside the entrance. Easy access to the building.
Entrance
Immediately, you're immersed into a highly curated venue that displays a podium, medals, racing memorabilia and merchandise. The excitement levels triple. This is going to be awesome.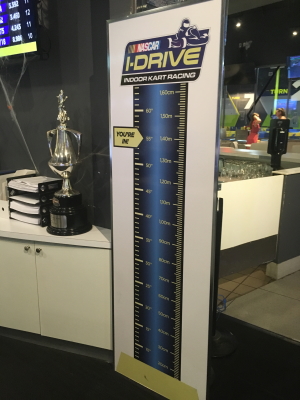 Front Desk
The team are extremely professional, polite and deliver a customer service experience that can only be the result of high-quality training and a culture for doing things right.
The booking process is seamless.
2-Minute Signup
Pre-racers need to complete an online form. Whilst it's obligatory, it's simple and takes less than 2 minutes to complete – basic information required and your lap times are sent via email.  A picture and 'racer name' is creating to personalise the experience. Great memories!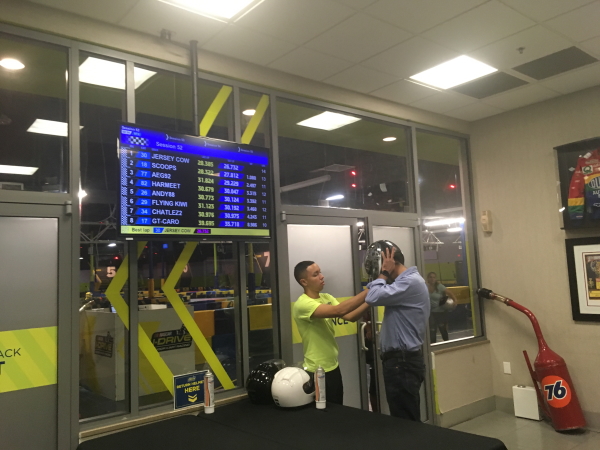 Scheduled Run
Post signup you're assigned to a cohort of drivers. Look out for your number but, in the meantime, enjoy the ancillary entertainment products available, more on those later.
No. 54
Yes, drum roll, our number was called within 15 minutes and we headed to the pre-race briefing.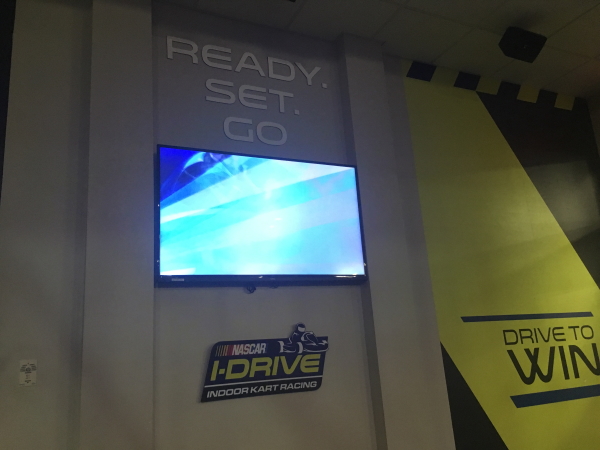 Pre-race Briefing
Again, guided by the professional and experienced staff we were directed into the briefing room where a short video disclosed the do's and don'ts to protect the safety of each driver. Points of interest were:
The controls being: accelerator, brake, and steering.

Seat adjustments.

Flag references and meanings

Due care and consideration for others on the track.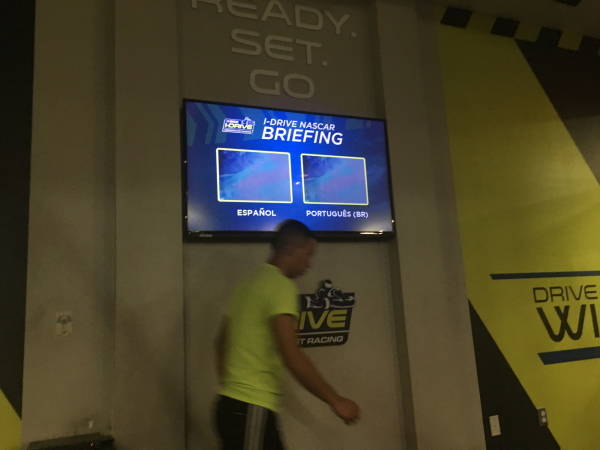 Safety Equipment
Relatively simple, hairnets and helmets. Closed shoes are to be worn and ideally trousers.
Due care and attention is a requirement and is ultimately the responsibility of the driver – this is covered in the briefing.
To assist the driver, pedals are colour coded.
Brake = Red. 

Accelerator = Green. 
The Course 
It's a smooth 400m course with approximately 10 bends, some fast and some hairpins to encourage a degree of skill and manoeuvrability to seize opportunities to compete against your fellow drivers. The full length course barriers can be adjusted so the layout of the course can be reconfigured. 
For those of you who are more conservative with your speed, there's no pressure. The track is wide allowing for more leisurely drivers to bear right to ease those overtaking. 
Further, only a maximum of 8 drivers are on the course during your session so, with this and a staggered start, there's limited congestion. 
Rolling Start
Initially, drivers are released onto the course in 10 (ish) second intervals at walking speed. Once all drivers are on the course and it's safe to do so, the course safety manager disables the speed restriction and your capable of reaching speeds of some 45 mph (that's if you want to)!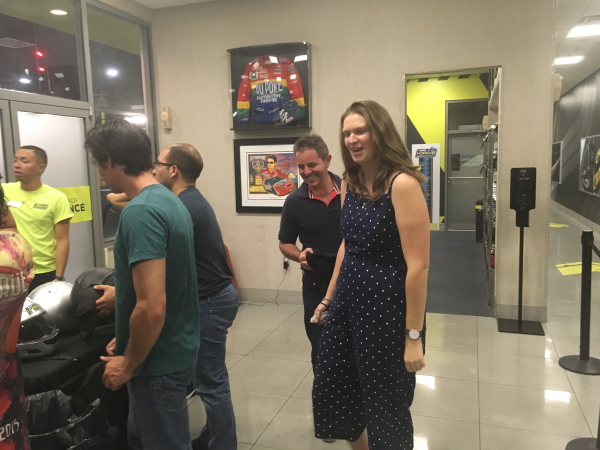 The Ride
Well, as an 'advanced novice', I improved with each lap. The karts are responsive and you do become aware of how physical the experience is. If you're used to power steering this'll bring you back to the roots when driving – feeling each turn. Be smooth and your speed per lap will follow. 
Average lap speed 25-35 seconds. 
Race for Real. Play for Fun. 
It's a sensational course that improves and hones a wide variety of skill sets, speed control, spatial awareness, predictions and race strategy, in many ways it's a cognitive workout.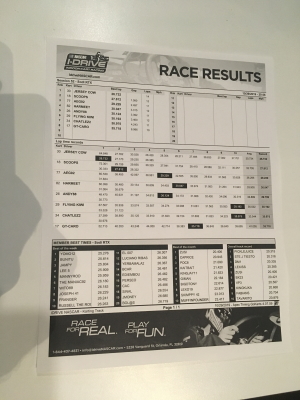 Reminder
Clearly safety for 'All' is the priority for everyone trackside. Speed is encouraged but if drivers are becoming reckless they will either be warned or removed.
When in the pits and stationary, you are required to keep your foot on the brake until directed to do otherwise.
Post Race
In this digital age, we expect a degree of immediacy and I-Drive Nascar does not disappoint. At the point of removing your helmet the lap times are displayed on the TV screens presenting the drivers lap times, highlighting their fastest lap and ranks the driver per group.  Post race, there's a sense of elation, some reminiscing of the where things went right and moreso, where things went wrong. Without exception, everyone in our group had the biggest smiles on their faces.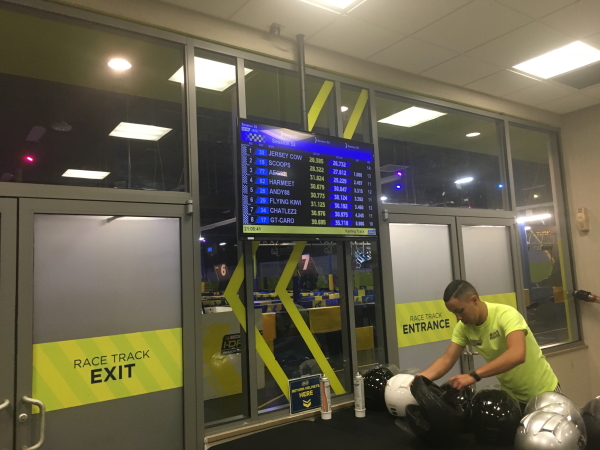 Ancillary Entertainment
The guys at I-Drive Nascar have thought of everything to ensure your time is relaxing and sociable (a rare luxury and often when memories are written – quality time with those you've taken). Enjoy 8-ball pool, bowling, arcade games, have a drink in the bar, shoot some hoops or teach the younger generation the skills of Pac-Man on a giant screen – still one of my all-time favourites.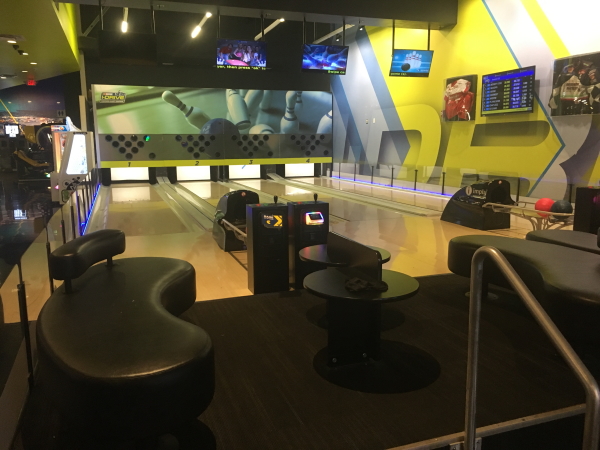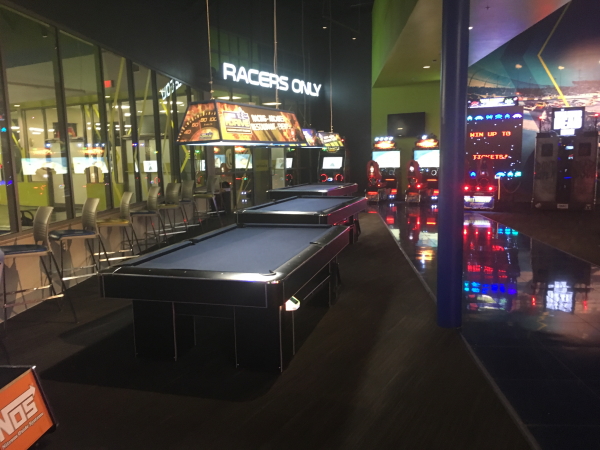 Amenities
All that you'd expect, clean and well looked after.
Overall
I-Drive NASCAR Fastest Indoor Go Karts in Central Florida is simple to reach with shopping malls in the immediate vicinity.  It's a high-quality product where you'll be able to challenge your driving ability. This is a great recommendation for a couple of hours.  Go early in your trip as you never know, you may wish to return a 2nd time.