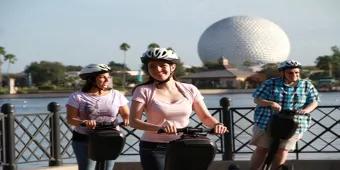 Explore Epcot aboard a segway!
On the 17th September Disney World will introduce a segway tour of Epcot for guests to explore Walt Disney's Experimental Prototype Community of Tomorrow!
There is something uniquely special about Disney World's Epcot that those of you that have used your Disney tickest to visit this Disney theme park would have recognised. Epcot has more to offer than attractions and rides, it offers an insight into a community that Walt Disney himself once envisioned as an example of the world in perfect harmony. Epcot offers the chance to explore the world and learn about different countries and continents all in one place.
As of the 17th September those of you with your Disney tickets visiting Epcot, also known as Walt Disney's Experimental Prototype Community of Tomorrow will be able to explore this dream world aboard a segway on what Disney has titled the 'Keep Moving Forward: See the World, Share the Dream Segway Tour'. The tour lasts three hours and includes a segway training session and breakfast at Sunshine Seasons.
So, if you've always been intrigued in the concept behind Walt Disney's Epcot, why not get your
Disney tickets
and embark on this brand new tour?