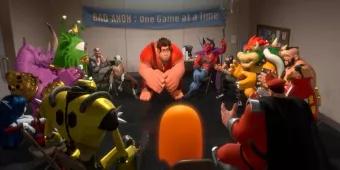 Do you recognise any of these video game characters making cameos in Wreck it Ralph?
Wreck it Ralph is Walt Disney Animation Studios soon to be released movie that is not only based on characters from the video game Wreck it Ralph, but also features various characters from other video games. Check out the list of video game characters making their cameo in Wreck it Ralph!
One of the reasons why we absolutely can't wait to see Disney's Wreck it Ralph is so we can spot all the video game characters we're familiar with and take a nostalgic look back to the days when we used to play game consoles like the SEGA Megadrive and the Super Nintendo!
In addition to being based on the 1982 arcade game Fix it Felix Jr and starring characters from the video game, namely Ralph and Felix himself, Wreck it Ralph also features a whole host of other characters from video games that you are very likely to be familiar with. 
By now those of you that are frequent ATD Latest News readers will be well familiar with Ralph and
Vanellope Von Schweetz
, who you'll be able to meet with your
Disney tickets
at Disney World's Hollywood Studios. But we thought your memory might need jogging in regards to the other characters that aren't likely to appear at the Wreck it Ralph character meet and greet, but will definitely cameo in the movie! Take a look and see how many you can delight in recognising!
Disney Tiny the T.Rex from Meet the Robinsons
Nintendo Bowser from Super Mario Bros.
Sega Sonic the Hedgehog from Sonic the Hedgehog, Dr. Robotnik (Eggman) from Sonic the Hedgehog, Neff from Altered Beast, Cyril the Zombie from House of the Dead
Capcom M. Bison (Vega) from Street Fighter II, Zangief from Street Fighter II, Chun-Li from Street Fighter II, Cammy from Super Street Fighter II, Ken from Street Fighter, Ryu from Street Fighter, Dr. Wily from Mega Man
Midway Kano from Mortal Kombat, Smoke from Mortal Kombat, Paperboy from Paperboy, Bartender from Tapper
Namco Clyde from Pac-Man, Dig-Dug from Dig-Dug
Gottlieb Q*bert from Q*bert, Coily from Q*bert, Slick from Q*bert, Ugg from Q*bert
Konami Frogger from Frogger
Wreck it Ralph comes to UK cinemas on the 13th February 2013, however with your Disney tickets you'll be able to meet Ralph and Vanellope at The Magic of Disney Animation at Disney World's Hollywood Studios early November.