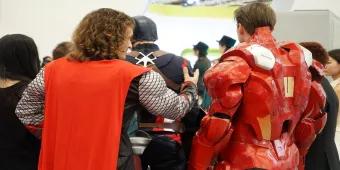 UK is the place to be in 2019 if you have a love for DC or Marvel as the most spectacular superhero events come to life.
Heroes & Villains take to the stage in London with no TV screens or theatres in the way of you and your favourite characters.
We have grown up watching the Marvel Universe expand to what it is today, from the first Iron Man in 2008 to the upcoming Avengers: Endgame; and let's not forgot, DC's Aquaman has been a hit among the fans.
With each movie, the suspense builds and our curiosity to know how it all comes together has us squirming in our seats with urgency and impatience.
But, before we can move on to the films, how about spending the day with Iron Man or Doctor Strange, Superman or Batman; or the new heroes – Black Panther, Antman, Aquaman, and so on?
London is hosting some of the best superhero events in 2019 to get you pumped up and roaring for all the latest and upcoming releases of the Marvel Cinematic Universe as well as DC's.
Here is a list of the top 6 superhero exhibitions to fill your time in the UK:
DC Exhibition: Dawn of Superheroes
If you are a fan of the DC comics, then the DC exhibition in London is one to visit.
Following a chronological order; DC Exhibition: Dawn of Superheroes takes you through a time portal you get to know your favorite DC characters from the first time they came to life.
Comic books, sketches, anything related to the superhero pop culture is on display for your perusing; the timeless, artistic creations of Joe Shuster and Jerry Siegel, the first ever cartoon covers of Superman, props, costumes, and models of every DC Universe Character.
Fans get a chance to immerse into the storyline and relive moments of Superman's timeline, getting to know the character in a new light; you can see artefacts from other DC characters including Petty Jenkins' artwork of Wonder Woman, as well as other movies including Suicide Squad and Justice League.
Best of all, you get a chance to take a peek behind-the-scenes and watch the magic happen; see all that goes into making the DC Cinematic Universe what it is today.
So, get on down and get your tickets to the DC Exhibition in London, and secure your chance to spend the day surrounded by your favorite heroes and villains from 23 Feb to 9 Sep, 10 a.m. to 7:30 p.m.
Marvel Avengers S.T.A.T.I.O.N
Finally, after the success of the event in New York, Seoul, Paris, Singapore, Beijing, and Las Vegas, the Marvel Universe is here in London with Marvel's Avengers S.T.A.T.I.O.N.
For your love for Marvel Cinematic Universe, the Marvel Exhibition gives you the chance to be a part of the films. With their interactive technology, you get to immerse yourself in the story of your favourite superheroes, learn their back story as they train to be an agent of Marvel and train alongside them.
Lift Thor's Hammer or view his outfit up close in the Thor Observatory or get a peek into the science behind Steve Rogers' transformation to Captain America in Captain America's Personnel File.
You get to watch the most die-hard transformation into Hulk in Bruce Banner's Laboratory; and, last but not the least, a flight simulator that gives you the chance to step into Tony Stark's shoes and experience flight in an iron suit.
Moreover, the London Marvel Exhibition also has props from the movie sets as well as never before seen characters including Black Panther, The Wasp, and even Thanos.
The event takes place Mondays to Thursdays from 11 a.m. to 4 p.m. and on the weekends and bank holidays from 10 a.m. to 6 p.m.
So, book your tickets for Marvel Avengers S.T.A.T.I.O.N and get a chance to train alongside your favourite Avenger.
MCM Comic Con London
There is no list of best superhero events in London without the MCM Comic Con London.
It is the exhibition for Universal Studios, Twentieth Century Fox, Manga Entertainment UK, All the Anime, NEO magazine, as well as Marvel Comics.
The exhibition hall holds dealer stands and exhibitors including big names from the TV and film industries. Not to mention, there is a theatre space for the guests with a large stage and projection monitors, allowing you to preview the latest productions.
The big screen and small screen characters all gather together for their fans twice a year in May and October. Whether you are a gamer, a sci-fi geek, cosplay fanatic, graphic novel enthusiast; there are tons to do and see at the MCM London Comic con for all fans.
Not only can you meet your favourite characters off-screen, but also take part in numerous activities designed to keep the excitement roaring. You can take part in sports, explore Comic Village and meet writers and artists, dress up in cosplay, and meet all sorts of people from TV and film industries.
From 25th of May to 27th at the MCM Comic con 2019, you can get autographs from your stars, vote for the best comic for the Eagle Awards, and much more.
Book your tickets and don't miss out on the comic con of the year.
Moreover, if you are flying in from a different city or abroad, you don't have to worry about running out of cash. Comic-con tickets are expensive but knowing how to get cheap flights you can save on your travel expenses and enjoy your time with your favourite superhero.
Heroes & Villains
Another one on the list of exhibitions in London in 2019, there is Heroes & Villains Fan Fest. If you are part of the fandom of the Marvel Comics Universe, then this event is sure to be a pleaser.
During the 25th and 26th of May at the Olympia London, you can spend time with the heroes and villains that dominate the heart of every young and old generation of fans that walk the earth.
The Guestlist for Heroes & Villains Fan Fest includes your favourite celebrities, giving you the opportunity of a lifetime with exclusive panels and photo opportunities. Plus, there are tons of immersive activities including fun obstacles and games of skill like bungee jumping and archery.
You can step into their shoes and learn what it means to be a superhero for a day and possibly gain a superpower along the way. Moreover, you can go behind-the-scenes and take a peek at the talent that gives life to your favourite shows.
There are tons to do for every individual of every age group; so, be an early bird and book your tickets now for a day (or two) with your favourite heroes and villains.
Marvel Universe LIVE!
What's better than watching heroes and villains on the big screen? Easy!
Heroes and villains live!
With tons of new stunts, special effects, and characters, Marvel Universe LIVE returns to London in 2019.
Almost 20 of your favourite superheroes and villains battle it out on stage live, including Spiderman, The Avengers, Guardians of the Galaxy and last, but not least, Doctor Strange – the master of mystic arts – against Loki.
3D projection mapping, pyrotechnics, motorcycle skills, aerial stunts, and martial arts, 2019 Marvel Universe LIVE will be a thrilling experience for all fans of the Marvel Cinematic Universe.
Not just on-screen, but now you can watch your favorite heroes fight the villains that threaten to destroy the earth. In a brand new tale, the heroes gather together to fight the scheming Nebula who teams up with the Lord of Mischief, Loki and the Green Goblin.
For a Marvel experience in the UK, you can watch the tale unfold from the 26th of September to the 29th of October, 2019. Tickets are now available to the public, so get yours before it's too late, and don't miss out on the best superhero event of the year.
London Comic Con
Stars of Film and TV, gather together for their fans in the London Comic Con 2019 at the Olympia London on the 2nd and 3rd of March.
You can meet your favourite superstars from Game of Thrones or Doctor Who, Star Wars and, of course, heroes and villains of the Marvel and DC Universe.
But it's not just a meet and greets for fans and celebrities; there is much more in store at the Comic-Con 2019. You can meet the people from behind-the-scenes that give life to the shows you love, artists, illustrators, comic book writers, and many more talented individuals.
Collect the multitudes of various memorabilia and collector's items on sale from the merchants and strengthen your spot as the number one fan.
Photo shoots, autograph signings, interviews, cosplay events, authors, artists, and many more on the guest list will be coming to Comic Con London for your pleasure.
So, what are you waiting? Grab your tickets and be ready for one of the best superhero events London has to offer.
Final Word
These are some of the best superhero events happening in London in 2019. If you are a fan of the Marvel or DC, then London, UK, is the place to be.
A thrilling new adventure awaits all those who visit, so grab your tickets for your exhibition and meet your heroes and villains off-screen and up close, take a snap, get an autograph, and make a memory you won't ever forget.