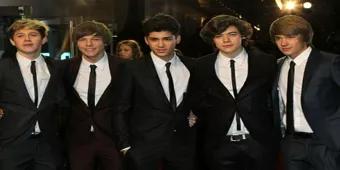 One Direction heads to Universal Studios Hollywood CityWalk!
On the 16th June the X-Factor formed boy band One Direction head to Universal Hollywood to wow the CityWalk crowds!
The excitement is literally never ending at Universal parks this year! As if the debut of Universal's Cinematic Spectacular and Universal's Superstar Parade at Universal Orlando, and the launch of Transformers the Ride 3D at Universal Hollywood wasn't enough fun for us to contend with, there is still more! On the 16th June One Direction will perform at CityWalk's Gibson Ampitheatre at Universal Hollywood, no doubt wowing the younger female CityWalk population.
If the launch of the Transformers attraction hasn't persuaded you to take a trip to California just yet, surely the One Direction fans and, more aptly, the parents of One Direction fans amongst you will want to get hold of some Universal Studios tickets in time to support the British boy band. T 
If you do happen to have teenage daughters, we're pretty sure that passing up these Universal Studios tickets wouldn't go down too well. So, if your visit to California coincides with One Directions performance at Universal Studios Hollywood's Gibson Ampitheatre, why not suprise your girls with these amazing tickets?