A full tour of Universal's newest hotel!
In September, we were lucky enough to visit Universal's newest hotel: Universal's Endless Summer Resort. At the time, only one part of the hotel was open, Universal's Endless Summer Resort: Surfside Inn and Suites, but with the second part, Dockside Inn and Suites due to open this summer, we thought it would be a great chance to show you around!
Below is a full write-up of the new hotel, but here is our video tour too:
Universal's Endless Summer Resort is a value resort, aimed at budget-conscious travellers who still want to be right at the heart of the Universal fun. In this case though 'value' really means 'GREAT value'. The cost of a room at Universal's Endless Summer Resort is as little as £70 per room per night*, for one of these bright, airy and spacious rooms.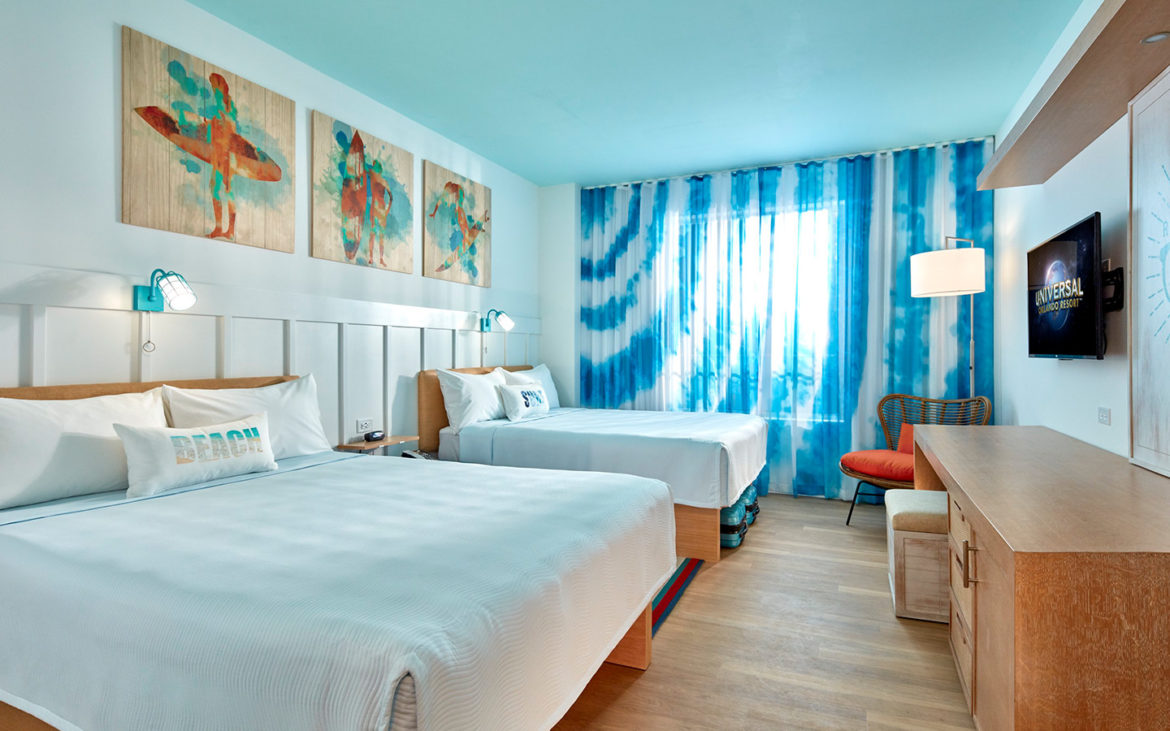 But let's start from the beginning, shall we?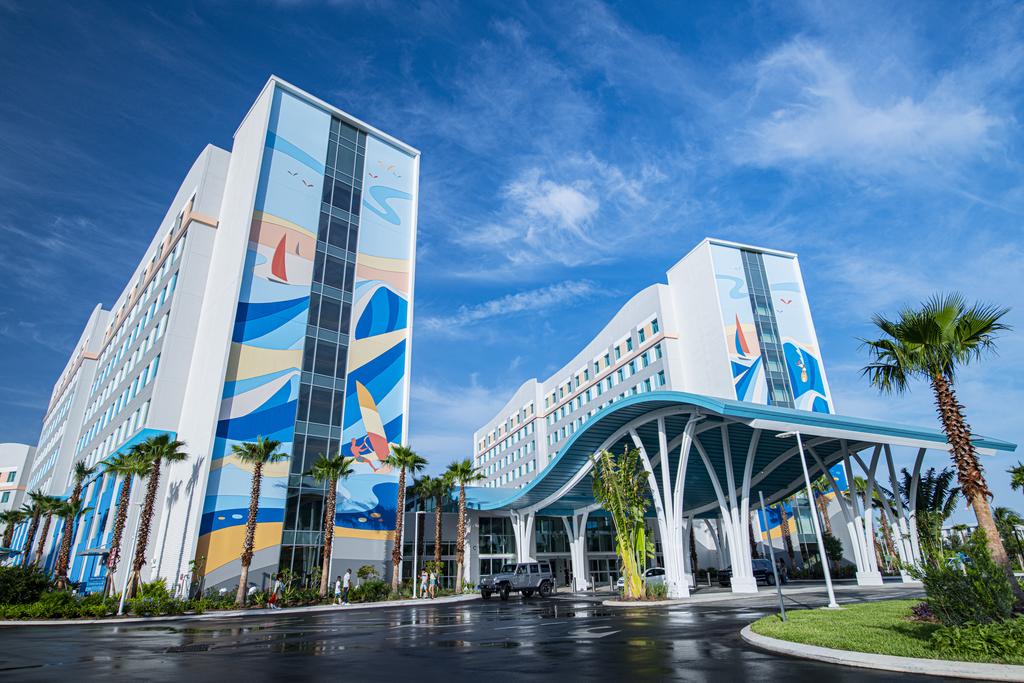 From the outside, the new Universal hotel is big and brightly coloured, comprised of two near-identical buildings - Surfside Inn and Suites and Dockside Inn and Suites. Although you can book them separately, the 2 hotels are very similar and are situated very close to one another so the choice between the 2 will just be down to personal preference. As we visited in September 2019, only the Surfside Suites building was open and we'll be basing our review on this part of the hotel
The hotel lobby is a huge space that positively *screams* summer holiday fun at you as you walk through the door, while somehow managing to keep a very calming atmosphere. There are plenty of check-in desks to assist you as you walk in, plus a Starbucks coffee house and Beach Break Café, a grab and go eating area with plenty of quick service options. As it's such a large lobby, there's comfortable seating dotted around in case you want to cool off in the air con with a drink or browse your phone for a bit (although there's free WiFi throughout the hotel).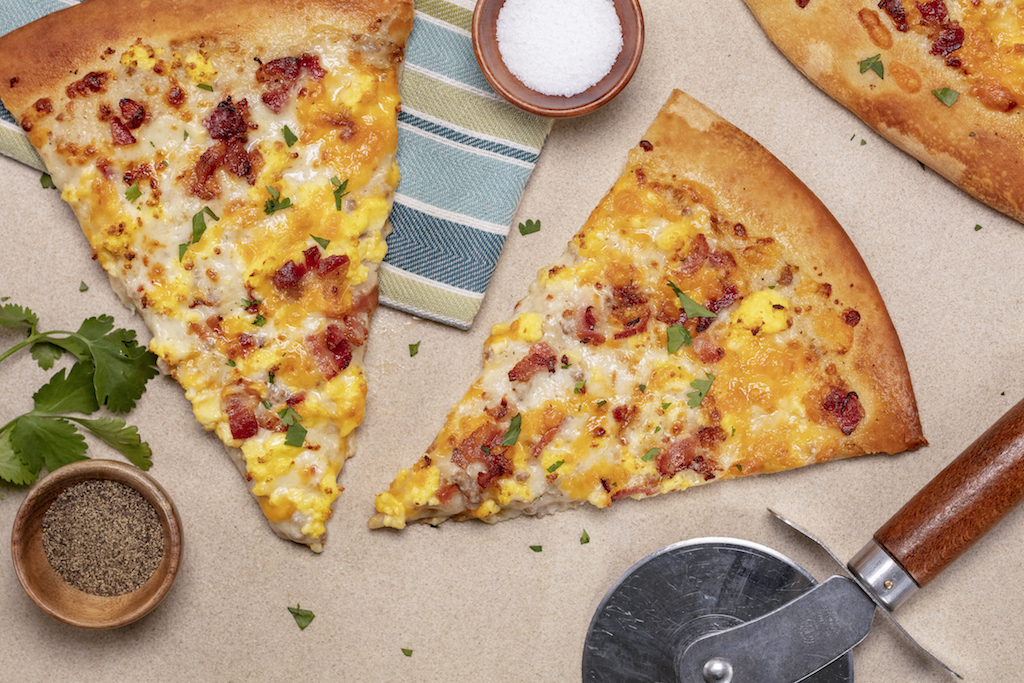 Beach Break Café offers a range of hot and cold options throughout the day. We really loved the breakfast pizza (less strange that it sounds I promise!) and the range of pressed fresh juices on offer first thing. After all, breakfast is the meal you're most likely to eat at your hotel when on an Orlando holiday, so it's got to be good. Everything here is really affordable too - nothing on the menu is over $12 so you don't need to worry about it breaking the bank. It's open early too, from 7am, so you can get to the theme parks early!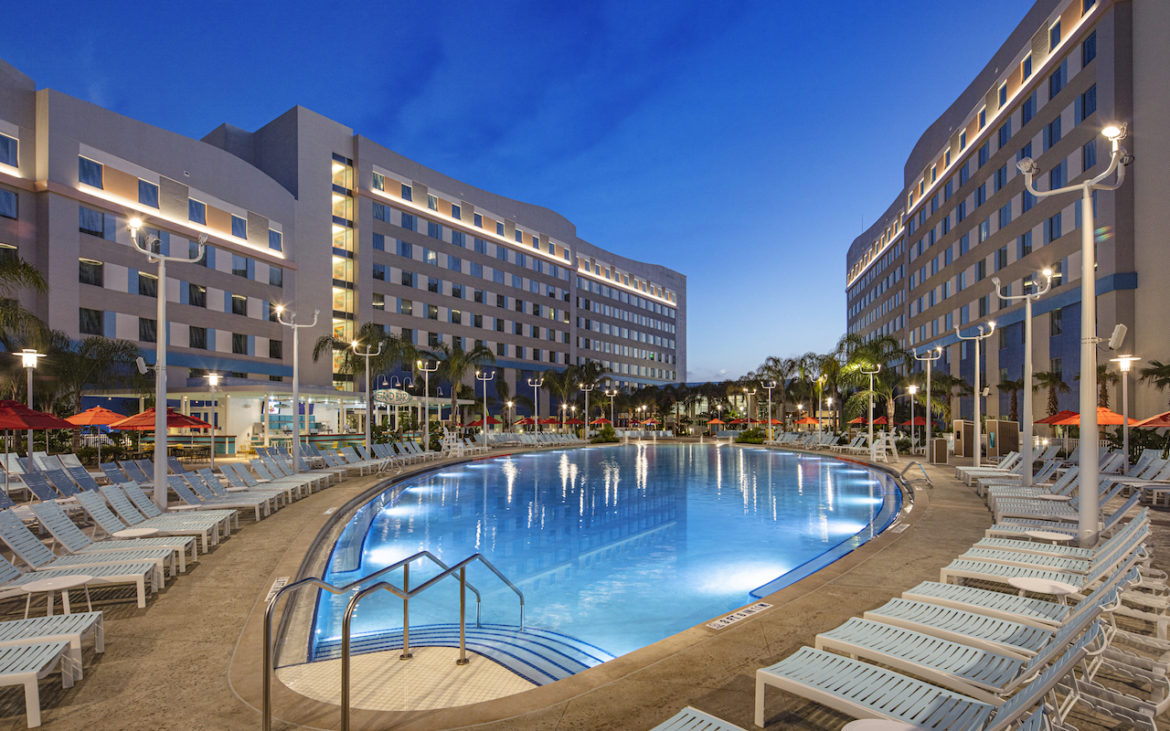 Outside, there's a surfboard-shaped pool to cool off in and plenty of sun loungers and umbrellas to laze about on. For such a big hotel, the pool area felt very calm and quiet, with plenty of sun loungers available and even the chance to have a game of ping pong on the table tennis table! It's a great space to have a chilled day if you're taking a break from the parks one day - you'll barely need to move with the Sand Bar poolside bar open 11-11 every day.
We've already talked a little about the rooms in this hotel as, for me, they are the big selling point. If you are thinking that a value hotel will mean small, stuffy rooms and lack of amenities, you'll be completely blown away by the rooms at this hotel. Even the cheapest standard rooms come with 2 queen-sized beds and plenty of bright, airy space. There's also a flat-screen TV, mini fridge and microwave and a small table to eat at if you want to save some money by dining in your room some days.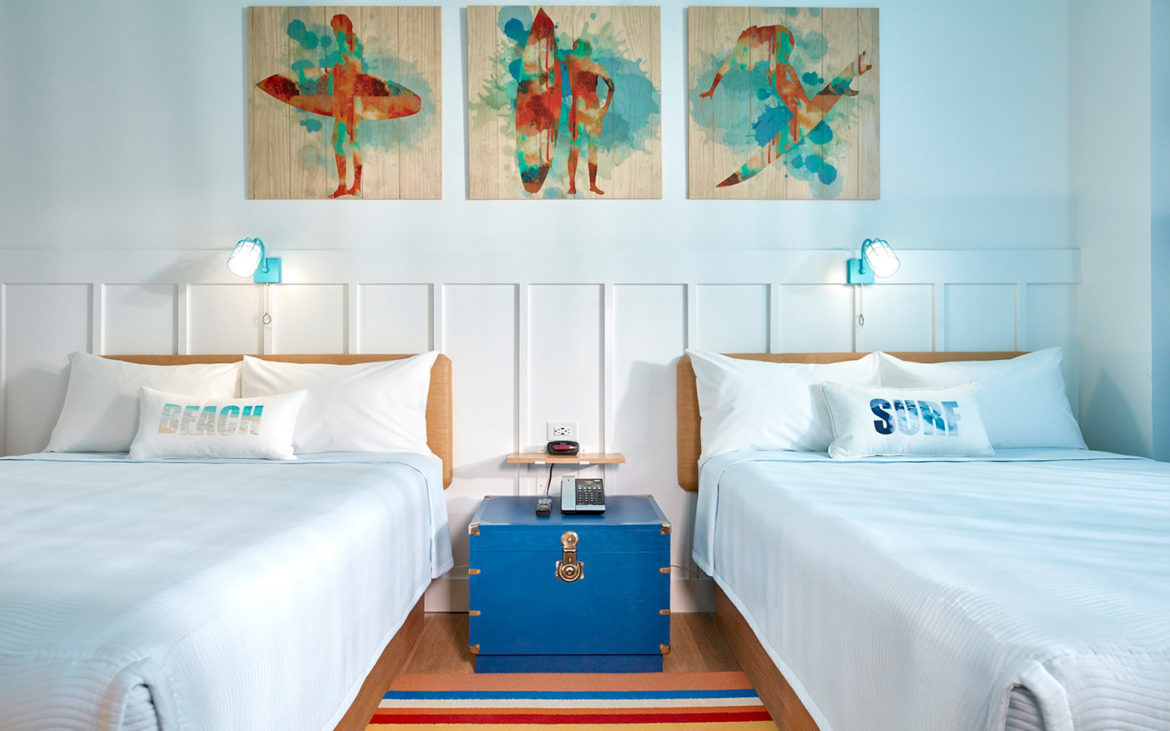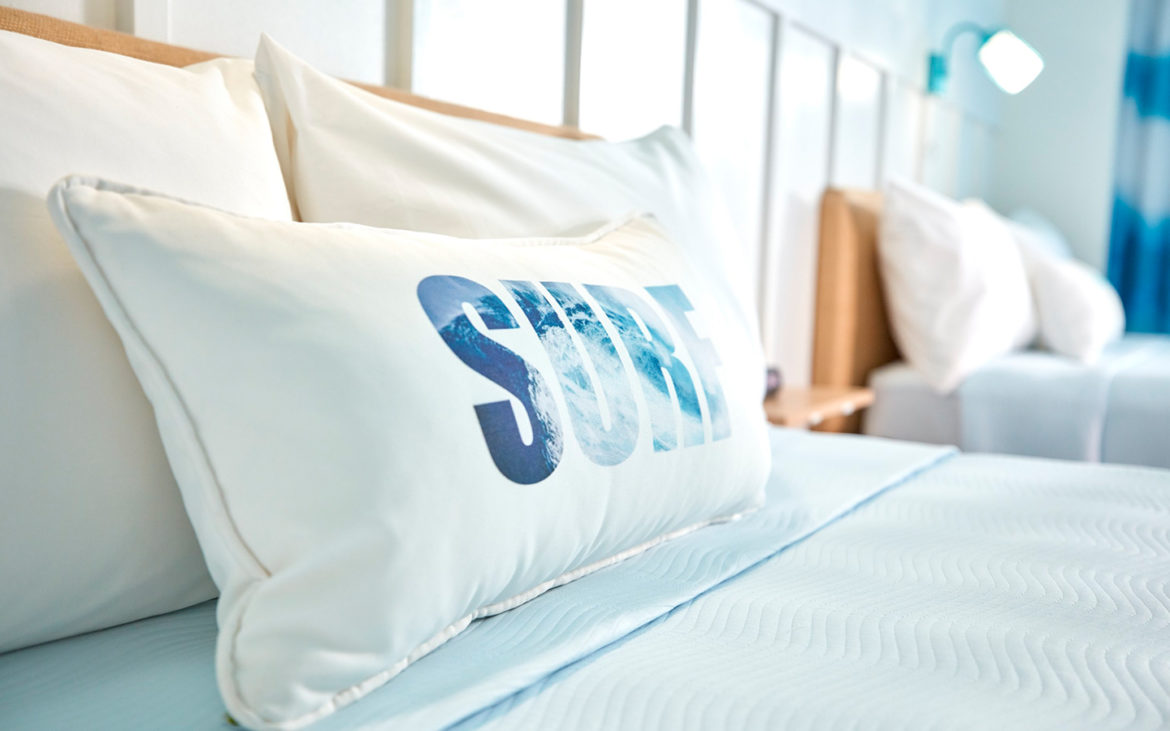 This hotel really comes into its own though when you see the 2-bedroom suites on offer. These suites sleep up to 6 people and start from just over £100 per night*. The Endless Summer Resort 2-bedroom suites feature 2 rooms, one with a closeable door with 1 queen bed and then a larger room which has 2 queen-size beds plus the shared living facilities. As these suites are made to accommodate more people, there's a picnic bench to eat at, as well as a mini-fridge and microwave. These suites are ideal for families who need some space but want to avoid the expense of booking 2 adjoining rooms. Plus, they're incredibly stylish - especially given the price!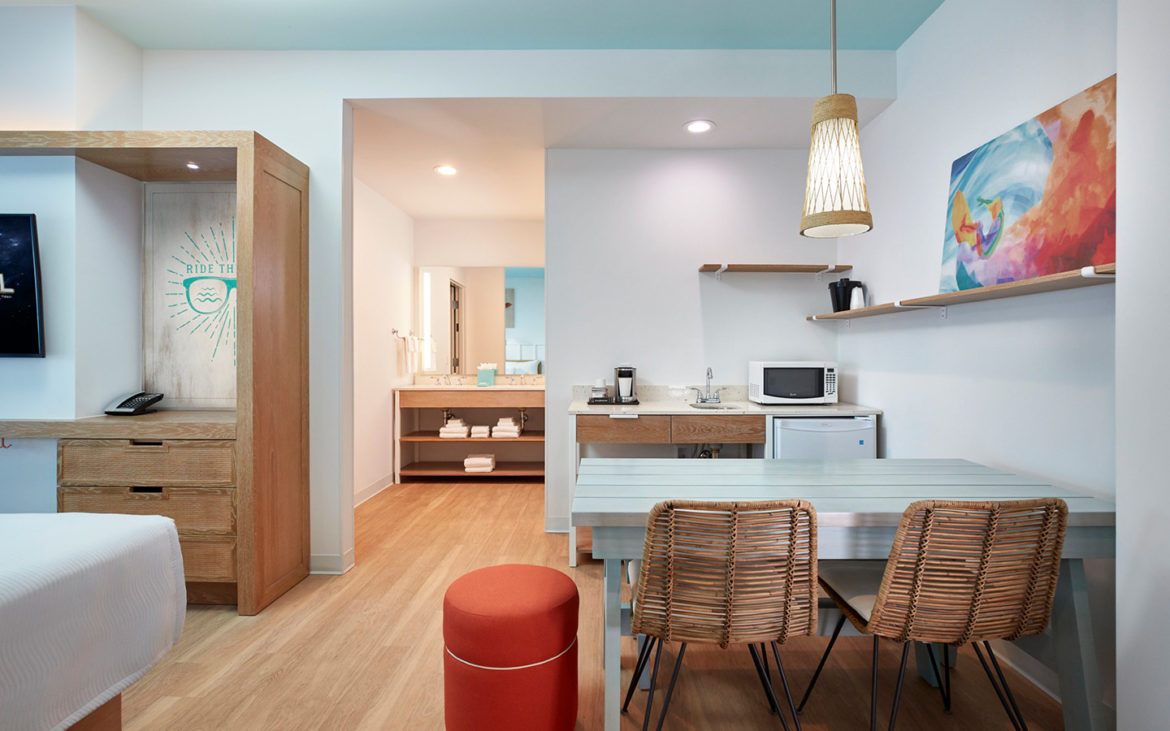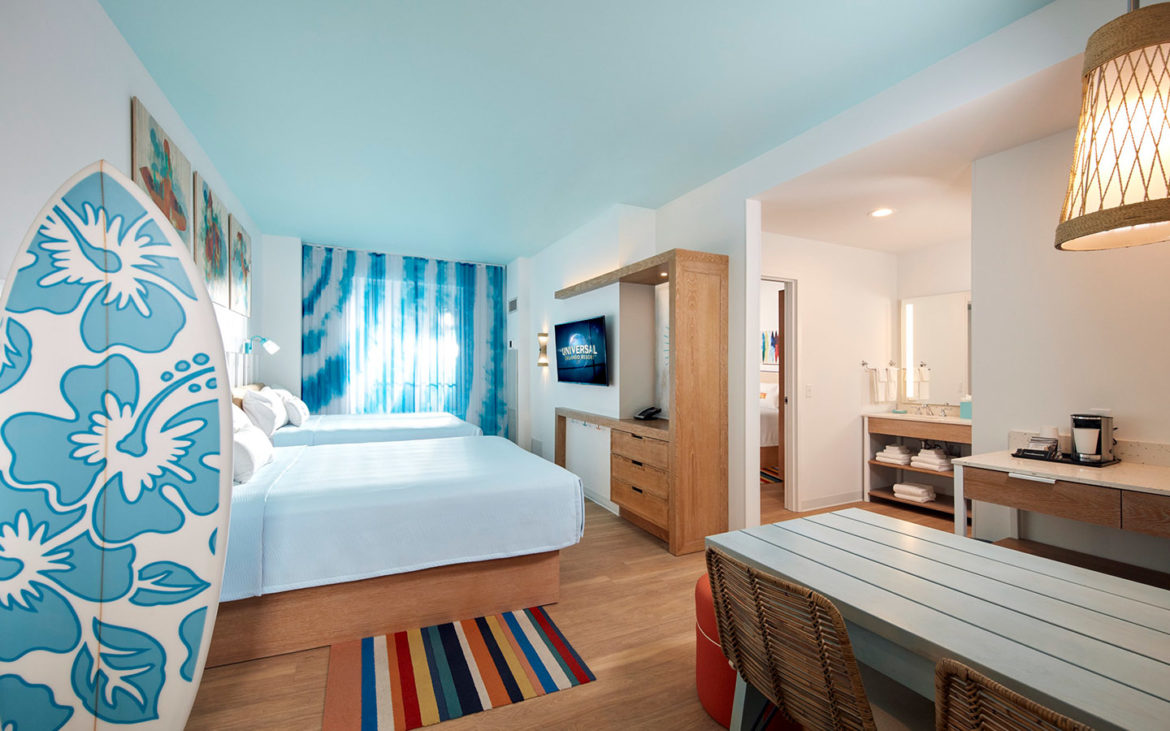 If you're interested in a Florida theme park holiday but are on a limited budget, this is by far the cheapest theme park hotel option. However, Universal have managed to deliver a hotel which is not only affordable but is also stylish, fun and welcoming. Plus, you'll save money on travelling to and parking at the Universal parks as well, by making use of the complimentary resort transportation. Plus you'll get the exclusive benefit of early theme park access just by virtue of being a Universal hotel guest.
Are you thinking of booking a stay at Endless Summer Resort? Click here to find out more. 
*Room prices correct as of May 2020.