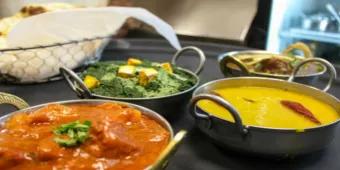 By Simon and Susan Veness
We know the feeling. You're a long way from home and need a taste of the familiar. And then it hits you – you need a good curry!
Well, that's how we felt last weekend, anyway, when the cry for a good old takeaway went up from Veness Towers. So we went straight to our little book of 'Old faithfuls' here in Theme Park Central.
First there was A Passage To India; but, sadly, that closed its doors on International Drive several years ago. Flavours of India? That's gone, too. And the briefly-promising restaurant in Kissimmee that went by the name of Murgh-something-or-other (not too promising, actually, was it?).
Our major discovery last year of Raga on Sand Lake Road's 'restaurant row' is more of a special night out than a quick takeaway, hence we had to reach a bit deeper into our 'book of secrets' and find something else.
At last! "What about Memories of India?" I asked hopefully. "Can't say, since I've never been to India," was Susan's cheeky reply. Happily, peace was soon restored by a quick online check and, sure enough, Memories of India was still there.
Now, we should say at this point that Indian restaurants have not been a strong feature of Orlando's 4,000-plus places to eat in the past. Many have come and gone and others have started brightly only to fail the Consistency Test.
Knowing British visitors' liking for a good Ruby Murray (well, that's what I say, anyway, as I once had neighbours from Sri Lanka who knew a thing or three about it), we thought it worthwhile to detail a bit more about our Saturday evening takeaway, as, while the food may be similar, the style is still different.
First off, phoning your order in ahead of time is highly advisable, and these often aren't places where you can roll in after the pubs have closed (mainly because they usually close before the pubs!).
And the menu may be a bit different, too; main courses may be set out under terms like Shakahiri (vegetable specialities), Murgh Laziz (chicken) and Laziz Gosht (lamb). You will also find more seafood dishes than you are used to seeing in the UK, even things like shrimp and crab.
The prices may also seem a bit higher than the typical High Street Indian, too. Main courses can run from $11-$25 and those oh-so-tempting papadams around $1 each, while pickles and relishes are also extra. But – and this is worth remembering – rice is included with every main dish.
Hence, our 'little' Saturday night dinner of Chicken Jalfraizi, Palak Gosht (lamb with spinach) and Aloo Gobi (potato and cauliflower) came fully inclusive with enough rice to plant our own paddy field. After we'd eaten. Seriously, we had dinner AND lunch the next day, too, and still had rice left over.
But, the bottom line was it was absolutely delicious and it underlined how a long-time but totally unassuming little restaurant can deliver in big style. In many ways it is a typical 'American' Indian restaurant, set in a small parade of shops  on Turkey Lake Road (just north of Sand Lake Rd) and with only a dozen or so tables and fairly unprepossessing décor. 
Don't let that fool you, though. The authenticity is all in the cooking, and we had an excellent meal, hence it is somewhere we can continue to recommend with confidence (like Raga, if you are looking for somewhere a bit more upscale).
But then Susan decided it would be fun if she could do some of the dishes herself, and this is where Part 2 of Our Great Curry Adventure comes in, and it will certainly be of interest to those who stay in villas out here and do some of their own cooking (and also might fancy themselves as a bit of a Madhur Jaffrey or Atul Kochhar).
Some British friends of ours had recommended Patel's grocery on the corner of Sand Lake Rd and the Orange Blossom Trail (near the Florida Mall) and so we decided we were long overdue for a visit.
And, almost $100 later, we had four bags (very) full of lentils, chickpeas, sauces, spices, rice, paratha, burfi and strange-looking vegetables, most of which we can't identify but which we were promised will make a great Navratan Korma.
If you're into cooking, especially of the Indian variety, this place is an absolute Aladdin's Cave of all things hot and spicy. And, when they say hot, they actually MEAN hot (unlike in many American restaurants where a 'hot' chili merely means the temperature, not the spiciness!).
Suffice it so say, our little Saturday evening jaunt for a good takeaway has now led to a major assault on Indian gastronomy, but we are forever in our friends' debt for the Patel's recommendation – and we think you might be, too.
Talking of 'tastes of home,' just to finish off this week's missive with a proper British flavour, we ought to put another shout-out to the Proper Pie Company on Highway 27 in Davenport (and in the heart of holiday villa territory).
We may have mentioned them before as they are a well-established but still-growing British-owned business who specialise in great pies, pasties and other UK groceries (including McVitie's,  Cadbury, Ambrosia and our good friend, Mr Kipling).
Their double-crust pies are a particular weakness of ours and we have lost count of the sausage rolls we have bought for a 'quick' breakfast treat. 
Our Favourite Quote of the Week: Finally, with the dust (and record crowds) from the big Christmas and New Year period now settled, we have to pass on our favourite 'Overheard in the parks' comment from the two-week holiday:
Newly-arrived tourist to a Disney Cast member at guest relations: "Will it be quiet if we arrive at the Magic Kingdom early on Christmas Day?" The poor Cast Member didn't know quite what to say and we didn't have the heart to tell the guest – Yes, it will be – if you arrive at 5am.
PS: Go on now, admit it – you thought the title of this week's blog would be about the temperature here in Florida, didn't you?!