Central Florida's line-up of world-class theme parks received yet another boost in 2011 when the former home of the Cypress Gardens attraction became the latest location for the worldwide Lego empire. LEGOLAND Florida has since become a must-see family park, catering wonderfully well to its traditional audience of kids aged 2-12, with the benefit of a beautiful lakeside setting – in the town of Winter Haven, 45 minutes south of Orlando – and the biggest acreage of any Lego park in the world. It has also added a water park to its great list of attractions and is fast becoming a multi-day destination
What not to Miss
Top Rides
There is a terrific variety of attractions spread through LEGOLAND's 150 acres, with older children well catered for by high-powered rides like The Dragon (half dark ride, half coaster), Coastersaurus, The Great LEGO Race and LEGO NINJAGO The Ride, while the younger set can choose from 30 smaller-scale rides, notably in the Duplo Valley area and LEGO City. The family ride of Island in the Sky lifts guests 150ft in the air for a grand view of the area while everyone wants to do the signature Driving School. Beware The Quest For Chi interactive water ride – it can get you very wet indeed!
Expert Tip
Ride Advice
The longest queues build up at Dragon Challenge and The Quest for Chima, hence you should aim to try to do these two first. Then head for the LEGO City area towards the back of the park and return to the front of the park (The Beginning and Fun Town) in the afternoon.
Top shows
LEGOLAND features a mixture of live shows and cinema specials in their 4-D theatre, and you should definitely try to take in the live pirate-themed water-ski show of the Battle for Brickbeard's Bounty as well as one of the 3 films running throughout the day at the Wells Fargo 4D Theater, notably The LEGO Movie 4D.
Character Meet And Greets
LEGOLAND'S signature character is Buddy (with friends Max and Stormer), who can be found around the park at different times, while Laval the Lion Prince and Craggar the Crocodile King have their own meet-and-greet in the World of Chima area. Emmett, the star of The Lego Movie, also makes periodic appearances, and you can meet most of the above at the Bricks 'n' Breakfast character meal each Sunday. The newest additions to the character line-up, are Kai and Nya, who you can find at LEGO NINJAGO World.
Cypress Gardens
The new owners have worked hard to restore large parts of the original Gardens, and they make for a peaceful wander at most times of the day, or when you need a break from all the rides. The vast Banyan Tree remains an iconic part of the Gardens and is a great photo opportunity.
Miniland USA
Like all Lego parks, the central area is the iconic Miniland, a collection of worldwide places, buildings and representations in classic Lego style. Here, the Miniland area includes amazingly detailed replicas of notable parts of Florida (like the Kennedy Space Center), Las Vegas, Washington, New York and California, as well as a Star Wars section and a Pirates tableau.
Expert Tip
Miniland Advice
There is no shade in the otherwise wonderful Miniland USA area, hence you will want to make sure you have applied lots of sunscreen and take some water with you if possible. It's easy to get carried away and be here for an hour or more!
New Attractions/Expansions
Despite opening as recently as 2011, LEGOLAND Florida has not slowed down and has gone on to add its own water park, the World of Chima area and water ride, and, in 2014, the Duplo Valley section of rides and play areas for little 'uns, as well as restoring the Oriental Gardens area of the old park. The fun-themed LEGOLAND Hotel opened in 2015, and the LEGOLAND Beach Retreat opened its doors in 2017.
Lego Ninjago The Ride
LEGOLAND's most recent expansion, the LEGO NINJAGO World is amazing fun for the whole family. The main attraction in this new area is LEGO NINJAGO The Ride. This exciting attraction lets you use your best ninja skills to fight off a horde of LEGO enemies. You'll be able to hurl scorching fireballs and lightning blasts at the villains, using just your hands, thanks to the amazing state-of-the-art ride technology. This is great for a bit of friendly competition as you ride this attraction in groups of 4.
The Great LEGO Race
The Great LEGO Race is one of the park's newest attractions, having opened in March 2018. Not only does this ride offer a thrilling coaster experience, but also an immersive virtual reality adventure! This is the first time the LEGO brand has integrated with virtual reality technology, so it really is worth checking out. Prepare to put the pedal to the plastic as you zoom around the track in a battle against some zany LEGO minifigure characters. Look out for a pirate, pharaoh, surfer and a wizard, driving some quirky brick-built contraptions.
Annual Events
Friends Weekend
A girls' party led by LEGO friends Olivia, Andrea, Stephanie, Emma and Mia. This razzle-dazzle event puts girls in the spotlight and lets them celebrate with a chance to walk the pink carpet, build LEGO creations with Olivia and sing like a rock star with Andrea.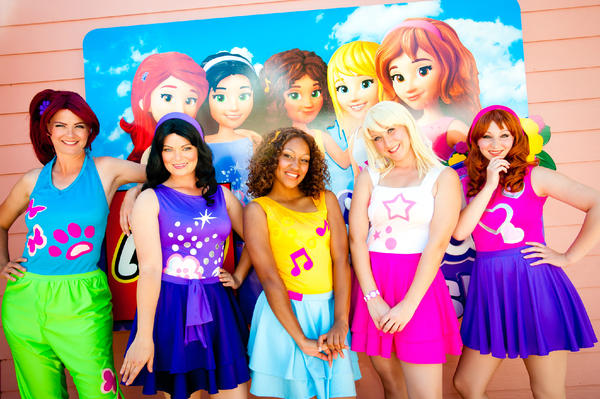 Dates: Weekend in mid-February.
Tickets: Included as part of park entry.
Times: Various events from 10am to 5.45pm.
Red, Brick and Boom
The park's 4th of July celebration, spread over 3 days to get maximum value for their firework spectacular. The special pyrotechnic show is set to the big LEGO Movie hit, 'Everything is Awesome!' and comes with special viewing glasses to turn fireworks into millions of exploding LEGO bricks! There is also a collective interactive build of a giant LEGO American Flag, a scavenger hunt in Miniland USA to win a LEGO Prize pack, and other activities.
Dates: July 3, 4 and 5.
Tickets: Included as part of park entry.
Times: From 10am, with fireworks at 9pm.
Brick Or Treat
The annual celebration of Halloween, given a real family-friendly twist here with trick-or-treating along the brick-or-treat trail, super-brick build activities, the largest LEGO Jack-O-Lantern in the world, a meet-and-greet with LEGO characters, Halloween entertainment and an all-kids costume contest with brick-tastic prizes!
Dates: Weekends in October.
Tickets: Included as part of park entry.
Times: From 10am to park closing.
Christmas Bricktacular
Arrives in December and provides a festive setting and lots of holiday fun throughout the park, culminating in an evening tree-lighting ceremony. Other events include a Christmas scavenger hunt, LEGO Santa and Toy Soldier characters, and a host of decorations, with a 'winter wonderland' snowfall at regular intervals.
Dates: Weekends in December.
Tickets: Included as part of park entry.
Times: From 10am to dusk.
Countdown to Kids' New Year's Eve
An imaginative programme that adds evening fireworks – with the special viewing glasses – over Lake Eloise each night from December 26 as the park counts down daily to the New Year, with even more kid-friendly events and a grand finale firework show on New Year's Eve itself.
Dates: December 26-31.
Tickets: Included as part of park entry.
Times: Fireworks at 7pm.
Exclusive Experiences
VIP Experiences
For the ultimate LEGO visit, choose the Florida VIP Experience. It includes a personal VIP Host to escort you around the park for the day; the chance to assist Buddy in the Park Opening Ceremony; an exclusive tour of the Model Shop with a Master Builder; priority access to rides and attractions; locker usage; a VIP lanyard; LEGOLAND Florida Gift Bag; lunch and refreshments; a complimentary souvenir photograph; and complimentary unlimited digital photograph package for the day.
Emma's Heartlake Salon Makeover
Enjoy a full LEGOLAND Florida VIP Makeover Experience with the LEGO Friends Girls - get pampered with a hair and beauty styling session, then get all dressed up in a new dress and join your new LEGO Friend for a special photo opportunity! Includes a Cupcake Tea Party.
Estimated Visit Time
LEGOLAND Florida: One day (2 with water park).
Expert Tips
General Advice
Try to arrive a little early as Legoland is VERY popular with local school groups and can get quite crowded by mid-day. Conversely, the crowds often drop off in the last couple of hours of the day, and you can do many of the rides then. The park will close on Tuesdays and Wednesdays in low season, while the water park is open only from April to October (and weekends only in the spring and autumn).
Dining Advice
There are plenty of places to stop for a meal or snack around the park, and many of the options are quite health-conscious. The Market Restaurant offers a great variety all day, while the all-you-can-eat Pizza and Pasta Buffet in Fun Town is another good option. Other worthwhile choices are the Lakeside Sandwich Co with great views over Lake Eloise, and the I-Zone Panini.