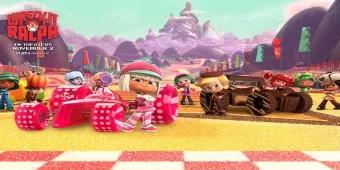 Meet Crumbelina DiCaramello, Snowanna Rainbeau and the other Sugar Rush racers!
Sugar Rush is the fictional video game featured in Walt Disney Animation Studios Wreck it Ralph that Vanellope Von Schweetz hails from. Take a closer look at the other Sugar Rush racers.
We've already introduced you to Vanellope Von Schweetz, the second lead in Walt Disney Animation Studios recently released movie Wreck it Ralph and her nemesis Taffyta Muttonfudge, accomplished racer and bully whose famous catchphrase is 'Stay Sweet!' However, you'll notice that there are still many more Sugar Rush racers that you haven't met and unfortunately won't be able to meet at the Disney parks with Ralph and Vanellope.
We thought we'd introduce you to some other candy cart racers as their names are just as interesting as their sweet and colourful characteristics!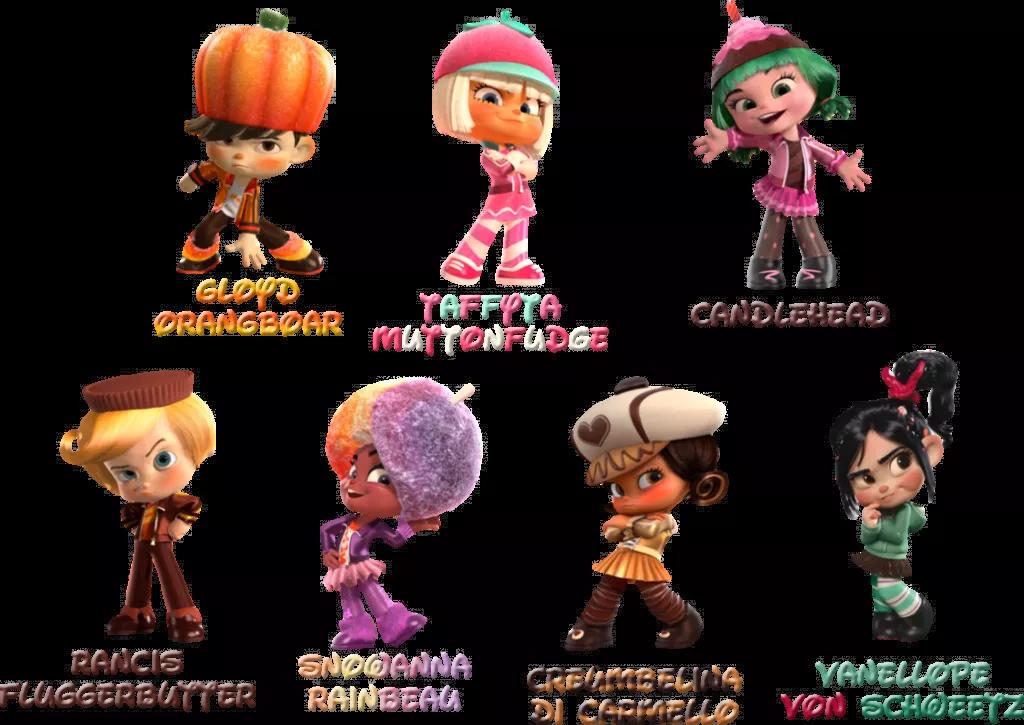 King Candy – The King of Sugar Rush might look familiar to you, as he's been designed with a slight resemblance to the Mad Hatter from Alice in Wonderland. King Candy is the antagonist in Wreck it Ralph. 
Candlehead – Candlehead's cart is made from mint chocolate chip. Candlehead hangs out with Taffyta Muttonfudge and participates in the bullying of Vanellope.
Rancis Fluggerbutter – Rancis is a smooth operator of his candy cart and very serious about racing. He's particularly vain and is constantly checking himself out in the mirror. Rancis is allies with Taffyta and Candlehead.
Crumbelina DiCaramello – Glamorous, wealthy and extravagant off the race course, but when she's racing she's all about winning and won't let anything as frivolous as glamour stand in her way off the finish line.
Snowanna Rainbeau – You have just got to love her name! Another stylish racer with a big personality and a playful nature, Snowanna is a soul girl with who's just as cool as her name.
Gloyd Orangeboar – Gloyd is obsessed with candy, he loves to pull pranks and is considered a bit of a troublemaker.
Jubileena Bing-Bing – The girl with the cherry pie racing cart and the cherry top hat to match is one of the best racers in Sugar Rush.
Swizzle Malarkey – This Sugar Rush racer with lollypops for wheels on his racing cart has a special relationship to Vanellope that is revealed in the film. Malarkey bullies Vanellope along with the other racers, however once he remembers his relation to Vanellope he apologises for the bullying.
If you're headed to Disney World be sure to use your
Disney tickets
to head to Downtown Disney's AMC 24 theatre to watch Wreck it Ralph and meet him and Vanellope in person at Disney's Hollywood Studios!