Hold on tight... this Falcon's Fury POV video is hair-raising!
Falcon's Fury is the tallest freestanding drop tower ride in North America, reaching an unimaginable 335 feet tall. If you can't envision just how high in the sky that might be, or how long it might take to reach such a height, take a look at this chilling Falcon's Fury POV video!
SeaWorld Parks and Entertainment are well and truly keeping thrill seekers waiting on tenterhooks for the official launch date of the record breaking new attraction Falcon's Fury! The ride was expected to open to Busch Gardens' guests on the 1st May, however the launch has been postponed.
Of course, for thrill seekers itching to experience North America's new tallest freestanding drop tower ride, news of the postponemt may have come as a slight disappointment. However, after watching this Falcon's Fury point of view video, we realise we can use this much appreciated time to gather our wits and prepare ourselves to brave the wrath of the furious falcon!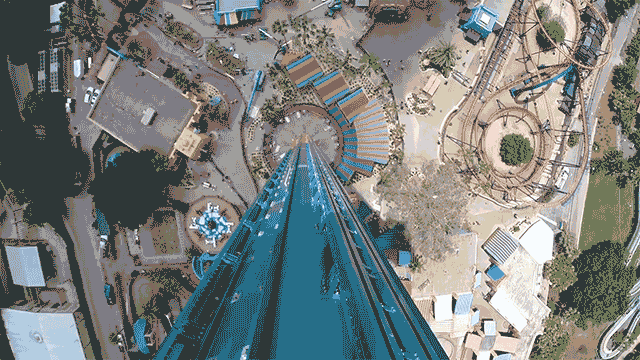 This POV video makes it very apparent just how tall 335ft tall is - look at how long it takes the camera just to reach the top of the tower, that's a whole lot of time for a whole lot of suspense to build! You will also notice that the clouds seem dauntingly close. Then there's that brief moment where the camera steadies and your heart begins to calm. That's only till the camera starts to tilt to its 90 degree angle and you feel the hairs on your arms prick and raise!  It's at this very moment that you know your fate is sealed. Watching the camera plummet, ground facing, back to earth, you can't help but notice how much quicker things go down than they come up -  60 mph to be precise! Now imagine being on the ride yourself - if you dare!
You'll need those all important Busch Gardens tickets to experience Falcon's Fury and all the other goundbreaking rollercoasters and attractions that have been wowing thrill seekers and animal lovers in Florida. And Attraction Tickets Direct has a selection of Orlando attraction tickets to facilitate your Busch Gardens visit.
Be sure to check back in at ATD's Latest News to find out exactly when Falcon's Fury will open to guests at Busch Gardens!