By AT.com's Florida Experts, Susan and Simon Veness
Our Florida experts visit SeaWorld Orlando's Seven Seas Food Festival and give their review!
Holidays are no longer just about arriving in a location and enjoying its attractions. They're also a chance to make planet-friendly, eco-conscious choices while having the time of your life, and SeaWorld Orlando's Seven Seas Food Festival offers a big step in that direction. Here's how.
Combine more than 60 different foods, over 70 craft beers, upwards of 50 wines and spirits, plus 26 live concerts, and you've got SeaWorld's Seven Seas Food Festival, a celebration of sustainable foods that also aims to protect the planet.
As you wander around the park, stopping at any of the 31 festival "markets" that grab your attention, the over-riding theme of "park to planet" dining becomes clear. There are more vegetarian, vegan and gluten-free options than ever before, and many of the ingredients are organic, regional, cage-free and sustainable. It's a way of thinking we can definitely get behind, especially when the flavours are that good!
We're just back from a preview of the festival, and offer you our top carnivore, gluten-free, vegetarian and vegan choices you can feel good about. Dessert gets its own category, because…well…dessert.
Go Full-On Carnivore
Who doesn't love chicken wings? They're even better when they're the sticky kind, such as the All-American Market's Tennessee Whiskey BBQ Chicken Wings. At four wings per order, they're crunchy on the outside, moist and meaty on the inside, and sweet and sticky all over. Get two serviettes; you'll need them.
Feeling adventurous? Try the Bison Sloppy Joe from the same market, with its deep, rich, meaty flavour smoothed out by a savoury tomato sauce and served up on a white-bread bun. The wings and the slider go well with a Duke's Cold Nose Brown Ale from Bold City Brewery, but a cheeky Arnold Palmer (sweet tea vodka topped with American lemonade) wouldn't be amiss, either.
Honourable-mentions for meat-eaters include the Palermo Fontina Cheese Meatballs, Spicy Poke Tuna Bowl, and the El Jibarito Kobi Slider.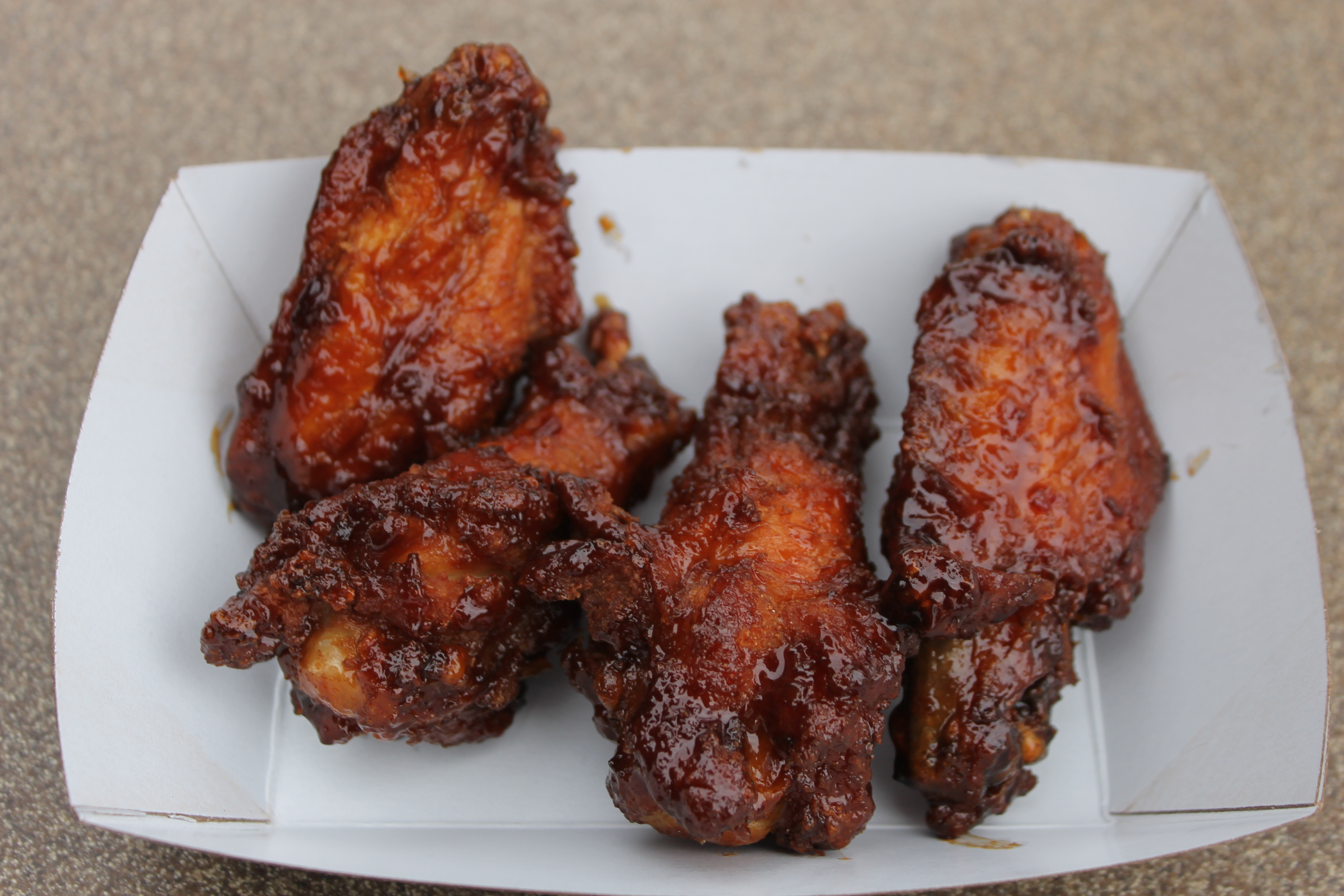 Give Your Gut Some Gluten-Free
Gluten-free sometimes means flavour-free, but that is certainly not the case with the Mexico Market's new Chalupas Tostada. It's an assemblage of creamy green salsa slathered over a crisp grilled tortilla, then topped with a second grilled tortilla loaded with pulled chili chicken, queso fresco, and cilantro. There is no graceful way to eat it, so just dive right in! And don't worry; it's not spicy. Bonus points for how big this thing is, too. Easily a lunch, along with equally gluten-free Mexican Roasted Corn and Manger's Irish cider.
Other honourable-mention gluten-free choices are the beefy Taco El Pastor, Vegan Ceviche, Mediterranean Hummus & Garlic Fries, and the Bingsu Salted Vanilla Ice Cream topped with caramel corn.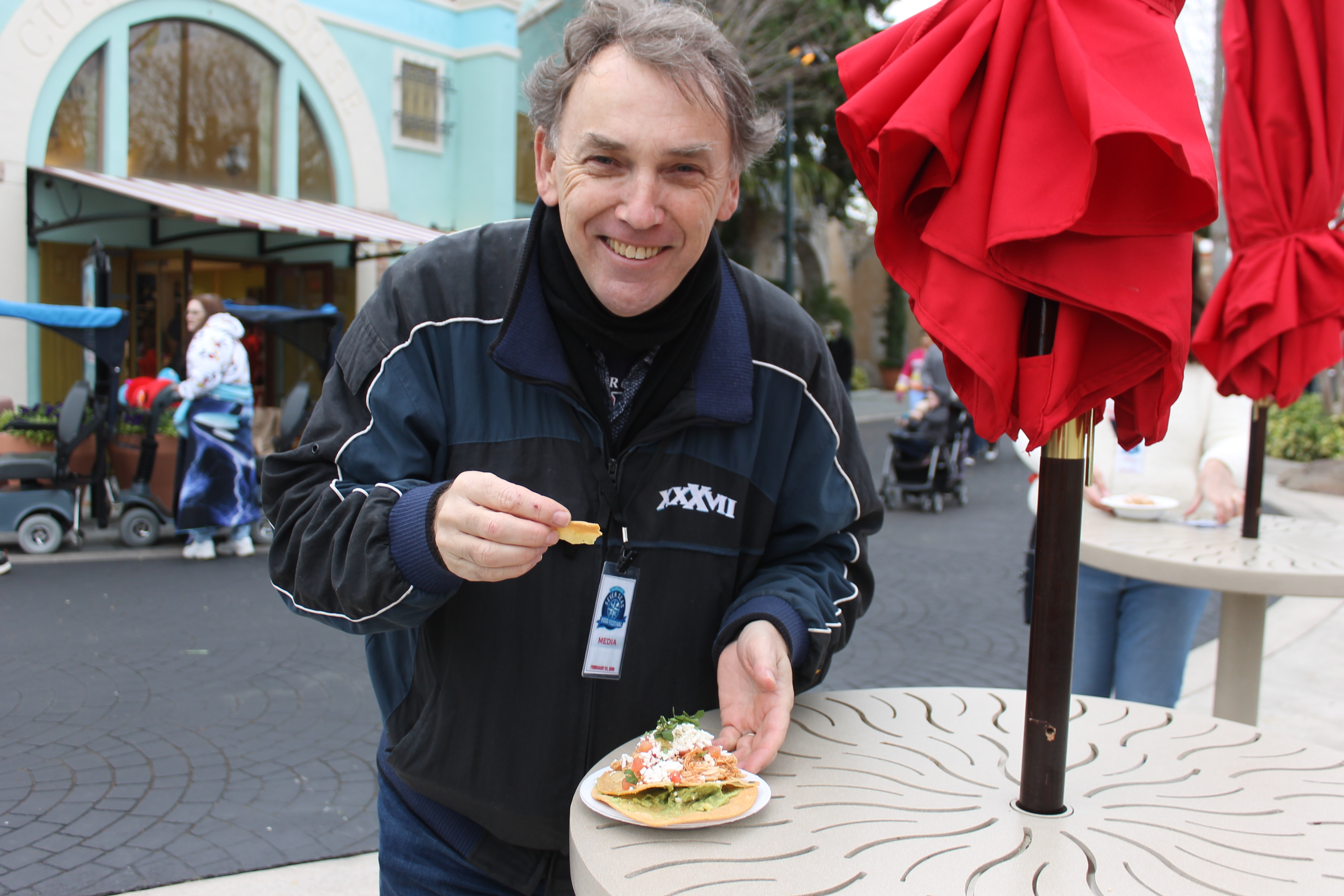 Good Eats Minus The Meats
Vegetarian? You're spoilt for choice. There are 28 Vegetarian options to choose from, and the one that tops our list this year is the plant-based Impossible Meat Slider. Take caramelised balsamic onions, crunchy fried jalapeno chips, delicate arugula and a whompin' big Impossible burger, stick it all on a soft mini pretzel bun, and you've got vegetarian heaven. Add a side of Traditional Tabbouleh Salad and a glass of Gancia Prosecco and you'll be set until dinnertime (or breakfast the next day).
Vegetarian honourable-mentions are the Pepperjack Mac & Cheese, Roasted Brussels Sprouts and the German Potato Cake.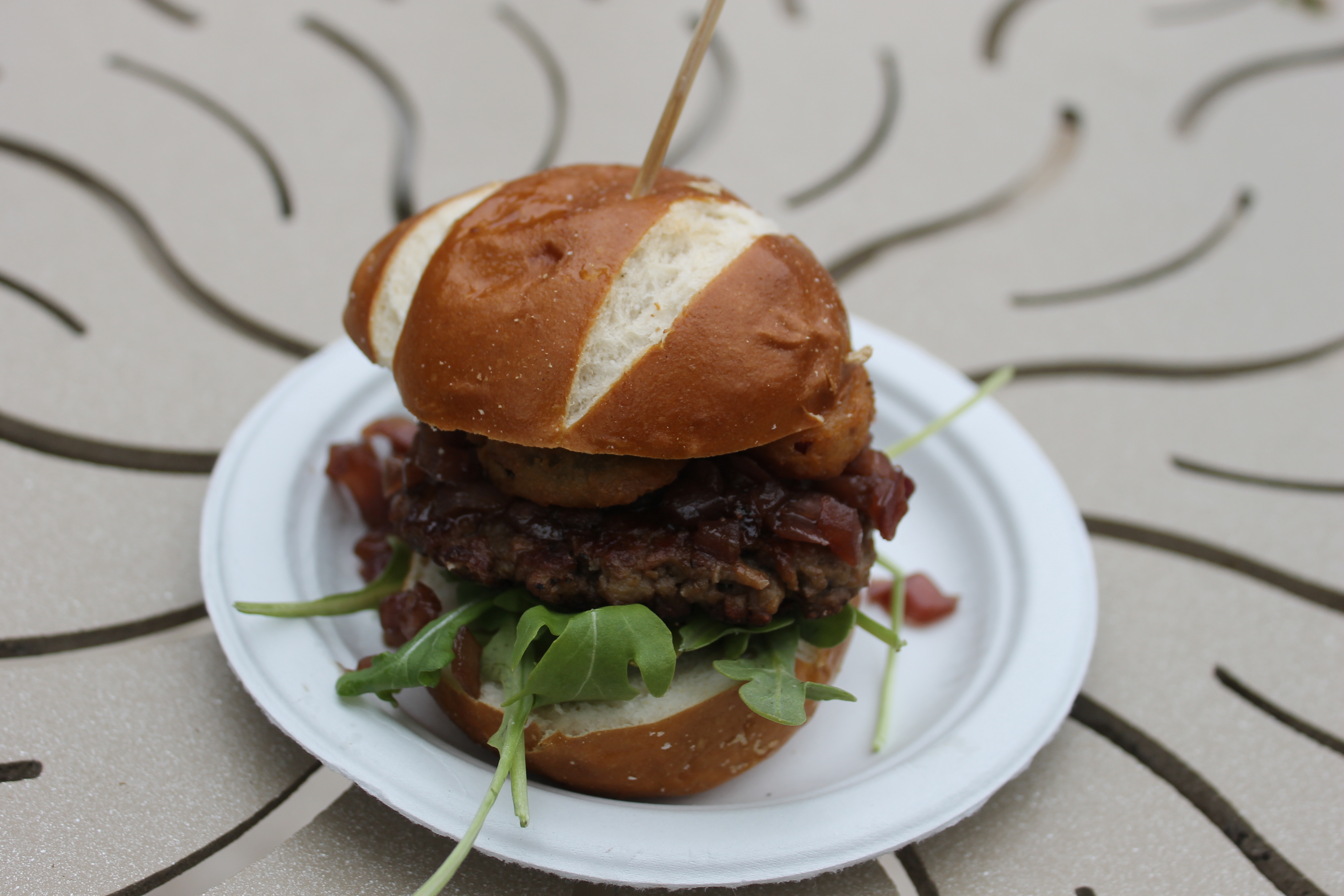 Get In My Mouth, Yummy Veggies!
Vegan-friendly theme park dishes are gaining in popularity, and there are five on offer at the festival. We've already mentioned the Impossible Meat Slider as a great choice for vegetarians (for anyone, really), but it's also perfect for vegans. A new dish this year, though, is the Oumph! Meat Slider, a 100% plant-based product that is also gluten-free, nut-free and dairy-free. This one is nestled on a Hawaiian bun and served with sweet Thai chili aioli.
The new Vegan Ceviche was also a hit with our fellow clean-eating members of the media. It's made with soy protein, which is then marinated in citrus juices and served with plantain chips. Additionally, try a white or red wine from Cline Farmhouse, a Sonoma, California based winery that uses no animal-based agents in their wine-making process.
Grab A Final Flourish
There are 6 new sweet treats at this year's Seven Seas Food Festival, bringing the total number of desserts to 16, and you can bet we tried several of them (it's a tough job, but somebody's got to do it!). These were the stand-outs for us, though we're having a hard time seeing how you'd go wrong with any of them.
Too full from all those samples you've scarfed down, but still have an ache in your sweet tooth? Go for the Chocolate Brazilian Brigadeiro and smile when they hand you a little white bag containing two chocolate truffles rolled in chocolate sprinkles. Not only are you holding a small, sharable dessert, you've also got the freedom of taking them back to your accommodation and making them a bedtime snack once your bulging belly has subsided.
Want to catch the attention of every park-goer you pass? Opt for the Chocolate Dipped Footlong Pretzel. Skewered on a stick, it's seriously impressive. Prefer a bit more subtlety in your desserts? The Hawaiian Pineapple Dream Cake (pineapple cake topped with cream cheese, whipped cream and pineapple) is lighter and less eye-popping.
Now, we know what you're thinking when we mention the Dark Chocolate Guinness Mousse Parfait. Beer and mousse do not go together. But, like chips and mayonnaise or banana with honey, this combo is a winner in our book. The mousse smooths out the Guinness, and the Guinness makes the mousse far more interesting. Topped with Bailey's infused whipped cream, it's a surprisingly pleasing weird-food mash-up.
Our top favourite, though, has to be the Rainbow Cheesecake Cone. It looks like multi-coloured ice cream (the sort of colouring you'd get if unicorns made dairy products), but this isn't ice cream at all. It's really super-creamy cheesecake in a waffle cone, topped with a big swirl of whipped cream and a generous sprinkling of Sprinkles. Did we mention it's super-creamy? Because it's super creamy! And it's delicious. And it's Vegetarian-friendly. And Susan had 4 spoonfuls, which she never does, so it must be good. Try this one. You can thank us later.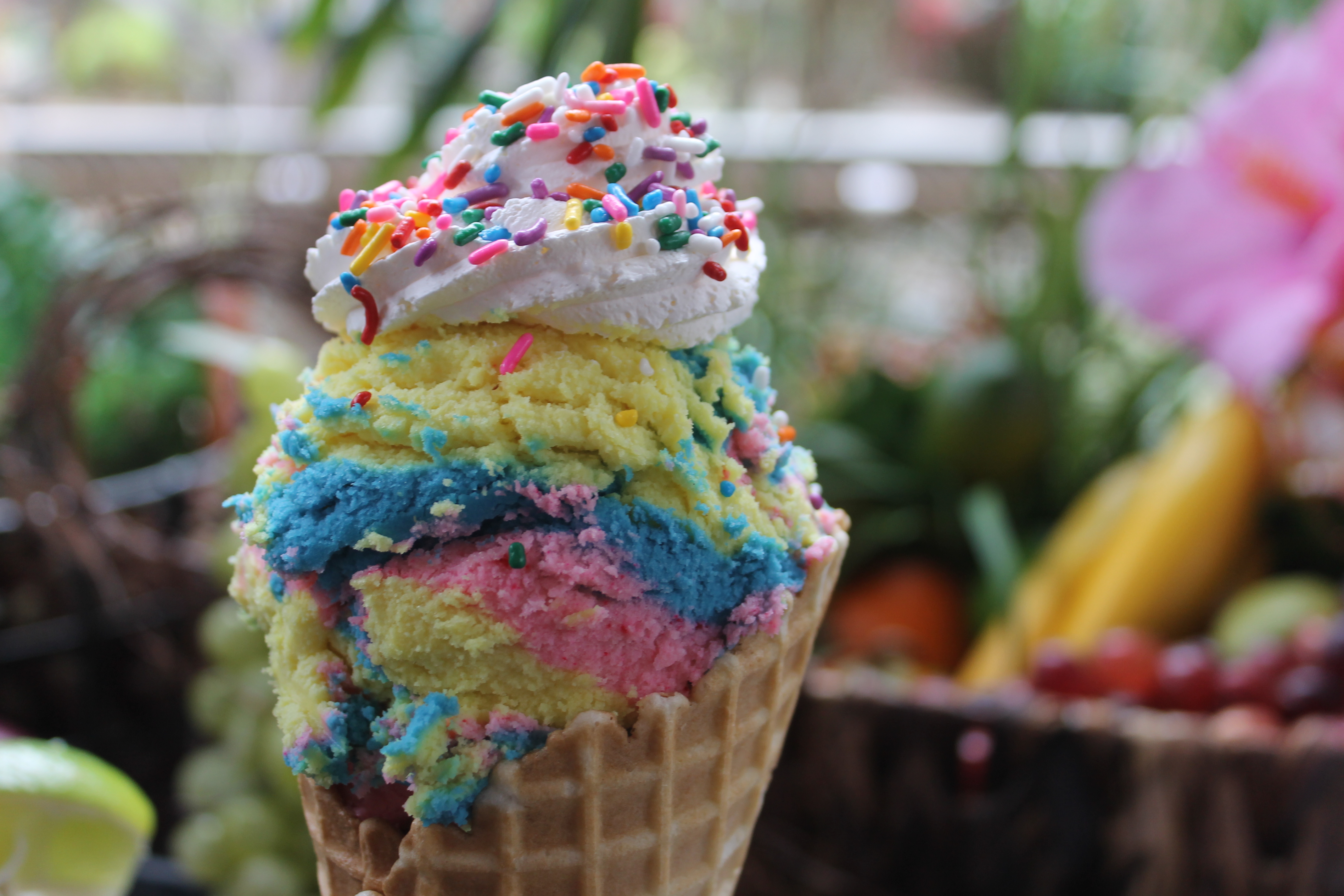 SeaWorld's Seven Seas Food Festival and the fabulous live concerts (featuring headliners such as Boyz 2 Men; YES and Alan Parsons Live Project; and Grand Funk Railroad & Blue Oyster Cult) are free with park admission. Food and beverage samples, of course, cost extra (get a 10 or 15 Item Sampling Lanyard for savings over purchasing individually). The festival runs on Fridays, Saturdays and Sundays from February 7 through May 3.