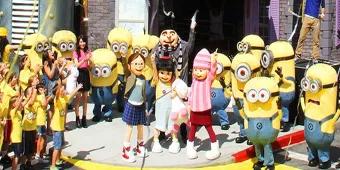 Check out the launch of Despicable Me at Universal Orlando!
Yesterday, the 2nd July, Universal Orlando launched their latest, highly anticipated Despicable Me: Minion Mayhem to the world.
This year has been a massive year for Universal Orlando! In celebration of the giant entertainment company's 100th anniversary this 2012, those of you with your Universal tickets will have seen new rides, enhanced rides, even better shows, new parades and night time spectaculars! It's been a fabulous 2012 and we are so glad that we can share all this news with you. 
However, as adoring fans of Gru, Agnes and the Minions and being in complete awe of Universal Pictures and Illumination Entertainment's genius film Despicable Me, nothing quite tops us being able to inform you that Despicable Me: Minion Mayhem is now in full swing! Gru, Margo, Agnes, Edith and millions of Minions come out for the grand launch of this much awaited attraction. Now you too can join the Minion Mayhem....
We've been telling you all year that the Universal ticket is the hot ticket of 2012 - now Despicable Me: Minion Mayhem is in action it truly would be a crime to head to Orlando without these utterly necessary super hot
Universal tickets
!
Are you ready Minion recruits? Here we go....!