Universal Studios Florida unveils its London side!
Over the weekend Universal Studios took down the construction walls surrounding the first phase of the Diagon - Alley development to reveal the water facing London facade. This is just the first part of Muggles' journey from Diagon - Alley to Hogsmeade!
It was only months ago that Universal Orlando announced the Diagon - Alley concept coming to its Universal Studios Florida park, and as if with a little magic and wizardry, this weekend Universal revealed London standing tall on the Studios' water front. 
This indeed will be your gateway to Diagon - Alley, where many Harry Potter inspired attractions will reside; a Gringtotts Bank attraction, a Leaky Couldron restaurant, a Platfrom 9 and 3/4 plus loads more to be unveiled later this week at Universal's Harry Potter Celebration on the 24th - 26th January.
Kings Cross and St Pancras Station - London Borough of Camden
For the readers amongst you that aren't entirely familiar with Kings Cross's architectural facade in London, you may have been expecting a structure resembling the building below to be featured in Universal's London, after all this is the Kings Cross facade we see in the Harry Potter films.  However, the facade filmed in the Potter films as Kings Cross Station is in actual fact St Pancras Station, located a stone throw away from Kings Cross.
Universal have opted to integrate the actual Kings Cross station into their London strip. You'll be able to see that the Kings Cross building below is the building located on the very far left of the Universal London strip.
Leicester Square Station, West End
Do these red arhces look familiar to you? As well as being located next to Kings Cross Station on Universal Orlando's London strip, you'll find these red arches in the heart of  London's West End. These are the arches thousands of Londoners and tourists pass everyday at Leicester Square Station.
Not too dissimilar to Covent Garden station...
The Wyndham Theatre - West End, London
Next to Leicester Square Station, Universal Orlando have placed another West End landmark, the Wyndham Theatre. In London the Wyndham Theatre is adjacent to Leicester Square Station on Charing Cross Road. 
Grimmauld Place - Claremont Square Islington
And finally, on the far right of Universal's London strip is Grimmauld Place. Although Grimmaud Place is actually a fictional location, it is located in the London Borough of Islington and was filmed in Claremont Square, also situated in Islington.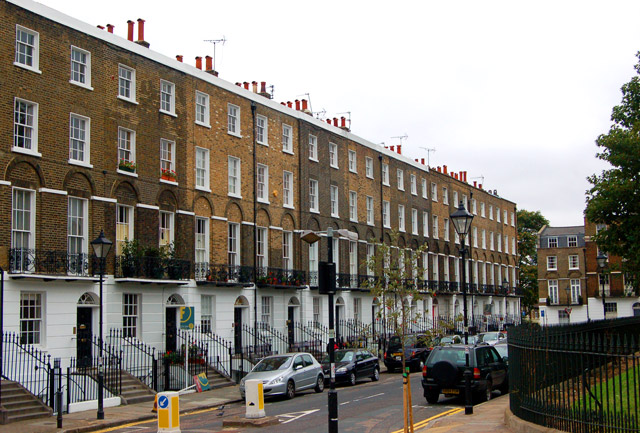 Universal Orlando are keeping pretty quiet about the remaining attractions and features coming to the new Harry Potter - London development. However,  all will be revealed by the end of the week at the Harry Potter Celebration, so be sure to check back at Attraction Tickets Direct Latest News then. 
The new London Diagon - Alley Harry Potter expansion will be launched in Summer 2014. For Orlando attraction tickets for this new Harry Potter experience take a look at our range of Universal Orlando tickets.