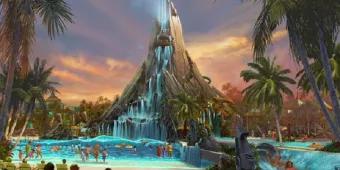 It's the news splash of the century
If you're travelling to Universal Orlando Resort next year (or even if you're not!) the date you've been waiting for has finally been announced…
Universal have been slowly teasing out information about their new 'third theme park' Volcano Bay for months and months, but as construction is really starting to pick up, they couldn't hold off revealing the big opening date much longer. Yesterday, it was finally announced that the 28-acre Volcano Bay water theme park will officially open on the 25th May, 2017!
The brand new park is Universal's replacement for Wet 'n' Wild, which closed on the 31st December last year. The new park has been billed to be even bigger and better than Universal's previous water park, with 19 new attractions and four incredible themed zones: Rainforest Village, River Village, Wave Village and Krakatau. Krakatau is the volcano at the centre of the park which all the water-based attractions revolve around, and is also home to the Krakatau Aqua Coaster – a ride which uses revolutionary technology to launch guests upwards into the volcano's interior.
The new park will also boast other new types of technology, such as the TapuTapu wrist band that guests can use to reserve a place in 'virtual queues' for the attractions. The wearable will then alert guests when it's their time to ride – just one way that Universal are attempting to create the most chilled out water park in the world.
Are you travelling to Universal Orlando Resort for the opening of Universal's Volcano Bay water theme park? Book your tickets now and benefit from 3 parks for the price of 2!
Liked this post? You may also like…