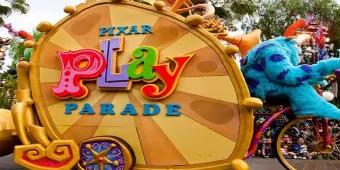 The Pixar Play Parade returns to Disneyland California's Adventure Park
Disneyland California welcomes the return of The Pixar Play Parade. The Disney Pixar star studded parade will return to the park on the 15th June!
It's been sixteen months since anyone with
Disneyland tickets
has been able to enjoy Disney's Pixar Play Parade, so we are delighted to announce that the parade will be back as of the 15th June! The parade had to take a break to make way for the major changes taking place at Disneyland California Adventure Park – including newly themed Cars Land and Buena Vista Street ( both opening on the 15th June as well). 
This time round the Pixar Play Parade is bigger and better, with a longer parade route and lots more Pixar stars added to the mix. The Pixar Play Parade will commence at the Twilight Zone Tower of Terror, located in Hollywood Land and come to an end at Silly Symphony Swings in Paradise Pier.
The past sixteen months has seen temporary shows Pixar Pals! Monster Mayhem and The Incredible: Heroes in Training replace the Pixar Play Parade. Those of you with your Disneyland California tickets will be able to enjoy these temporary parades till the 29th April 2012.
Otherwise, we advise you to hold out for a visit on the 15th June, the opening of 12 acre Cars Land and blast from the past Buena Vista Street.  It's going to be huge!