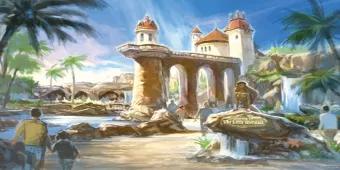 Check out the progress of Prince Eric's Castle at Disney World's Magic Kingdom!
Disney World has recently revealed images of the construction developments of Prince Eric's castle. Check out the images here!
As part of the major developments of Magic Kingdom's Fantasyland, Prince Eric, Little Mermaid's love interest, is having his very own castle built. The castle is due to be complete later in the year and will become part of the facade of the Under the Sea – Journey of the Little Mermaid attraction.
Prince Eric is one of two Disney princes to have a humble abode built in his honour at the new Fantasyland. The Beast's Castle, which will make home to the Be Our Guest restaurant inspired by the Beauty and the Beast Disney classic, is the other prince's castle that'll find a home at the new Fantasyland. 
The entire Fantasyland development is set to open by the end of 2013, bringing those of you with Disney tickets loads of new ways to build even more magical Disney memories.
If you're planning an Orlando holiday for next year, why not check out our 2013 
Disney tickets
.