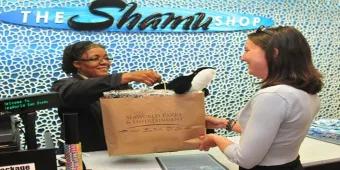 SeaWorld Goes Green – Switching from paper to plastic
In attempts to operate more eco friendly parks, SeaWorld Parks and Entertainment's ten theme parks will be replacing their plastic shopping bags for 100% recycled paper.
SeaWorld has always concerned itself with the conservation and preservation of animals and the planet we live in, so it only makes sense that SeaWorld parks and entertainment swap the plastic bags handed over to guests when they make a purchase at a SeaWorld gift shop for 100% recycled paper bags.
The changeover began at SeaWorld San Diego last year, in conjunction with the opening of the park's Turtle Reef attraction. The next SeaWorld park to start issuing the recycled paper bags will begin tomorrow at SeaWorld Orlando, in correspondence with the launch of the park's Turtle Trek attraction. Busch Gardens in Tampa will follow.
"This is a significant change for our company, one we hope will provide a model for our industry overall," said President and Chief Executive Officer of SeaWorld Parks & Entertainment Jim Atchison. "Eliminating plastic bags is an important statement about our commitment to the environment, as well as the need to help protect marine animals from debris. It also allows our guests to play a direct part in making a difference on our planet."
The plastic for paper swap will prevent an estimated 4 million plastic bags from harming the environment each year. As providers of SeaWorld tickets, this move has made ATD particularly proud of SeaWorld.
Isn't SeaWorld's contribution to the conservation of the planet reason enough to get those
SeaWorld tickets
in? Needless to mention the launch of Turtle Trek tomorrow!