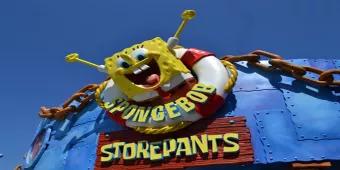 Absorb all things SpongeBob at the new SpongeBob Store Pants...
The SpongeBob Square Pants store, cleverly titled SpongeBob Store Pants, is now officially open at Universal Studios Orlando!
Who knows exactly what it is about that crazy pants wearing sponge, better known as SpongeBob Square Pants that the world over has fallen in love with? Nevertheless, those of you planning to visit Universal Studios with your Universal tickets will quickly notice that SpongeBob has indeed become one of the park's leading acts. Not only does Mr Square Pants feature in the daily Universal Superstar Parade, but Universal has now dedicated an entire store to him.
SpongeBob Square Pants fans will be able to get hold literally all things SpongeBob, from rucksacks, cushions, cups, SpongeBob soft toys, you name it, as long as its SpongeBob then SpongeBob Store Pants has got it! We can't deny it - even those of us at ATD have a soft spot for SpongeBob! So if you or your kids are a little sponge crazy then get your
Universal tickets
and absorb all the SpongeBob madness the world has to offer at Universal Studios.