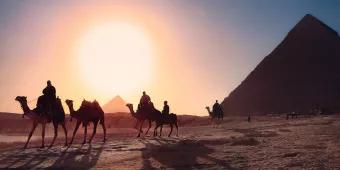 Dare you take on the live-action mazes, terrifying escape rooms and creepy characters at Thorpe Park Fright Nights? Find out what to expect here!
With so much to see in the vast country of Egypt, it may be difficult to know where to start when it comes to planning a trip. Well we've compiled a list of the top 5 must-see places below.
Egypt is proclaimed as the land of the Pharaohs, rich with art and culture, Offering countless destinations to enjoy like Hurghada and Cairo where the history of Egypt comes alive beside the Giza Pyramids and the Great Sphinx.
1. The Valley of the Kings
Many people know Egypt only for its Pyramids, but a few hours away from the Pyramids in Luxor there is an underground miracle called Valley of the Kings.
This burial site is where some of the Greatest ancient Egyptian kings and queens were buried with their own treasures. This is because the Egyptians believed that death is just a gate to immortality, so they prepared their tombs with everything they might need in the afterlife.
Valley of the Kings is a spectacular display filled with amazing hieroglyphs, art and decorations that you should at least see once in your life.
The charming and picturesque Philae Temple is the perfect destination for every history lover, and it's dedicated to Isis the goddess of motherhood, magic, death, healing, and rebirth.
Step into Egyptian history as Philae is where the most elaborate and influential story in ancient Egyptian mythology was carved (Isis and Osiris).
At night, there is an amazing sound and light show at the temple through which you can take a journey to the past. Imagine the Philae Temple thriving with life on this multimedia journey that awakens your senses, and discover the legends of Isis and Osiris through a narrated tale accompanied by dramatic lighting and captivating music.
The Temple of Abu Simbel is one of those must-see, bucket-list destinations that have been attracting visitors for centuries.
It was constructed by the Egyptian King Ramses The Great "Ramses II" who built another small temple beside his own one for his beloved queen Nefertari as a proof of his immortal love.
If you are lucky enough to be in Egypt on the 22nd of February or October, you should visit the temple to enjoy the Sun Festival where the sun's rays illuminate the inner sanctum of the temple on these days that believed to be King Ramses' birthday and the day he stood in the throne.
No visit to Cairo is complete without a stop at the Khan El-Khalili bazaar in the heart of Islamic Cairo.
This busy and colorful open-air bazaar is filled with unique and beautiful items, from spices and jewellery, to perfumes and souvenirs.
Khan El-Khalili is surrounded by a huge number of Islamic and historical structures. Once you're there, you'll be steps away from Muizz Street which has many examples of incredible medieval Islamic architecture
Hurghada is more than just a great beaching destination. Wonderful beaches can be found all over Egypt, but Hurghada offers a unique atmosphere like no other city.
Tourist resorts and first-class hotels provide excellent aquatic sports facilities for sailboarders, yachtsmen, scuba divers, and snorkelers.
Hurghada's location makes it even more special as from Hurghada you can easily reach any other city in Egypt like Cairo, Luxor, and Aswan and with booking one of Hurghada tours.
Take a day off the sea and water to discover the historical landmarks and enjoy another side of Egypt, you can also pick on of Hurghada holiday packages to combine all of them in one tour.