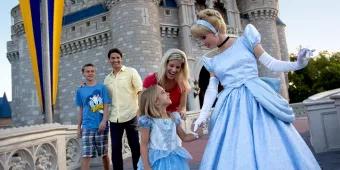 Discover the best jobs you can get at Disney and find out what yours dream Disney job would be.
From performing to creating rides to looking after pets, these are the best jobs at Disney. Find out which Disney job would be yours with our exclusive quiz!
Disney is globally renowned for being one of the most amazing places in the world to work, and for very good reason.
Taking your childhood dreams to your adult life reality in a lifestyle where you get to immerse yourself in the magic every single day is the ultimate goal for many. But there's more to working at Disney than being Cinderella or Mickey Mouse – in fact, there are hundreds of jobs at Walt Disney Worldin Orlando.
From performing to vacation planning to looking after pets, these are the very best jobs at Disney. Find out which Disney job would be yours with our exclusive quiz!
What is your dream job at Disney World?
Have you ever wondered which job you would be suited for if you were lucky enough to work at Disney? Play our quiz to find out which job your skills, interests and personality traits would be best for!
The Top jobs at Disney World
Costume character
Whether it makes you a hero or a villain, princess or Pinocchio, as a costume character you will encounter thousands of children every day who can't wait to love or hate you. The pre-requisite Disney smile is not hard for these guys to come by when constantly surrounded by adoring fans, which makes even the most cumbersome costume manageable.
A happy-go-lucky nature is necessary, it can get hot, you can get tired, but being Winnie the Pooh, you will make someone's holiday in less than five minutes, which for many is an attractive honour.
Disney Fanaticthinks this is one of the coolest jobs in the park. She tells us: "These guys have it made! Recently I saw Dug and Russel from Pixar's "UP" standing in a special open-sided structure amongst the beautiful landscaping in Animal Kingdom. With lines of eager children waiting to see them. Can you imagine stepping out of your persona and becoming someone else for hours at a time?
"Every child would adore and want to take a picture with you or just get a great big hug. You might get a little warm in those heavy suits but you'd get to take frequent breaks which is an added bonus!"
You also get the opportunity for a little spontaneity, if that's Jasmine and Merida having a dance-off or Rapunzel holding a braiding session, you can do whatever it takes to bring magic to the experiences of visitors, so that no two days are the same.
Finding Tom found this when doing his internship: "Sometimes my location allowed me to go outside and draw on the cement in front of the restaurant with the kids. The parents would always take pictures of us, and that's when I realized I would be in a scrapbook or photobook one day. So cool. It's going to happen to you too, there's just too much going on for it not to."
Entertainer 
If you are great with people and dream of working at Disney primarily to enjoy yourself, then you are set for life as an entertainer.
The role comes in many forms with differing levels of importance and freedoms. If you are situated outside in a quiet spot in the park, then you are there to add variety within the area of the park you are allocated. This is dependent on your skills, as they want to put you somewhere natural and where you will enhance the tone of the park.
Street performers can perform anything in-keeping with the tone and area.
Disney Fanaticexpands on the joy entertainers feel doing the thing they love to delight crowds every day; "Imagine you're really awesome at something like dancing to Bollywood music in Animal Kingdom, playing a brass instrument in a band in Magic Kingdom, spinning plates while juggling bowling pins in Fantasyland – you'd be able to make money doing something off-the-wall and never sit in a cubicle or office again. I wonder if they get business cards with their job titles on them."
The actors work within the show parameters and have much stricter guidelines to follow. They take on a specific character and perform up to several times a day to a captive audience. Sparkly Ever After's Nicole explains that although she loved her own role as a park attendant, "When it comes to the best jobs, I'd have to say my fiancé Jim has one of them.
"Jim is an actor and has made magic at Walt Disney World for over 10 years. He brings so much joy and laughter to so many people. We actually even met through his show Mulch, Sweat n Shears in 2011."
With so many entertainers on Disney's books, you are also guaranteed to make friends as you put your blood sweat and tears into each performance. The cast become close and have a mutual respect for each other, creating life-long bonds. 
Animal Services
If you love animals and magic then this is an easy choice. With over 1,700 animals in the Animal Kingdom alone, these all need feeding, training and looking after, and someone has to do it!
By being attached to the animal services you get a much better view of some of the more reclusive creatures, who unlike their costumed counterparts, often refuse to perform.
Disney Fanaticcan imagine nothing better than getting up close and personal with some of the illusive stars; "Steaks anyone? Can you imagine actually getting close enough to see the lions on this ride that are so often out of sight? I'm guessing they're happy to rouse themselves to dine on some red meat!"
There is more than just being an animal keeper, however. With tour guides in demand at the Animal Kingdom, being knowledgeable and sensitive to the animals you are allocated to work with is a condition of the job. You could have a more hands-on approach such as in the 'Affection Section', which was built to educate young guests about animal care whilst petting their furry friends.
Similarly, Danielle from Disney Darlings says, "The best job at Disney is being a Jungle Cruise Skipper! There is nothing like traveling the wilds of Adventureland and taking guests on great adventures! Not to mention being able to see the Backside of Water daily!"
Bibbidi Bobbidi Boutique
Working at Disney is all about making magic for park guests, and no other job does it in such a hands-on manner. The Bibbidi Bobbidi Boutique is an unexpected highlight in many people's stays.
Sure, everyone is excited to see Cinderella, but they will always remember the moment when they were a prince or princess themselves, and that is something you can give to every child that walks through that door.
In an interview with The Disney Den, Bibbidi Bobbidi Boutique Fairy Godmother, Andrea, shares her experience in this dynamic role.
She says, "My typical day would start early in the morning- 7:30am, getting ready to greet princesses coming through our doors. Our doors open at 8am and I am introduced to my princess. I get to spend about 30-45 minutes getting to know my princess and her family while I do her hair, makeup, and nails.
"When that princess leaves, I get to meet another! I'll sometimes help other FGITs (fairy godmothers in training) by doing their princess's nails and makeup if I'm not too busy."
She continues, "My favourite part about my role is pretty much everything. I can't tell you how many times I've been told 'thank you so much for everything you've done' and 'you've really made our trip amazing!' I make a direct impact on the lives of little girls and their families, and knowing that makes me the happiest person alive."
This role calls for creativity and kindness and gives tonnes of satisfaction every hour of every day. You get to interact with people for longer than other roles in the park and see their reaction as they transform in to the main character from their very own fairy-tale.
Imagineer 
This title involves over 120 different roles but essentially is the creative engineering behind the magic. If you are scientifically and technologically minded this is the position for you. There are so many positives to being an Imagineer, and location is one of the perks. With early morning tweets of Imagineers walking through Disney parks, research involving exotic travel, and even staff days out to enjoy the rides they helped design, life doesn't seem too rough as a Disney Imagineer.
These roles can include everything from costume design to pyrotechnics and they all seem to be brilliant fun.
Disney Fanaticprovides a rundown of two of the stranger opportunities within Disney: "Topiary Designer – Got a green thumb? Then this job is for you! Have you ever been to the Epcot's Annual Flower & Garden Festival? Some of most imaginative works of art I've ever seen are the unique sculptures of Disney characters all expressed using live media like bushes, moss, flowers and more. Imagine being able to dream all year sketching your designs for these magical Disney topiaries and then finally bringing them to life just before spring! You'd have a living testament to your horticultural abilities!"
"Pyrotechnics Expert for Epcot's "Illuminations" Fireworks… Sure, the loud booms and chance of catching fire are downsides, but, who doesn't like blowing stuff up? If you catch fire, you can jump into the lagoon and save yourself. What fun it would be to be a part of the spectacle and pageantry?!"
The job satisfaction is no less than in other areas of the park, as described by Mouseplanet: "Think of how proud you would be to hear people talk about an attraction that you designed or created, about how good it would feel to see guests exit from your attraction and see that they are wearing ear-to-ear grins and talking about the attraction.
"That would be quite gratifying. Imagineering is a combination of science and artistry and being able to combine the two to create enjoyment for guests has to put this cast member job close to the top…. and probably right at the top for most people."
Chef
Disney employs people from all over the world and this creates the culinary diversity of the food available at the parks. Being a chef within the Disney franchise gives you all the creative output you would ever need. With an expectation of imagination in every aspect of the park, the dining is no different and the open and educational atmosphere allows you to diversify your knowledge and continue to learn.
Disney Diningsum up the excitement of this job within the park: "Imagine having the chance to go to work every day and be on the cutting edge of culinary arts. Their skills are constantly being sharpened. They learn from each other, many of whom are celebrated chefs from all over the world. From there, they can also create new dishes that are a fusion of any combination of those cuisines. And of course, there is the obvious perk from a job like this: they get to enjoy eating and drinking all of their culinary creations!
"Chefs get the chance to see how the public enjoys their creations immediately by being on site. Some of them are so good that guests clamour for those dishes to come back in the future. I love the way they present foods and drinks for the International Flower and Garden Festival, especially that Violet Lemonade! Walt Disney World would not be as great a vacation destination without great chefs."
This is far from your regular catering role, whether you're cooking up a delicious themed Disney Character Dinner for special guests or serving guests breakfast ready for a day full of surprises.
Vacation Planner
If you are goal-orientated and driven then being a Vacation planner may be the perfect role. Though this is essentially a sales job, it is not without its own Disney magic.
You will not only be dealing with guests' Disney World Florida tickets, fast passes and more, but helping each visitor to craft a bespoke vacation experience that they'll never forget. As with most companies, sales jobs have targets and if fulfilled, these translate into rewards, and on this aspect, Disney do not falter. With manageable targets, most employees reach their sales quota and can pick up anything from movie tickets and vouchers to event entry into the park itself.
Blogger Maddi Higgins explains, "You will be located at the Ticket and Transportation Center or the main entrance of Epcot, Hollywood Studios, or Animal Kingdom. Every day, you get an update on what's happening that day, get your till fund, and head out into the booths. You will have a home park, but you can pick up shifts at any of the four theme parks.
"You will also be trained as a greeter - the CM who stands in front of the vacation planning booths to help guests and answer questions - and may be scheduled for greeter shifts. At the TTC, vacation planners are also trained in Parade Audience Control, or PAC, and will be sent to the Magic Kingdom some days to help with the parades. You will also be trained in "squeegee", when you help clear the area of water before the TTC opens to guests."
Photopass Photographer
Capturing a family's magical moments on film needs a special blend of artistic flair, tech savviness and patience.
Disney have a great training regime, with a week of classroom teaching on using the equipment and expectations of each photo location. They are also very specific on locations, with photographers having set perimeters to be snapping in, usually around high profile characters or iconic destinations.
As with most roles in Disney, guest interaction is the true joy to the role. Helping guests navigate the park, engaging them in conversation about the experience thus far and capturing their memories in just a few clicks is what many PhotoPass photographers find most fulfilling. The technology behind the photopass makes the entire process much smoother, but does involve carrying a fair bit of equipment around, so make sure you're in good shape for this one!
Disney College Program Photopass employee Jesi told The Disney Den, "PhotoPass is the best role - hands down. I got to capture and add magic to families' memories by doing what I love: photography.
"Disney was paying me to capture guests' reactions to meeting Mickey Mouse and their other favourite characters for the first time. Who else could say that? It was something I never grew tired of."
Ride Attendant
If 'safety first' is your motto then the position of Park Operation Cast Member should be yours. Whether spotting an abandoned bag or reuniting a child with their parent, all manner of tasks fall under your responsibility in this role.
Disney Diningmake note of this, explaining, "Being in front line positions the Park Operations Cast Members can reflect back to management how a situation has developed or what they are hearing from guests regarding a new system they are testing. Safety is really key to understanding what Park Operations Cast Members do. It is on their minds during their entire shift."
As a first port of call for most guests, your knowledge of the park and activities should be unparalleled and interacting with guests the ultimate reward.
Robert from Theme Park Insider shares his own experience of being a Ride Attendant driving the Tom Sawyer Island rafts:
"It's funny, because when I started I hated those rafts. I dutifully followed the steps of instructions my trainer had given me, but always found my raft drifting away from the dock I was trying to reach.
"It wasn't until another trainer took me out into the middle of the river and told me to forget about following instructions and just learn how the raft reacted when I move the tiller and adjusted the throttle that I really figured out how to drive the thing.
"At that point, though, I was forever hooked. I loved not just driving the raft across the river, but taking the time to talk with the guests aboard. Inevitably, I found many Mark Twain fans heading to the island - people who were happy to listen to me crack jokes and maybe even return a few gags of their own. Ultimately, the joy I found in working at Disney was in my interaction with others, and driving the Tom Sawyer Island rafts allowed me complete freedom to talk with, play with and even learn from our guests."
With all of these amazing occupations and so many more to choose from, it's no wonder that Disney employees are so full of smiles – and why many of us dream of one day holding a similar position. No matter what your skills and interests, Disney is the perfect place to work, from Walt Disney World Orlando to Disneyland Florida. After all, as Robert points out, the real best job at Disney is, of course, "the one that makes you happiest".
Image credits: Jennie Park (Flickr) / Stefan Schubert (Visualhunt) / Dave & Margie Hill (Flickr) / Bob Lyon (Shutterstock) / Castles, Capes & Clones (Shutterstock) / Chrisdip (Shutterstock) / Prayitno (Flickr) / Gwaar (Flickr) / MattCC716 (Flickr) / Bob Owen (Shutterstock)