Disneyland Paris Hotels
Disneyland Paris Updates - Know Before You Go
Disneyland Park and Walt Disney Studios Park are now open!
Until further notice guests will need to show a Health Pass confirming their vaccination status in order to visit Disneyland Paris
Guests can easily book a PCR test at Disney Village in advance of returning to the UK and Eire
Keep up to date with everything you need to know before visiting Disneyland Paris
PLUS
BOOK WITH CONFIDENCE: Disneyland Paris Hotel + Ticket packages will be refunded in full if you are unable to travel due to COVID-19 travel disruption
FINANCIALLY SECURE: Our Disneyland Paris Hotel + Ticket packages are bonded by ABTA
Surely the only thing better than visiting Disneyland Paris is actually staying there! To live the full Disney experience it's a MUST to stay at the heart of the Disney magic in one of seven Disney Hotels. And there's a Disney hotel just right for you and your budget, each offering its own one-of-a-kind Disney story to tell. 
Why Book a Disney Hotel Stay with AttractionTickets.com
Great Reasons to Stay onsite at a Disney Hotel
Each Disney Hotel immerses you in an iconic American theme with a magical Disney story. There's the fairytale splendour of a Victorian Palace and a swish New York hotel that's a MARVEL masterpiece. How about the great outdoors of America's Northwest? Or the New England coastline? There's Trapper country and the wild frontier. Even the golden desert of Santa Fe! What's more, they're the only places where you can see Disney Characters* every day.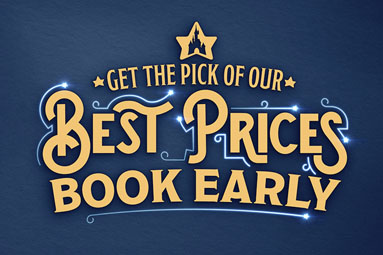 Best Price Guarantee
Early bookers get the pick of our best prices and widest choice of Disney® Hotel rooms. Whenever you see our 'Best Price Guaranteed' icon be assured you'll never find a lower price.
Early Park Entry with Extra Magic Time
Enjoy extra magic each day of your stay! Gain exclusive access to parts of the Disney Parks long before anyone else and meet up with Mickey, Minnie and friends.  You can even enjoy select rides and attractions before the official opening times of Disneyland Park.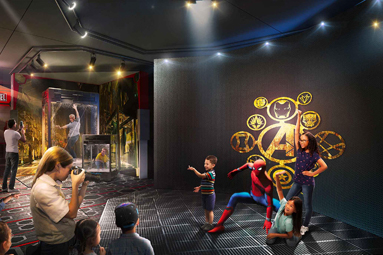 Immersive Disney Experience & Character Encounters
The magic doesn't stop when you leave the Parks! Enjoy unforgettable moments as you cross paths with beloved Disney, Pixar, Marvel or Star Wars Characters in the lobby of your Disney Hotel and add to your collection of Selfies!*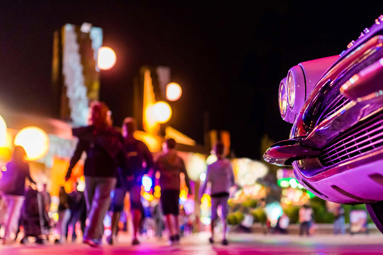 Closest Hotels to the Parks
Stay at Disney Hotel and you're only a short walk from the fun of the Disney Parks. Stroll along tree-lined paths or the banks of Lake Disney to get to the Parks or if you don't fancy the short walk, take advantage of the free Disney shuttles* that will drop you right at the park entrance.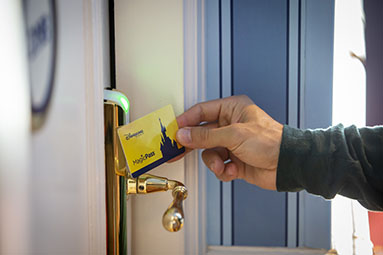 Everything is easier with a MagicPass
Your key to a magical stay, this all-in-one pass effortlessly unlocks almost every element of your booking. It's your room key, your Disney Park tickets, your Extra Magic Time, your access key to hotel swimming pools and fitness centres and your charge card for select Disney shops and restaurants.
Experience a different kind of magic just 15 minutes drive from the Disney Parks. This luxurious and lively eco-village featuring fully-equipped self-catering apartments is situated in the heart of nature and offers the ideal home-from-home to chill out and play amid the magic of nature.
Relax and reconnect with your adventurous side in the spectacular waterpark, soak in a geothermal lagoon or wander through landscaped gardens inspired by the elements. All packages contain 2-day tickets which can be used in both Disney Parks and include the added benefit of Extra Magic Time allowing entry to the Disney Parks before anyone else. At Les Villages Nature® Paris, enjoy the freedom to stay, your way!
*Except for Disney's Davy Crockett Ranch.
Take the guess work out of your Disneyland® Paris holiday with our holiday packages
Choose a Hotel & Ticket Package

Your Meal Plan

Magical Extras

Secure Checkout
Added