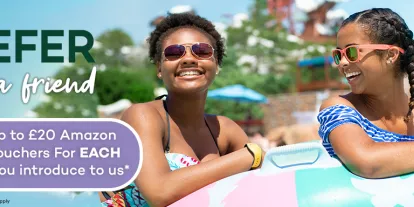 Refer a friend and we'll give you up to a £20 Amazon voucher*
Added Happiness!
We have teamed up with referral platform 'Mention Me' in order to reward customers who refer us to their friends. Mention Me is a simple platform to use and each time you make a successful referral you and your friend will both receive up to a £20 Amazon voucher* – magic!
Interested in earning your first reward? Of course, you are! Here's the few simple steps you'll need to take in order to start earning…
1. Sign up to be a referrer
In order to start earning rewards, first you need to sign up at this link. All we will need is your name, surname and email to get started. 
2. Share in 2 ways
a) Get them to mention your name at check out
Mention Me is clever because it allows you to simply type in your friend's name to get your referral bonus. Whether you've told them about us over a coffee, on the school playground, or by bombarding them with photos of your amazing Orlando holiday, all they'll need is your name to make sure you get the credit. At checkout, ask them to click 'Been referred by a friend?' at the customer information stage. This link appears next to where they would enter their own email address.
Once they have clicked this link, they just need to enter your name and voila! If your name is one we might have heard before, make sure they have your email too, just so we can be sure the right person is getting the reward.
 b) Ask them to use your referral link when booking
Alternatively, you can share your unique referral link and there's no need to worry about doing anything else!   
3. Wait for your rewards to roll in!
As soon as your friend's booking is approved, you'll both receive your reward as a thank you. It's as simple as that.  
What are the booking conditions?
For Orlando bookings, the minimum order value of your referee's order must be £800 (for a £10 reward) or £1,500+ (for £20). For non-Orlando bookings, the minimum order value is £400 (for a £10 reward) or £800+ for £20.
Read more of our independently verified Feefo reviews here. 
*Rewards are subject to change. 
Terms and Conditions:
*By accepting this offer you agree to the Terms and Conditions. Minimum spend of £800 applies to Orlando bookings and £400 for all other bookings.
People interested in also viewed...
Back to offers