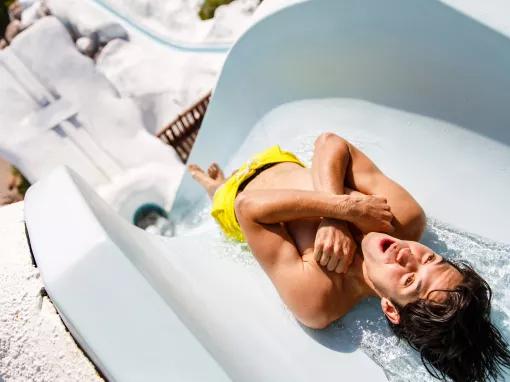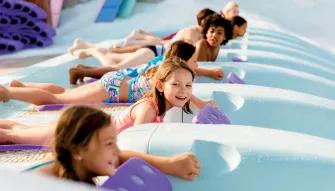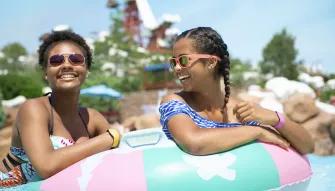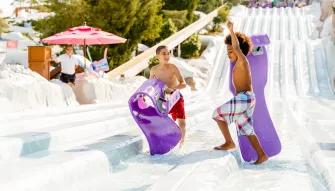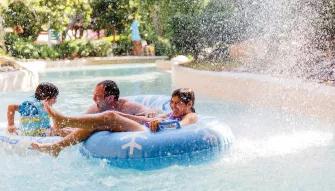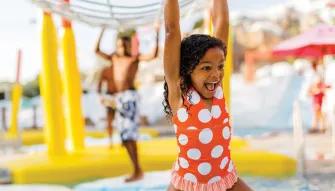 Disney's Blizzard Beach Water Park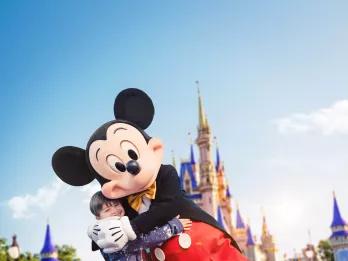 Best Seller
Mobile ticket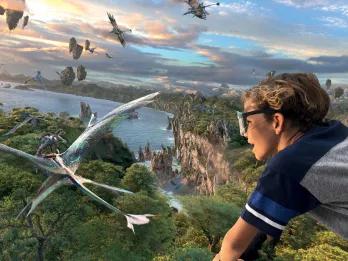 Mobile ticket
Get better value by Combining Disney's Blizzard Beach Water Park with other attractions
Combo ticket
Most Popular

Order our FREE Orlando brochure now

Help us plan which Orlando attraction tickets are right for you

First-hand advice from Orlando experts
Full details
Enjoy this slushy, slippery water park...
Disney's Blizzard Beach Water Park is packed with downhill thrills and plenty of ways to chill. From bunny slopes to black diamonds, whether you're a little squirt or making splash. Use your Disney theme park tickets to enjoy the most exhilarating water park anywhere !
Our guide to Disney's Blizzard Beach Water Park
As with other 'Ski resorts', Blizzard Beach's slides are divided into Green, Red and Purple runs depending on the thrill factor, but that is where the similarities end! Here you will find inviting waters of about 21ºC, except on the fantastic cross country creek, where you will be splashed with 'melting ice'!
Fun for Kids
Tike's Peak:  Their own kid-size version of the Park, complete with mini Mt Gushmore.
Cross Country Creek: Drift lazily down a mountain through melting snow caves.
Melt-Away Bay An oasis at the foot of Mt Gushmore, this one-acre wave pool is the perfect chill-out zone. Listen to the sound of the surf as gentle azure waves lap the shore, or grab an inner tube and bob merrily out at sea.
Thrill Rides
Summit Plummet: 

The centre-piece of the park is the monstrous Summit Plummet which stands at 120 feet tall.

 

Plunge at over 55mph straight down one of the world's tallest, fastest free-fall speed slides!
Slush Gusher: Start training for 'the big one' on this 90ft long waterslide.
Snow Stormers:  Weave your way down the mountain on your stomach as you take on the snaking curves of one of three winding waterslides.
Family Fun
Ski Patrol Training Camp: Big kids and preteens can challenge themselves or chill out in this activity-driven play area.

Teamboat Springs The family that rafts together, laughs together on this 365m raft ride over rushing waterfalls.

Downhill Double Dipper: Race against your friends on these side-byside waterslides. 
Your Disney Tickets allow you to experience all of these fantastic attractions plus many more at Disney's Blizzard Beach Water Park – click on the 'rides' tab for a full list of attractions.
Please Note: The Disney Water Parks are subject to seasonal closure each year for maintenance and refurbishment. Only one of the water parks will be closed at any one time. This planned closure normally only occurs during the winter months.
Tips & Tricks - Disney's Blizzard Beach Water Park
Don't feel like zipping down water slides? Both Disney Water Parks have 'lazy rivers' that circle the entire park – just hop in and relax!
Rides
Our guide to Disney's Blizzard Beach Water Park
Melt-Away-Bay
Melt-Away Bay is a one-acre wave pool offering a variety of aquatic recreation activities. Play in the bobbing waves. Float lazily on a raft. Sunbathe in a comfortable beach chair —on a sandy white beach. Take an invigorating swim or bask under a refreshing waterfall. Melt-Away Bay is an expansive oasis at the base of Mount Gushmore.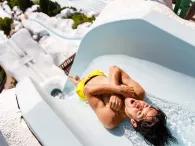 Summit Plummet
Minimum Height Required: 122cm or taller
Summit Plummet is a thrilling, high speed, adrenalin-pumping vertical drop. At a "chilling" 120 feet high, this sky-scraping ski jump is one of the world's tallest and fastest free-fall body slide.You'll plunge down the 360-foot long flume and through a darkened tunnel at speeds from 50 to 60 miles per hour. This premier waterslide is not for the faint hearted!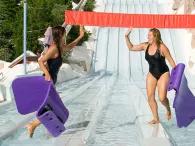 Toboggan Racers
Ready. Set. Snow! Toboggan Racers is an 8-lane waterslide race on toboggan-style mats for big kids, teens and adults at Disney's Blizzard Beach Water Park.. Grab a mat at the top and race your friends or family members down the mountain over a series of dips to the bottom of Mount Gushmore. This 250-foot long waterslide is an avalanche of fun!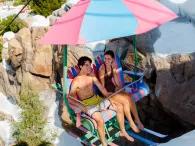 Chair Lift
Minimum Height Required: 82cm or taller
The Chairlift attraction transports you to the top of Mount Gushmore, aboard wooden, ski resort type chairlifts. The Chairlifts provide a leisurely one-way trip to the top of the mountain for access to three rides at the Green Slope area of the mountain. The Slush Gusher, the Summit Plummet or the Teamboat Springs water attractions will return you to ground level - you decide how you like your soaking.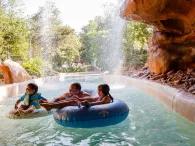 Cross Country Creek
Minimum Height Required: 48" (1.22m)
Cross Country Creek is a slow, water raft ride along a gentle meandering stream that encircles Disney's Blizzard Beach Water Park. Put your feet up as you Pass through large cave-like tunnels—and under gentle, misty waterfalls as your raft drifts aimlessly along. Use Cross Country Creek for effortless transportation to other areas of Disney's Blizzard Beach Water Park. There are 7 locations to enter and exit.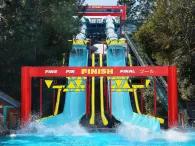 Downhill Double Dipper
Minimum Height Required: 122cm or taller
Race against a friend on side-by-side high-speed slides that bring out your competitive streak. As you speed down a pair of 50-foot high, 230-foot-long side-by-side racing slides at 25 miles per hour, you disappear into a tunnel and emerge just before splashdown. But that's not all - half the race is in the dark!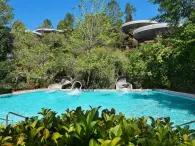 Runoff Rapids
Get ready for some splash-tastic fun as you launch into a trio of one-of-a-kind flumes - no 2 are the same! The centre slide is fully enclosed and accommodates one rider at a time. The two outer slides can accommodate rafts that hold up to 2 people. All 3 waterslides at Runoff Rapids twist and turn down the hill, taking you on an invogorating ride with a plunge into the pool at the bottom. Dive in!
Ski Patrol Training Camp
Ski Patrol Training Camp is a special aquatic play area just for big kids and preteens. Swoosh down curvy waterslides and inner-tube slides. Grab a T-bar and hang on as you zip across the water until finally dropping into the water or test your balance with a challenging ice-flow walk across a floating iceberg course. Kids just have the coolest fun on the mountain at Ski Patrol Training Camp!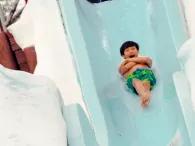 Slush Gusher
Minimum Height Required: 122cm or taller
Take a brisk ride down Mount Gushmore over not one, but two rolling hills as you zip down this exhilarating waterslide. Although a bit tamer than its neighbor Summit Plummet, Slush Gusher is a thrilling ride for active, waterslide enthusiasts. Zip down and find out for yourself! To get to Slush Gusher ride the Chairlift to the top of Mount Gushmore.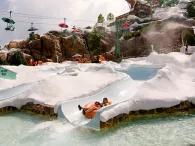 Snow Stormers
Snow Stormers are 3 racing 350-foot long waterslides that slope down Mount Gushmore, plunging riders into a refreshing pool at the bottom. Grab a toboggan-style mat, lie down on your stomach and speed down the mountain, banking through curvy paths marked by ski-type gates on switchback, slalom-style racing slides. Ready. Set. Sled!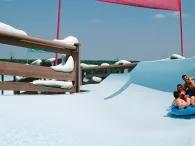 Teamboat Springs Water Ride
At 1,200 feet long the Teamboat Springs whitewater raft ride is one of the longest family raft rides in the country, giving you a nice long, invigorating journey down the river. Bring the gang aboard and take a rollicking ride down a series of cascading waterfalls. With rafts that accommodate up to 6 Guests, the whole family can ride this one together.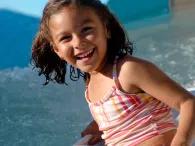 Tikes Peak
Minimum Height Required: 122cm or shorter
Tikes Peak offers scaled-down, kid-sized slides that resemble the bigger waterslides of Mount Gushmore. Your little ones will have mountains of fun at this water wonderland made just for them. The wading pool at Tike's Peak is very shallow, with a snow-castle fountain and pop-up water jets for tots to splash and play near. Children must be less than 48 inches tall.
FAQs
Frequently Asked Questions for Disney's Blizzard Beach Water Park
Rides & Attractions
How big is Blizzard Beach?

Disney's Blizzard Beach is home to 12 exciting attractions geared towards a variety of thrill and age levels. You will want to spend at least a half day here enjoying the slides and wave pool and could easily spend a full day if you schedule in some relaxing in Melt Away Bay.

Does Blizzard Beach have a lazy river?

Blizzard Beach does have a lazy river called Cross Country Creek where you can relax as you float down a 3000ft river through a polar-themed paradise in an inner tube.

How high is summit plummet at Blizzard Beach?

Plunge 12 stories almost straight down, rocketing through a darkened tunnel and into a massive spray of whitewater after a 360-foot-long, high-speed descent.

Does Blizzard Beach have a wave pool?

Yes, at Melt-Away Bay you can float on an inner tube or just splash around at this heated 1-acre wave pool.

Is Blizzard Beach's water heated?

The water is heated during colder months which makes this a great park to visit throughout the year.
General Information
Is Blizzard Beach part of Disney?

Yes, it is one of the waterparks at Walt Disney World Resort in Florida and is included with Disney's Ultimate Ticket. Disney has 4 theme parks (Magic Kingdom Park, Disney's Animal Kingdom Theme Park, Epcot and Disney's Hollywood Studios) and 2 waterparks (Disney's Blizzard Beach and Disney's Typhoon Lagoon).

How much are umbrellas at Blizzard Beach?

There are complimentary sunbeds available with umbrellas although they are limited. At an additional cost, you can opt for the lounge chair and umbrella (which also includes a towel each) for around $58 per day. This is limited to 4 people per reservation.

Is Blizzard Beach good for toddlers?

Tike's Peak is specifically for younger children. There are other rides such as Teamboat Springs and Snow Stormers that are also suitable for guests of any height. Some rides do have height restrictions and are not suitable for younger children.

How much is a cabana at Blizzard Beach?

Polar Patios (Cabanas) are available from around $345 per day (booked directly with Disney). Unlike the cabanas at Typhoon Lagoon, Polar Patios do not have roofs, but are heavily shaded and have umbrellas and chairs. They also include cushioned furniture, a cooler with bottled water, towels, locker and a Typhoon Lagoon-themed mug, refillable at a nearby drink station for the day. A cast member will also be available to take your orders throughout the day and deliver these to you. These are suitable for up to 6 people.
Location
Where is Blizzard Beach?

How do you get to Blizzard Beach?

If you are driving, parking is complimentary to all guests. If you do not have a car, you can always use Mears Transportation or Uber (check fares before you travel). For guests staying in a Disney Resort hotel, you can use the complimentary shuttle buses to the park.

How far is Typhoon Lagoon from Blizzard Beach?

It is approximately 10 minutes from Typhoon Lagoon to Blizzard Beach via car or shuttle bus.
Duration of Visit
How long do people spend at Blizzard Beach?

This is down to your personal preference. Whilst some people like to spend an afternoon in the waterpark after a morning at the theme parks, others like to spend the whole day to make the most of it. There are also waterpark lovers who visit multiple times throughout their holiday.
Opening Information
What are Blizzard Beach's opening times?

The park typically opens from 9am until 5pm daily. Disney do close the waterpark during off-peak/winter seasons. Please check the timetable before travelling.

When does Blizzard Beach close for the season?

Disney usually alternates which waterpark they close each year. One waterpark is usually closed between September-December and the other from December-April.

Is Blizzard Beach open in the rain?

The waterpark will usually remain open for a bit of rain. The park may close temporarily if the weather becomes more severe due to health & safety.
Facilities & Amenities
Does Blizzard Beach have lockers?

Lockers are available to hire at either Beach Haus or Snowless Joe's in Blizzard Beach.
Clothing & Accessories
Does Blizzard Beach have towels?

Towels are available at Blizzard Beach from $2 each. To avoid this charge, it is best to take your own towel with you.

Can I wear a t-shirt at Blizzard Beach?

T-shirts are allowed to be worn whilst in Blizzard Beach.

Can you wear goggles at Blizzard Beach?

You are able to wear goggles on most rides at Blizzard Beach. There are some exceptions such as Summit Plummet and Slush Gusher.

Can you wear water shoes at Blizzard Beach?

Water shoes are a great purchase to take with you to the waterpark. During hotter times of year, the ground can be quite hot as you walk around.
Fun Facts
When was Blizzard Beach built?

Blizzard Beach was the 2nd of Disney's waterparks to open in 1995
Parking
Do you pay for parking at Blizzard Beach?

No, parking is complimentary to all guests visiting Blizzard Beach.
Ticket Information
Is there a fast pass for Blizzard Beach?

Fast passes are not available in the waterparks.
Food & Drink
Can you drink alcohol at Blizzard Beach?

Whilst alcohol is prohibited from being brought into the park, it is available to purchase at the Polar Pub where you can enjoy a beer or cocktail.

What are the food options at Blizzard Beach?

You can take your own food/picnics with you if you like. There are 2 picnic areas available to use whilst at the park. Glass containers and alcoholic beverages are not permitted. There are also great counter-service options to purchase food on the go within the park.
Disney's Blizzard Beach Water Park Reviews
Great water park for the family!

Trusted Customer reviewed Disney's Blizzard Beach Water Park 25 Sep, 2023

Great experience and amazing day.

Liam Butchard reviewed Disney's Blizzard Beach Water Park 19 Sep, 2023

Got exactly what I thought and easy to use

Trusted Customer reviewed Disney's Blizzard Beach Water Park 09 Sep, 2023

Fabulous, great day for all

Lynda Briggs reviewed Disney's Blizzard Beach Water Park 03 Sep, 2023

Alles einfach zu handhaben, es hat perfekt geklappt. Tickets einfach ausdrucken und los gehts.

Trusted Customer reviewed Disney's Blizzard Beach Water Park 28 Aug, 2023
©Disney © & ™ Lucasfilm Ltd
People who purchased Disney's Blizzard Beach Water Park also viewed...