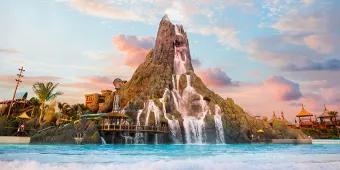 5 Orlando water parks you need to visit!
A day at a water park is the perfect way to cool off from the heat. Here are some of the best water parks you can visit on your Orlando holiday...
Something us Brits look forward to the most on our holiday to Orlando is the opportunity to cool off in one of Orlando's epic waterparks. Here's a roundup of the unmissable water parks you need to put on your bucket list...
VOLCANO BAY
Where: Universal Orlando Resort
Volcano Bay opened in 2017 and is Universal Orlando's first water park. The tropical-themed park surrounds the 200ft Krakatau Volcano that overlooks a huge beach, thrill slides, two lazy rivers and a unique aqua-coaster. The Krakatau Aqua Coaster is a part-water slide-part-roller coaster that sends you on a journey of twists, turns and drops in an inflatable log boat. For little ones, there are two huge kids splash areas; Tot Tiki Reef and Runamukka Reef.
The more daring in your group can attempt the Ko'okiri Body Plunge, the tallest body slide in America. Standing in a closed capsule, the deafening sound of drumming reaches a tense crescendo before a trap door in the floor opens, dropping you 125 feet to the ground below. Definitely not for the faint hearted! The park is walking distance to Cabana Bay Beach Resort and Universal's Aventura Hotel and with the Universal Orlando three-park Explorer ticket, you can visit as many times as you want in a 14-day period. We like the sound of an evening cruise around the lazy river after a busy day pounding the theme park pavements – that's our kind of holiday!
TYPHOON LAGOON
Where: Walt Disney World
The story behind Typhoon Lagoon is that a huge storm caused a shipwreck and created the unique landscape that surrounds Mount Mayday. The result is curious coves, curling palm trees and lots of secluded sand spots – ideal for sunbathing. This is the ideal Disney water park for families, offering lots of shade, splash pools for younger guests and family rides. The newest flume at the park is a family raft ride called Miss Adventure Falls, a gentle slide that glides through a tunnel and takes more than a few twists and turns. With this being one of the first themed water parks to open in Orlando, the lush gardens that line the winding pathways are beautiful and bountiful, making this the ideal place to relax, even if you don't plan on doing any of the slides.
BLIZZARD BEACH
Where: Walt Disney World
After a freak snowstorm, the sun came out and melted the ice and snow creating Blizzard Beach, or so the legend says… This sunny water park has a fun ski theme, complete with a melting mountain – Mt. Gushmore. Of the two Disney waterparks, Blizzard Beach is home to the more adrenalin-filled attractions, the main player being Summit Plummet, one of the tallest free-fall body slides in the world. It's so steep, you can't see where you're about to drop off until it's too late. And then, even a blood-curdling scream isn't going to help you. Watch our video on how to enjoy your day at Blizzard Beach including the view as you plummet from the summit.
Other popular choices are Snow Stormers, where you can race your family to the bottom on toboggan-style mats and Slush Gusher, a 90ft high-speed water slide. Kids looking to burn off some energy can conquer at the Ski Patrol Training Camp, a water-themed assault course. If you just want to sit back and enjoy the view, take a leisurely ride to Mt. Gushmore on the chair lift and wave to the daredevils whizzing past you on the slides.
AQUATICA
Where: SeaWorld Parks
This is a waterpark with a difference because SeaWorld's famous marine animals also feature prominently throughout the park. On the totally unique Dolphin Plunge, you'll slide down a glass tube that runs through a dolphin pool, with black-and-white Commerson's dolphins swimming around you. Aquatica is a fun, energy-filled park with a party atmosphere that plays upbeat pop music as you enjoy your day.
The newest slide at the park, KareKare Curl is designed to replicate the weightless feeling of riding on the crest of a wave. Another Aquatica favourite is Taumata Racers, a high-speed competitive mat ride where eight racers rip down a staggeringly steep hill, head first as the clock registers the winning time. The Loggerhead Lane lazy river passes through a tropical fish tank as well as some surprise splashes and waterfalls. This waterpark has lots of cosy areas for families to base themselves throughout the day and is ideal for those guests looking for exciting thrills and slides, as well as younger kids and anyone just wanting a relaxing day in the sun.
LEGOLAND WATERPARK
Where: Legoland, Florida
Hi Lego fans – did you know you can build your own Lego raft at the Legoland Florida waterpark? The Build-a-Raft river is fun for the big kids (mums and dads) and the little ones as you challenge each other to build the best boat. This water park is ideal for families, with attractions designed with children and teenagers in mind. Each slide and pool is Lego themed but the park isn't without its fair share of thrills and spills. The Splash Out is a choice of three slides, all sending you down a 60ft drop, before splashing into the pool below. The Legoland one-day waterpark combo ticket grants you access to both the main theme park and the water park, which between the two have 50 rides and attractions.
Ready to make a splash? Click here, to view our great value Orlando attraction tickets.
Liked this post? You may also like…