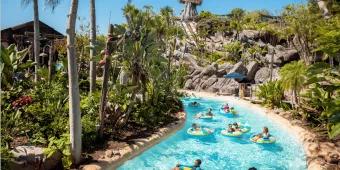 By AttractionTickets.com's Florida Experts, Susan and Simon Veness
When it's time to cool down, there are some brilliant watery playgrounds in Orlando
When the temperature hits "Summer" in Central Florida, that means it's time to find ways to cool down, and there are none better than the water parks at Walt Disney World, Universal Orlando, SeaWorld. With so much imagination and creativity on offer, the only question is - what theme would you like to enjoy with all the watery fun?
From blizzard snowscapes to Polynesian volcanoes, the choice is immense, so we thought it was high time to provide a comparative look at each of the five main water parks and highlight what we think are their best features.
Like most things with Orlando, it starts with Walt Disney World, as they offer two of the very best...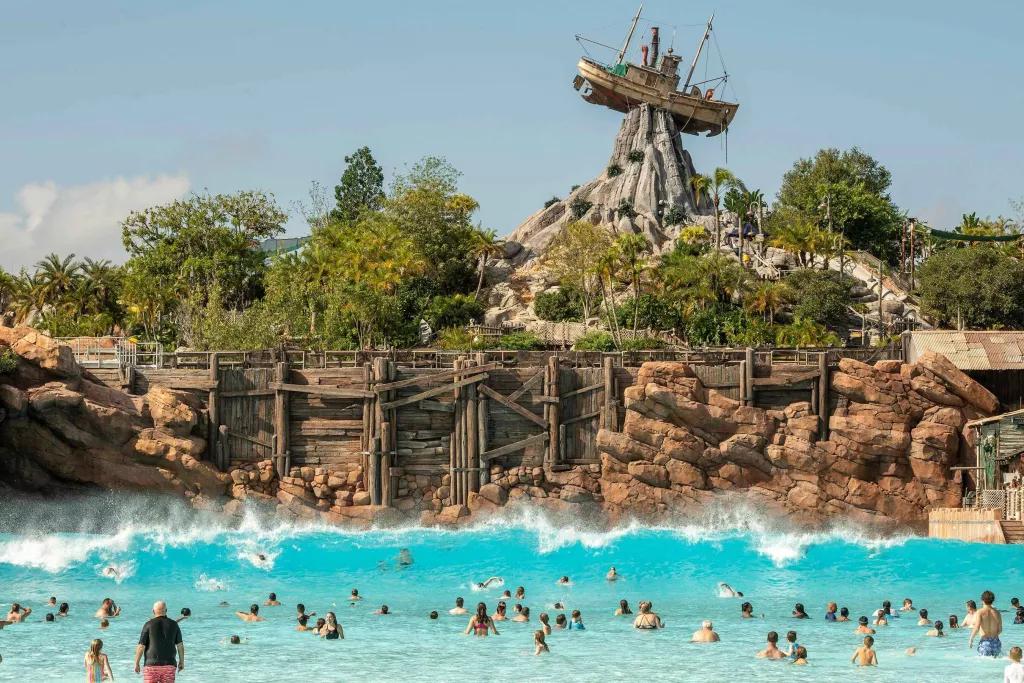 Disney's first water park, this 61-acre playground opened in 1989 and has one of the best back-stories of all the parks. Legend has it that a tropical paradise was hit by a massive storm which created havoc with the island, including leaving shrimping boat the Miss Tilly lodged precariously on the top of Mount Mayday.
This serves as the central point of the park, with most of the rides and slides descending from the Mount's slopes. It boasts one of the world's largest wave pools - and it can get seriously rough in there; young children should be kept to the edges - and offers a series of six body slides, two family raft rides, two tube flumes, the out-and-out water-coaster ride of Crush 'n Gusher and lazy river feature Castaway Creek.
There is also a play area for young children - Ketchakiddee Creek - and plenty of sandy beach sections to create the ideal seaside illusion. The food is good, too, with main restaurant the Leaning Palms serving up some tempting treats, while there are several ice cream kiosks.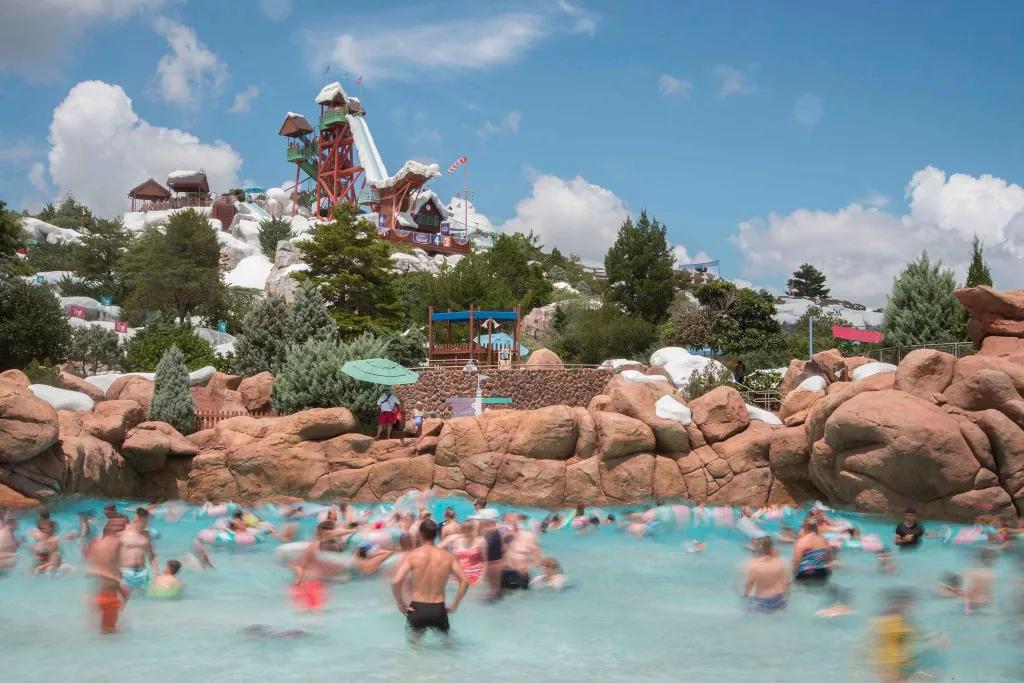 Slightly bigger than its sister park at 66 acres, Blizzard Beach made its debut in 1995 and quickly became popular for its big raft ride, Teamboat Springs, and the fearsome body slide, Summit Plummet.
The clever premise of the park is that it was hit by a rare Florida snowstorm, which inspired the owners to turn it into a ski resort, complete with chair-lift. Of course, the sun came back to melt most of the snow, but the owners simply switched it over to a water park, and so it exists today! We like it most for Teamboat Springs and the "racing" style of Snow Stormers and Toboggan Racers, which provide a head-first plunge along mock bobsled-type slopes, as well as the one-acre wave pool of Meltaway Bay (not quite as energetic as Typhoon Lagoon).
Surprisingly, Blizzard Beach closed for an extensive refurbishment in March, and we've yet to hear when it will re-open, so Typhoon Lagoon is your only Disney water park at the moment.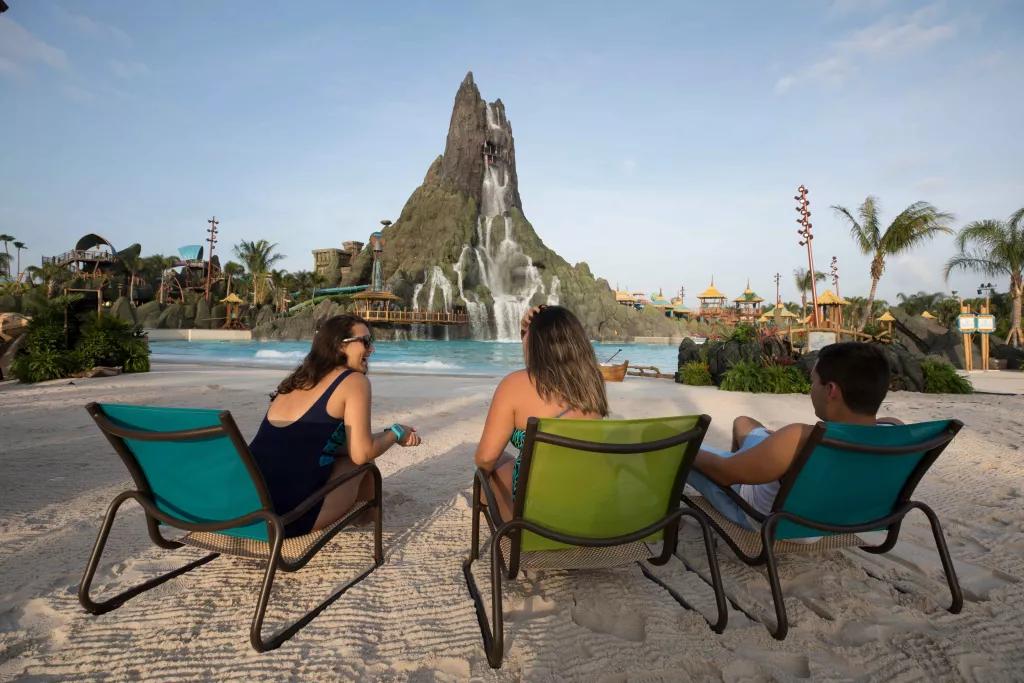 Universal Orlando was a bit late in joining the water park game, but when they opened Volcano Bay in 2017 they made sure they had a winning recipe for water park success. 
With an extensive South Seas theming set around the central "volcano" - and with a gorgeous beach and lagoon on one side - this is a charming setting that is also packed with high-energy slides and rides, most notably the standout attraction of the Krakatau Aqua Coaster, which shoots rides around and inside the massive volcano.
The 53 acres are split into four separate areas, each of which has at least one tempting food and beverage outlet, with one devoted primarily to children, including a play area just for toddlers.
The neatest feature, though, is the (free) waterproof Tapu Tapu wristband that everyone gets on entering the park and which is used to make reservations for each ride and slide in turn. It is a unique way to create a "virtual queue" for the attractions while also activating interactive elements, opening lockers and making cash-free payments around the park.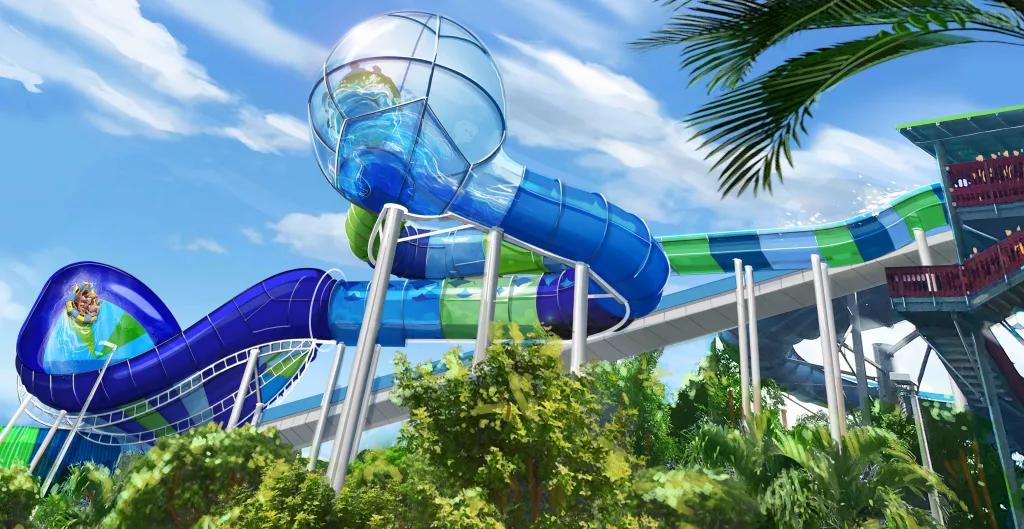 SeaWorld entered the water park business in 2008 and made a bold choice with their south Pacific styling that included mascots from New Zealand and Australia. It added animal habitats for Commerson's dolphins as the original Dolphin Plunge body-slide, as well as not one but two wave pools with different characteristics.
Younger children are also extremely well catered for here, with Turi's Kid Cove and Walkabout Waters providing junior-sized fun in addition to all manner of fountains, buckets and slides, and this just might be the best family choice of all five. However, our favourite element of the park - which also includes an extensive beach area with sun loungers and umbrellas - is the unique Roa's Rapids, a not-so-lazy river that is great fun to take a literal spin or two around. Try it with the provided life-jackets for a complete different experience!
SeaWorld has steadily added new attractions here, too, with raft slide Walhalla Wave (2017),  the thrilling Ray Rush raft ride (2018), bowl slide KareKare Curl  (2019) and twin duelling slides RipTide Race (2021), while the Dolphin Plunge was transformed into Reef Plunge last year.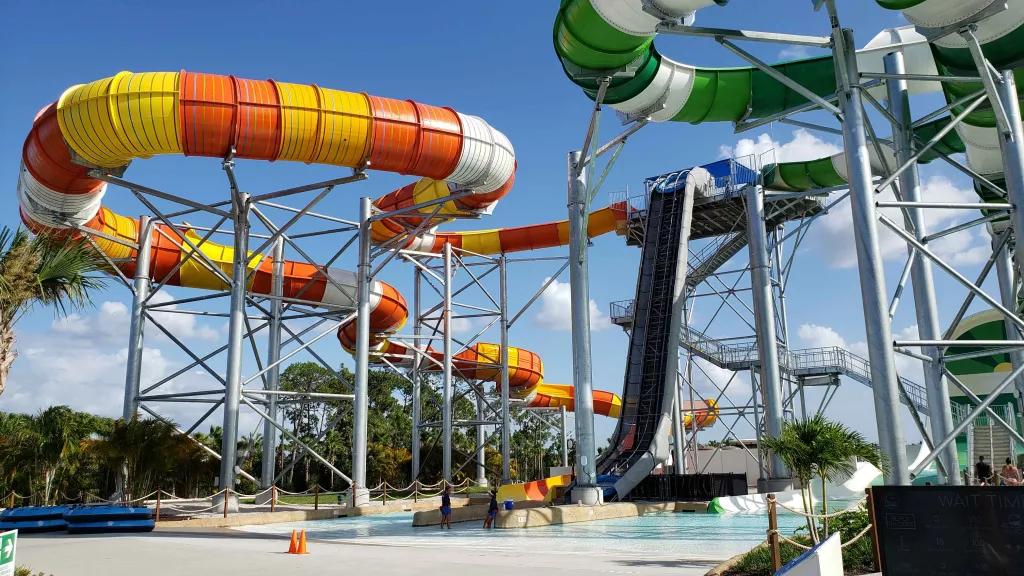 The final member of Orlando's Water Park parade is the newest, opening on Kissimmee's Highway 192 in 2019. It is only 17 acres in extent but it packs a lot into those confines, and makes for a fresh alternative to the big theme park offerings.
The other big difference from its watery brethren was its intent to feature something none of the others thought to create - a new breed of lively attraction designed expressly with the social media generation in mind, hence it adds a special Smart Band for the day to take advantage of a range of features that include video recordings for you to share on Facebook and Co.
The park uses proprietary technology to allow guests to create their own unique in-park experiences, with options to customise themes and playlists while on attractions, immediately share moments across their social media channels, and more, once they have downloaded the App.
Of course, there are also some thrilling rides and slides, notably the twin body slides of Live Streaming and Drop Down, with their vertical-drop elements; the rollicking raft rides Profile Plunge and Hashtag Heights; and the breathtaking two-person tube ride, Follow Me Falls, with its vertical ascent – and weightlessness-inducing drop.
In summary
Orlando features great choice in every aspect of its holiday profile, and that is certainly true with the water parks. When they are part of Disney's 7 and 14-Day Magic Ticket, SeaWorld's 3-Visit and Ultimate Tickets, and Universal's 3-Park Explorer Ticket, they also represent terrific value.
The only thing to remember is your high-factor, waterproof suncream, and you are all set for a truly memorable day out.  
Which Orlando water park is your favourite? Tell us on the friendly ATD forums, our Community Facebook page, on Twitter or Instagram.