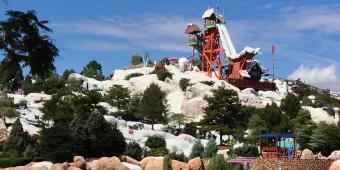 An in-depth look at the two Disney water parks
Below, we go into detail about the themes, rides and other highlights that make Disney's Blizzard Beach and Typhoon Lagoon so popular with lovers of both adrenaline-fuelled and laid-back fun.
Water parks may not be the first attractions that spring to mind when most people think of Disney. However, that hasn't stopped the wonderful Walt Disney World Resort being home to two of the very best such locations – both of which are included with all of our Disney Ultimate Tickets.
If you haven't visited either Blizzard Beach or Typhoon Lagoon before but have just booked your attraction tickets for Orlando and are thinking about squeezing in a trip to them on your upcoming holiday, this article is a must-read. Below, we go into detail about the themes, rides and other highlights that make these two locations so popular with lovers of both adrenaline-fuelled and laid-back fun – with the expert help of some people who know best!
Why go to a water park at Disney World?
Let's be honest, we've got to address this question. Walt Disney World is (in case you hadn't noticed) literally the world's most popular and famous family holiday destination, with both the quality and sheer volume of the various parks and rides that can be enjoyed throughout the sprawling resort being nothing short of legendary.
So, with such a wide range of iconic attractions like Space Mountain, Cinderella Castle and "it's a small world" to be discovered, you may have thought that visiting Disney's water parks shouldn't be anywhere near the top of your priority list. However, anyone who has taken the time to visit either Blizzard Beach or Typhoon Lagoon will be able to tell you that doing so is every bit as thrilling – and often much less crowded – than exploring the Magic Kingdom itself.
Laura, co-founder of The Bucket List Narratives – a blog which specialises in travel, as well as all things Disney – gave one very good reason why both the Disney water parks are well worth visiting (hint: it's not something that's usually an issue in the UK!): 'Unfortunately, people haven't been exaggerating when they talk of the Florida heat. It can be overwhelming, especially to someone from a different climate that isn't used to 90 degree days with humidity. Luckily, Disney has worked to remedy this problem with their two water parks. If you're visiting Florida during the warmer times of year, a trip to either of their two fantastic water parks should not be missed. Walt Disney World is home to Blizzard Beach, and Typhoon Lagoon - both excellent parks in terms of both rides, and theming.'
We also asked Janice Brady, who runs An Open Suitcase (another travel blog with a distinctly Disney-themed twist), why Blizzard Beach and Typhoon Lagoon are always popular with those in the know. It will come as no surprise to Disney fans that the vivid imaginations of those who came up with the parks' concepts are largely to thank for their unique appeal, whilst their suitability for visitors of all ages is another big factor:
'It so happened that I was in the middle of doing some water park research when this question came across my desk. I haven't visited either in several years but will be taking my two grandchildren in early June. My granddaughter, age 10, has requested a day at one of the water parks. My grandson, age 16 months, must also be taken into consideration.
'Both Typhoon Lagoon and Blizzard Beach are awesome in the way that only Disney seems to have mastered through storytelling. Typhoon Lagoon has a tropical setting that's been hit by a massive typhoon. Blizzard Beach, meanwhile, is actually "set" in Florida. The legend is that Florida was hit with a freak snowstorm, and some geniuses thought they'd take advantage of this phenomenon by building a ski resort. When the snow melted, however, the ski resort was converted into a water park.'
Who else but Disney would think of such an innovative and unusual theme for a water park? This alone should be enough to get you thinking about how Blizzard Beach and Typhoon Lagoon might just be among Walt Disney World's most impressive features.
Park highlights
Two of our favourite bloggers – Laura from The Bucket List Narratives and Lisa, who runs the family, lifestyle and travel blog It's a Blogs Life - were also on hand to tell us more about what exactly visitors to Blizzard Beach and Typhoon Lagoon can expect to enjoy upon arrival. As you will see, the fact that they are both water parks is pretty much where the similarities between the two locations end!
Blizzard Beach
'The backstory to Blizzard Beach is that a freak snowstorm hit Florida, and opportunistic people decided they should open a ski resort. The weather soon returned to normal in Florida, though, so they opened a waterpark among the melting snow, and remnants of a ski village. Some of Blizzard Beach's "not to be missed" rides include Summit Plummet, Slush Gusher, and Teamboat Springs. Teamboat Springs is a raft ride the whole family can enjoy together, while Slush Gusher is a body slide. The main attraction at Blizzard Beach, however, is Summit Plummet, one of the world's fastest waterslides, which reaches speeds of up to 55 mph.' – Laura, The Bucket List Narratives
'Imagine skiing in the Alps, surrounded by snow-topped mountains but being able to wander around in your swimwear in the sun. That is exactly what you get when you visit Blizzard Beach. The backdrops are beautiful and very authentic. There are more big rides in this park compared to Typhoon Lagoon, I think, but there is definitely still something for every age, from huge water rides with the biggest drops to water play areas designed for the smaller ones, and slides that are perfect for them too.' – Lisa, It's a Blogs Life
Typhoon Lagoon
'Typhoon Lagoon has an opposite atmosphere and theme to it. It's themed as a tropical resort that's been hit by a typhoon, leaving bits of wreckage in its wake. The lush, tropical theming fits in perfectly in Florida. Typhoon Lagoon boasts a "surf pool", instead of a standard wave pool. It's one of the largest wave pools in the world, covering over 2.5 acres, and producing a six foot wave every minute and a half. For an added price, you can learn to surf in this pool before the park opens. If a giant wave pool isn't up your alley, Typhoon Lagoon also hosts an array of family-friendly attractions, including the Crush 'N' Gusher, the park's signature ride, which is a rollercoaster-type raft ride where jets propel you forward.' – Laura, The Bucket List Narratives
'I think this is a perfect water park for a relaxing day away from the hustle and bustle of the other Disney parks. You can choose certain rides for some thrill seeking but you can also take full advantage of relaxing on the beach on a sun lounger or taking a leisurely swim around the lazy river. Typhoon Lagoon has an amazing wave machine - the best I've ever seen. It'll literally knock you off your feet. Budding surfers from small to big will all enjoy the fun the wave machine brings. My favourite ride in Typhoon Lagoon personally is Crush 'N' Gusher - a thrilling, rollercoaster-type ride on water!' – Lisa, It's a Blogs Life
Water-bout food?
We're sorry for the pun but, all joking aside, anyone who has been on holiday with children before will know how important it is that food and drink they can all enjoy is readily available – especially at the water parks, where they will have spent a good few hours working up an appetite! Fortunately, this is something Janice from An Open Suitcase has personal experience with, and she was able to share some details on what diners can look forward to at both Blizzard Beach and Typhoon Lagoon:
'Both parks are similar when it comes to food. Each features a main quick-service area with other stands scattered throughout. They also both feature a main bar near the wave pool. If you are on the Disney Dining Plan, you can use it at the water parks as well. Both offer the standard burgers, pizza, and chicken nuggets that are staples at every Disney quick service location but you can find a few unique items as well. Both offer a refillable drink mug for soft drinks and coffee.'
So, which one should I choose?
That's a difficult question. So difficult, in fact, that we're going to let our expert guides answer it for us!
Mike Belobradic is a luxury Disney travel blogger and author. He has logged nearly 100 weeks at Walt Disney World Resort hotels and has been visiting Walt Disney World multiple times each year since it first opened. He blogs regularly about the finer side of Disney travel at mikebelobradic.com and was kind enough to really delve into the question of which water park may be best for you on our behalf:
'Many guests who visit Walt Disney World are so focused on the four amazing theme parks that they forget (or don't know) that Walt Disney World also has two world-class water parks.
 
'So which one is best if you only have time to visit one water park during your stay? That's a tough question, but as a regular visitor to both Disney's Typhoon Lagoon and Disney's Blizzard Beach, here are a few things to consider that may tip the scale for you one way or another.

'For starters, you can't really go wrong with either park. Both Typhoon Lagoon and Blizzard Beach have lots of fun things for the entire family. There are fun slides and pools for kids of all ages, but the two parks differ in the following ways.

'If you lean more towards being a thrill seeker, then I would recommend Disney's Blizzard Beach. Summit Plummet is one of the highest and fastest water slides in the world and it is arguably the scariest "ride" at Walt Disney World. Right next to it is Slush Gusher, which is also a slide that will turn your stomach upside down.
'On the other hand, if you're more about playing in the surf, then Disney's Typhoon Lagoon may be more your style. The giant wave pool here is a big draw and fun for anyone who loves a beach environment. Also, be sure to consider trying the Surfing Experience at Disney's Typhoon Lagoon. 'This one-of-a-kind VIP experience is highly recommended for anyone who wants to learn how to surf and have the Typhoon Lagoon wave pool all to themselves!' 
If the idea of learning to surf at Typhoon Lagoon is of particular interest to you, you should definitely check out this blog on Mike's site, which goes into great detail about what the experience involves. This really is an invaluable resource for all those would-be surfers out there, and even includes a brief video of the amazing Surf Pool in action.
Janice from An Open Suitcase was the only blogger we spoke to who settled on one water park over the other. Typhoon Lagoon is her favourite location, mainly because – as you will see below – it is perhaps the best option for those with younger visitors in tow: 'Although both are awesome in their own way, I have settled on Typhoon Lagoon. Through my research I found that many of the attractions at Blizzard Beach are geared more towards adventurous teens, which my granddaughter isn't quite ready for. If you have teenagers, Blizzard Beach is the water park to visit. Typhoon Lagoon seems to have more for the child that is somewhat reserved when it comes to trying things and is more comfortable with smaller attractions. Although both offer areas for my grandson's age, Typhoon Lagoon seems to have a better selection.'
Perhaps Laura from The Bucket List Narratives, however, best summed up our thoughts on the tricky matter of deciding which park to visit (because, quite simply, we love them both!): 'No matter which of the two water parks you chose to make part of your Walt Disney World vacation, you'll have a wonderful time. Creating magical memories, after all, is what the Disney company does best.'
Image Credits: The Bucket List Narratives, Jeff Kays, Chad Sparkes, William Warby
Liked this post? You may also like...