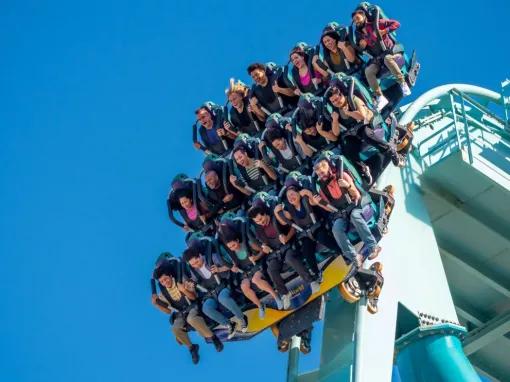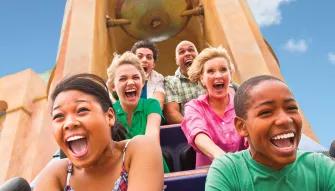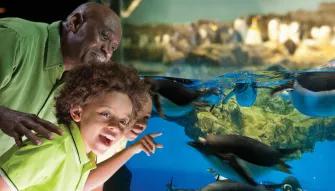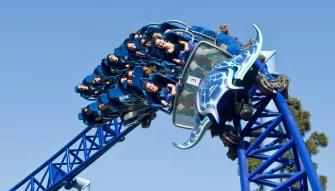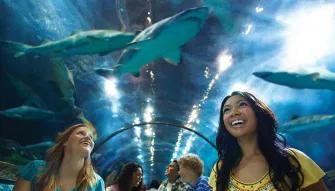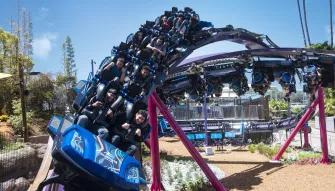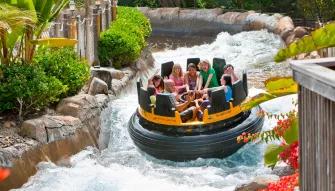 SeaWorld® California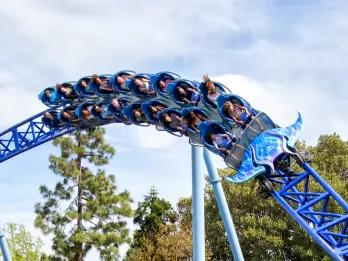 Mobile ticket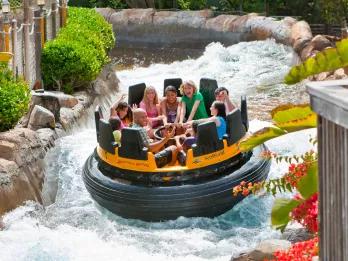 Mobile ticket
Mobile ticket
SeaWorld California Updates - Know Before You Go
The State of California strongly recommends that all Guests be fully vaccinated or receive a negative COVID-19 test prior to entering SeaWorld. Face coverings are required for all Guests (ages 2 and up) while indoors, including on many attractions and in enclosed transportation vehicles, regardless of vaccination status. Face coverings remain optional for all Guests in outdoor common areas.  
Full details
Venture beyond the ocean's door at SeaWorld in San Diego
Experience thrilling rides inspired by the force and power of the sea at SeaWorld® California. Explore beautiful aquariums, plunge down thrilling rides and experience stunning family-friendly shows.
Our guide to SeaWorld® California
This is SeaWorld® - the world's best-loved marine park! With a SeaWorld California ticket, experience thrilling rides inspired by the force and power of the sea, enjoy fabulous, family-friendly activities and shows, explore beautiful aquariums, visit sea animals and much more!
Not to Miss Attractions
Emperor is the tallest and fastest floorless dive coaster in California. Get ready to plunge 90 degrees and soar up to 60 miles per hour through exhilarating loops on this exciting Emperor penguin-inspired adventure, feeling your feet dangle above the track on the state's only floorless dive coaster! 
Experience every icy thrill as you navigate three exhilarating launches and reach wind-whipping speeds of up to 40 miles per hour on Arctic Rescue
Thrill Rides
Thrill seekers should head straight to the heart-racing Electric Eel™, a multi-launch coaster with high-energy twists, electrifying loops and inversions
Feel the thrill of Tidal Twister™, a unique duelling rollercoaster ride featuring high-speed turns and upside-down twists
Swooping over sea and sky, Manta not only inspires riders with an amazing 100,000-gallon aquarium but also takes them on an exhilarating ride on a coaster shaped like a giant manta ray, with dozens of twists and turns and a thrilling 54-foot drop
Family Fun
Witness live natural killer whale behaviours up close in Orca Encounter™. Learn about the role of family, the importance of play and what we learn from the whales in SeaWorld's care that is actively helping whales in the wild survive. Leave with a deeper connection to one of the sea's mightiest, most magnificent animals
Race, explore and play at the interactive attraction Turtle Reef where you'll experience the world of the sea turtle
Journey to Atlantis® is a seemingly peaceful ride to the lost city, that is until it erupts into an adventure, where you'll brave twists, turns, watery falls of mythic proportions and a 60-foot drop!
Prepare to get soaked on Shipwreck Rapids®, you'll spin and splash through the waves, plunge through an underground cavern and just try to dodge dripping cargo nets as you swirl around a tropical island!  
Fun For Kids
Connect with the sea through up-close animal encounters with sea lions, penguins and dolphins.
The laughter and learning of Sesame Street comes to life at Sesame Street Bay of Play featuring seven Sesame Street-themed dry rides, an interactive musical play area, and eleven water attractions including a 500,000-gallon wave pool – one of the largest in Southern California.
SeaWorld California Ticket Information:
All our SeaWorld California Tickets are gate-ready digital tickets, ensuring hassle-free admission when you arrive at SeaWorld San Diego. Simply scan the barcode at the entrance to SeaWorld for instant access to the park. There is a choice of SeaWorld California tickets available:
SeaWorld California Opening Schedule 
SeaWorld California is open 365 days a year, but for the safety of guests attractions occasionally close for improvements and scheduled maintenance.  Gates normally open at 10.00am but do check locally for changes to opening hours. 
Tips & Tricks - SeaWorld® California
Make time for feeding times: Meal time is the best time to meet some playful Atlantic Bottlenose dolphins and sea lions who you can even feed by hand—but only at designated times throughout the day. Stop by in the morning to check the day's schedule, then give yourself some extra time to get a great spot right at the water's edge.
Rides
Our guide to SeaWorld® California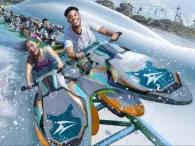 Arctic Rescue - Now Open!
Minimum Height Required: 48" (122 cm)
It's time to hop on your snowmobile and ride to the rescue! The ice is melting, the poachers are lurking, and the Arctic animals are in peril. Join the team and feel the rush of the fastest and longest straddle coaster on the West Coast: Arctic Rescue. It's only at SeaWorld San Diego, your go-to spot for family-friendly rides.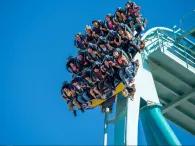 Emperor
Minimum Height Required: 52" (132cm)
Soaring more than 60 mph, SeaWorld's all-new coaster, Emperor, is the tallest and fastest floorless dive coaster in the state. Dangle and drop more than 150 ft on Emperor before plunging 90 degrees into exhilarating loops, a tribute to the Emperor penguins' journey from chilly, frosted cliffs to their deep dive into the depths of the ocean.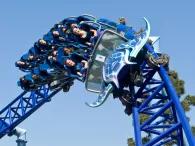 Manta®
Minimum Height Required: 48" (122 cm)
Buckle up for a multi-media family launch coaster that lives up to its name. This all-new breed of coaster immerses you in the beautiful and mysterious world of rays then takes you on a roller-coaster thrill ride with dozens of twists and turns. Two thrilling launches send riders soaring and diving in the spirit of the world's largest ray.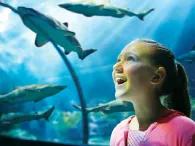 Shark Encounter
Journey through one of the world's largest underwater viewing tunnels. Experience a rare, fascinating, up-close look at prehistoric predators whose ancestors dominated the sea more than a hundred million years before dinosaurs walked the earth.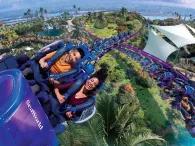 Tidal Twister
Minimum Height Required: 48" (122cm)
The first of its kind in the World, Tidal Twister at SeaWorld California in San Diego is a unique duelling roller coaster ride featuring high-speed turns and upside-down twists. Accelerating to 30mph, riders twist and bank as if they are riding the tide along a tight figure-8 track that includes dynamic Zero-G roll at the centre section.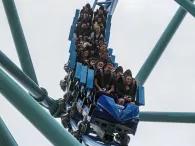 Electric Eel
Minimum Height Required: 54" (137 cm)
Get ready to feel EElectrified! The tallest, fastest roller coaster in San Diego is here! This multi-launch coaster boost riders to 60mph forwards and backwards with high-energy twists, electrifying loops and an inverted heartline roll. Electric Eel is 853 feet of pure excitement.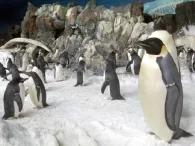 Penguin Encounter
Spend some time with some of our park's coolest characters. Watch the playful antics of penguins tall and small—nearly 400 in all. SeaWorld San Diego is one of the few places in the world where you can see magnificent Emperor penguins as well as King penguins and smaller Adelie, Gentoo, Chinstrap and Macaroni penguins.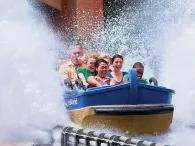 Journey to Atlantis®
Minimum Height Required: 42" (107 cm)
Take excitement to new heights on Journey to Atlantis! Inspired by one of the sea's favorite legends, this popular flume ride returns with an all-new look and smoother ride experience! Twist around serpentine turns, plunge down an eight-storey rush of adrenaline-pumping exhilaration and get drenched in mystery!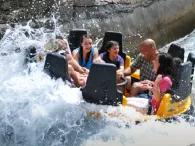 Shipwreck Rapids
Minimum Height Required: 42" (107 cm)
Join fellow castaways on a tube-style raft and ride a winding river at the heart of a peaceful island. Whirl, swirl, splash and crash through playful rapids and foaming whitewater. Plunge through a waterfall into an underground cavern and see the secrets this lost island keeps.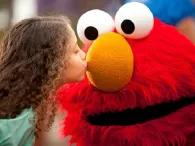 Sesame Street Bay of Play
Treat your kids to two-acres of childhood magic with their favorite characters from Sesame Street. It's filled with family-friendly fun and rides like Elmo's Flying Fish, Oscar's Rocking Eel and Abby's Sea Star Spin. You can even have your picture taken with your Sesame Street pals.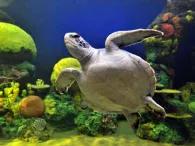 Turtle Reef
Get an up-close look at these fascinating creatures, then get even closer by experiencing their journey first-hand. Avoid obstacles as you make your way from the deep blue sea back to the beach, as it all plays out on a larger-than-life video wall. It's an action-packed, immersive experience that will have an impact on you and the world we share.
SeaWorld® California Reviews
Tickets weren't available at time of purchase.

Mairead Lynch reviewed SeaWorld California 14 Jul, 2023

Again service was good. Like the fsact you get the actual ticket and not voucher. Unfortunately not able to use due to lockdown and closure

Sheila Street reviewed SeaWorld California 08 Apr, 2020

Brilliant value- glad I purchase ticket with all day dining - excellent !

Carly Jacob reviewed SeaWorld California 10 Sep, 2019

Die Kombi-Bahn "Wasser/Achterbahn" ist genial; man wird einfach ziemlich nass. Enttäuscht war ich von der Gestaltung vieler Becken; hat ein bisschen gar viel Plastikzeugs drin; vor allem im Vergleich mit den Monterey Bay Aquarium.

Nadia Lo curto reviewed SeaWorld California 07 Aug, 2019

Good value, super-easy to use on the day. No problems at all.

Trusted Customer reviewed SeaWorld California 05 Mar, 2019
People who purchased SeaWorld® California also viewed...