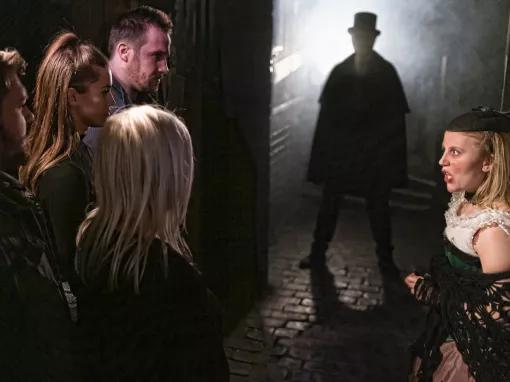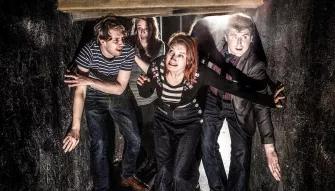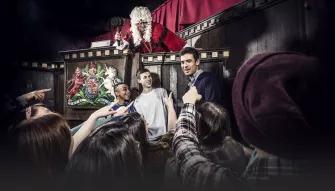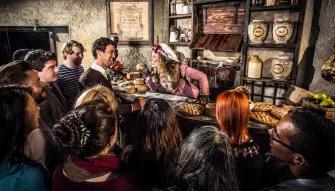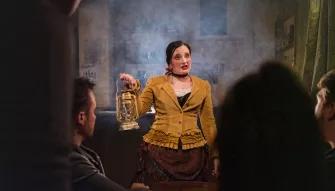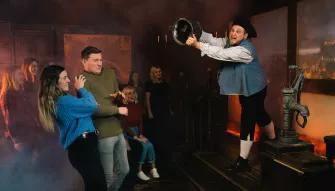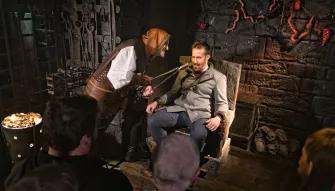 The London Dungeon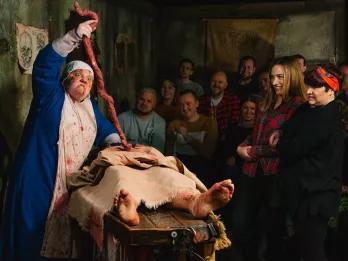 Mobile ticket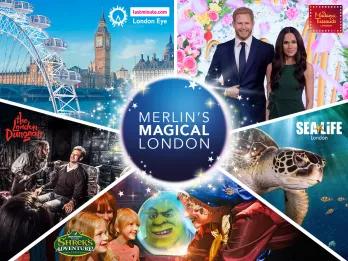 Mobile ticket
Full details
Get ready to delve into London's horrible history with a London Dungeon ticket. Featuring an amazing cast of theatrical actors, special effects, stages, scenes and a thrilling drop ride, a visit to the London Dungeon will be an experience you will never forget!
Our guide to The London Dungeon
The London Dungeon is a uniquely thrilling attraction that will whisk you way back to the capital's most perilous past and brings you face-to-face with some of London's most infamous historical characters. Are you ready to discover London's darkest history? We dare you...
1000 years of history are brought to life over 90 scary minutes as you are guided through 10 live tales of hysterically horrible history and taken on a thrilling drop ride. Travel through plague-ridden streets, witness Guy Fawkes' dramatic plot to blow up Parliament, travel back to Jack the Ripper's bleak Whitechapel and hear the latest gossip and share a drink with the locals in The Tavern, the Victorian pub experience. There are many chillingly amusing characters to meet along the way including Mrs Lovett, the very good friend of Sweeney Todd, who will welcome you into her pie shop and London's maddest, baddest Judge, the right honourable Lord Wendy Farquar. 
Expanded from its 1974 beginnings as a museum of horrible history, the London Dungeon is now an actor-led interactive experience with a variety of special effects that will amaze, scare and entertain the whole family.  Will you take a journey through the Traitors' Gate? Or will face your fate on Drop Dead: Drop Ride?
With your London Dungeon tickets, see, hear, feel and (ahem!) smell the chillingly amusing characters of the 'bad old days' as they come to life before you. Will you lose yourself in fear or in mirth? Either way, it's not looking good for your underwear!
Departs
The London Dungeon is open daily throughout the year and is located on the South Bank of the River Thames Underneath the London Eye.
Duration
Allow approximately 60-75 minutes for your visit to the London Dungeon.
FAQs
Frequently Asked Questions for The London Dungeon
Duration of Visit
How long does a visit to the London Dungeon take?

We recommended that you allow 60-75 minutes for your London Dungeon experience.
Location
Where is The London Dungeon?

The London Dungeon is on London's South Bank inside County Hall,  just a few minutes walk from London Waterloo station. From Waterloo you can join mainline trains and the London underground, including the Northern, Jubilee and Bakerloo Lines.

Has the London Dungeon moved?

Yes, after 38 years at Tooley Street, the attraction moved in January 2013 to the vaults underneath County Hall at the South Bank, moments from London Waterloo Station.
General Information
What is the London Dungeon?

The London Dungeon take you back to some of the most perilous moments in the capital's history while providing a uniquely thrilling attraction that will captivate the whole family. 

Is the London Dungeon scary?

Yes! The London Dungeon is a uniquely thrilling experience and not for the faint of heart! However, it is also a fun and educational way to spend your time learning about London's history.

What is the minimum age recommended to visit the London Dungeon?

The attraction is recommended only for children 12 years and up due to it's scary nature. However children younger than this can visit, providing they have the support of an accompanying adult. Things that younger children may not enjoy include a dark environment with loud noises.

How far is Madame Tussauds London from the London Dungeon?

Madame Tussauds London can be easily visited from the London Dungeon by catching the Jubilee Line from Westminster Tube Station to Baker Street Tube
Station just a short walk from the attraction.
Accessibility
Is the London Dungeon wheelchair accessible?

Yes it is. Although The London Dungeon has two flights of stairs, all areas are fully accessible to guests who use a wheelchair. However a specific reservation is needed due to capacity limits.
Rides & Attractions
What is inside of the London Dungeon?

There are 19 live shows acted out by incredible hosts, as well as 2 thrilling rides to take you back to London's most dangerous past.

Can you skip the rides at the London Dungeon?

Yes, The Drop Ride is optional and you can skip the it if you don't fancy it! Unfortunately it is not accessible for guests who are unable to walk unaided or guests who cannot use stairs.
Opening Information
What time does the London Dungeon close?

Opening and closing times may vary. Please check up to date opening and closing times before you travel.
Restrictions
Can I take photographs during my time at London Dungeon?

No, unfortunately filming and photography during your visit to The London Dungeon is not permitted.
People who purchased The London Dungeon also viewed...