Disneyland California
Disneyland Resort Updates - Know Before You Go
To enter a Disneyland California Theme Park, both a valid Disneyland California Ticket AND a date-specific theme park reservation are needed
It's easy to reserve Disneyland California park days! - on receipt of your Disneyland California Theme Park Tickets and when you are ready to pick a visit date, simply link your Disneyland tickets on the Disney Advance Reservation Tool
Disneyland Resort Theme Park reservations are subject to availability and it is strongly recommended you make your park reservations as soon as you receive your Disneyland California theme park tickets. 
See our Disneyland Resort Reservation Guide for more information on reserving your Disneyland Resort Park days and the latest Disneyland theme park availability
Special Offers

for Disneyland California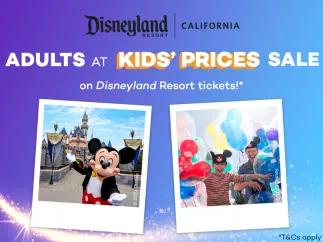 Get Disneyland Resort in California Tickets for less with AttractionTickets.com. Book tickets this September and get ADULTS AT KIDS' PRICES - valid for both 2023 and 2024 tickets.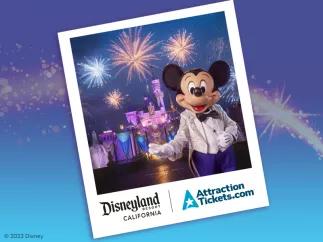 Immortalise your most cherished Disneyland Resort California holiday memories with 10 FREE Souvenir Prints. Simply book Disneyland California Tickets today to qualify for this exclusive added-value gift.
Disneyland California Theme Parks

Watch Dreams Come True at the Happiest Place on Earth…
Get ready to discover fun and laughter with Disney friends around every corner at the original Disney Theme Park. Use your Disneyland Park tickets to explore eight theme lands and discover more than 50 immersive rides and attractions including a chance to live your very own Star Wars™ adventure in a Galaxy Far, Far Away.
Highlights:
Mickey & Minnie's Runaway Railway
Star Wars: Rise of the Resistance
Millennium Falcon: Smugglers Run
Space Mountain
Big Thunder Mountain Railroad
Splash Mountain
Matterhorn Bobsleds
Indiana Jones™ Adventure

Immerse yourself in the world of Disney, Marvel and Pixar in 8 exciting lands
From save-the-day adventures at the all-new Avengers Campus to high-speed thrills with your bestie on Incredicoaster, to immersive Cars Land inspired by the hit Disney•Pixar movie, there is an infinity and beyond number of experiences to be had at Disney California Adventure Park.
Highlights:
Incredicoaster (235813)
WEB SLINGERS: A Spider-Man Adventure (271823)
Guardians of the Galaxy in Mission: BREAKOUT! (235808)
Radiator Springs Racers (108822)
Soarin' Around the World (55001)
Grizzly River Run (55225)
Toy Story Midway Mania!
"Monsters, Inc. Mike & Sulley to the Rescue!
Full details
Welcome to your happiest place on Earth, only at Disneyland Resort
The original Walt Disney dream land remains an irresistible magnet for Californians and visitors alike. With classic and cutting-edge rides, world-class shows and magical entertainment, the two parks of Disneyland Resort California bring all your Disney fantasies and characters to life!
Our guide to Disneyland California
Experience the Happiest Place on Earth with a Disneyland California Ticket. Here there is an infinity and beyond number of things to do from meeting your favourite superheroes at the all-new Avengers Campus to the thrill of fighting the First Order alongside Rey and the Resistance in Star Wars: Rise of the Resistance.
Perhaps start your day in Disneyland Park with a stroll down Main Street, U.S.A and get that all-important family selfie outside Sleeping Beauty Castle. Then discover classic attractions including "it's a small world", Peter Pan's Flight and the Matterhorn Bobsleds before living your very own Star Wars adventure at Star Wars: Galaxy's Edge. Around corners and through back alleys, you can build your own droid and custom lightsaber and sample the curious concoctions of the local cantina. For high thrills, gather your crew and take control of the fastest hunk of junk in the galaxy on Millennium Falcon: Smugglers Run.
Use your Disneyland Tickets to hop across to Disney California Adventure Park where eight themed lands celebrate the world of California. Break out the Guardians (and the smiles!) on Guardians of the Galaxy - Mission: Breakout. Encounter some of the Earth's mightiest heroes at the Avengers Headquarters and embark on an action-packed adventure alongside the amazing Spider-Man. Soar Around the World, race through the desert landscape of Cars Land and try to keep up with Jack Jack as you twist, turn and loop upside down around Pixar Pier on the Incredicoaster.
Welcome to your happiest place on Earth, only at Disneyland Resort.
Disney California Ticket Information
Discover the magic of Disneyland Resort our range of Disneyland California Tickets. Choose between a One Park per Day Ticket or one of our popular Disney Hopper Tickets which offers same-day admission to both Disneyland Park and Disney California Adventure Park.
Instant ticket delivery - tickets are automatically uploaded to your customer account upon completion of your booking allowing customers to start making their Disneyland theme park reservations straight away
Gate-ready digital tickets - Download your Disneyland California Tickets to your smartphone or print them in advance for hassle-free entry at the gate Choice of ticket duration - choose between a 2, 3, 4 or 5-day options
Flexible Open-dated Tickets - activate your Disneyland Tickets at any time on your California holiday (with a valid Disneyland Theme Park reservation)
Free cancellations - book with confidence knowing that our Disneyland California Tickets can be cancelled with a full refund up to your holiday departure date should your holiday plans change
As a reminder, a valid Disneyland California Theme Park Reservation is also required to gain entry to a Disneyland theme park. It's easy to reserve Disneyland California park days! - on receipt of your Disneyland California Theme Park Tickets and when you are ready to pick a visit date, simply link your Disneyland tickets on the Disney Advance Reservation Tool.
Introducing Disney Genie Service
Make your Disneyland California Theme Park visits easier and more fun by harnessing the power of Disney Genie. Included in the price of your Disneyland Californa Ticket, this handy service helps plan a bespoke itinerary just for you! Conveniently built right into the Disneyland App, all you need to do is tell Disney Genie your preferences - are you a thrill-seeker, a Disney princess fan or simply in search of the best place to get a tasty treat - and this new digital service will optimise your day in the Disneyland Resort Parks with a recommended itinerary. Disney Genie is smart and will continue to update your itinerary throughout the day, so you can be more spontaneous and take advantage of short attraction wait times.
And if you want to take your day to the next level, upgrade to the Disney Genie+ service to choose arrival windows for the new Lightning Lane entry on select attractions and experiences. You can make one selection at a time, after park entry on the day of your visit (attractions are subject to limited availability; limit one Lightning Lane selection per attraction per day).
FAQs
Frequently Asked Questions for Disneyland California
General Information
How many parks are in Disneyland California?

Disneyland California contains 2 theme parks; Disneyland Park and Disney California Adventure Park.

What castle is in Disneyland California?

The Sleeping Beauty Castle is a fairy tale castle located at the heart of Disneyland Park, California.

Which is better Disneyland Park or California Adventure?

Both parks at Disneyland California have a wide variety of attractions and shows for guests to experience. Disneyland Park contains nine uniquely themed lands whilst California Adventure Parks has four.

Why should I go to Disneyland California?

There are a number of reasons to visit Disneyland California. The parks boast many amazing rides, live shows and restaurants for guest to experience. For more detail on what to expect, read our blog on some 'Must-Do's' during your visit.

What is at Disneyland California?

Disneyland California is an entertainment resort located in Anaheim, California and is owned and operaterd by The Walt Disney Company.

How big is Disneyland California?

Disneyland California Resort covers a total area of 85 acres. This includes both theme parks, three hotels and the Downtown Disney District.

Is Disneyland California open all year round?

Disneyland California is open every day of the year including all major public holidays. Opening hours can vary and are shorter in the winter months.

What time is it in Disneyland California?

The time in Disneyland California is 8 hours behind GMT in the UK.

How far is Disneyland California from Universal Studios?

Universal Studios Hollywood is located about a 45-minute drive away from Disneyland California.

Does Disneyland California have Harry Potter?

The Wizarding World of Harry Potter is located at Universal Studios Hollywood, not Disneyland California.

Where to stay Disneyland California?

There are three Disneyland Resort hotels located on-site in California; Disney's Grand California Hotel & Spa, Disneyland Hotel and Disney's Paradise Pier Hotel.

Can you do Disneyland California in one day?

It is possible to visit both Disney parks in a single day using a hopper ticket option. However, as there are so many rides, shows and areas to see and experience it often takes multiple visits in order to experience everything on offer.

How many rides are in Disneyland California?

Disneyland Resort California has over 50 attractions spread out across its two theme parks.

Is there wifi in Disneyland California?

Complimentary wifi is available for guests to use throughout both parks at Disneyland California.

What characters are at Disneyland California?

All of your favourite characters, including Mickey, Donald and Goofy, can be found at both parks in Disneyland California and can give out autographs on request.

When does Disneyland California decorate for Christmas?

The Christmas season at Disneyland California runs from early November until early January.

Can you take food into Disneyland California?

Guests are permitted to bring food and non-alcoholic beverages into the parks so long as there are no glass containers, strong odors and the food doesnt require heating or refrigerating.

How far is California Adventure from Disneyland?

The two parks are located right next to each other and it is possible to move between the two with a hopper ticket.

How far is Seaworld from Disneyland California?

SeaWorld San Diego is located roughly a 1.5 hour drive away from Disneyland California.

How old is Disneyland California?

Disneyland Resort California was founded in July, 1955.

How to become a Disney princess at Disneyland California?

The Bibbidi Bobbidi Boutique experience is located within the Sleeping Beauty Castle and give girls and boys aged 3-12 the chance to become a real-life princess or knight with a lavish pampering experience. This experience is very popular so it is advised to book several months in advance.

Can Disneyland California tickets be cancelled?

Disneyland California Tickets purchased with AttractionTickets.com can be cancelled up to your holiday departure date. No refunds are given for cancellations made post-departure. Please note that individual tickets cannot be cancelled from your booking. If you need to amend the number of guests in your party, your whole booking will need to be cancelled and tickets re-booked. This will cancel any linked theme park reservations and your park visits will need to be re-booked and will be subject to the latest park availability. 

Do you have to pay for parking at Disneyland California?

Parking at the Disneyland California theme parks starts at $25 per day and is subject to availability.

Does Disneyland California have fireworks every night?

Fireworks displays take place all throughout the year at Disneyland California but only on selected dates. Before you travel we advise to check the online schedule here.

Does Disneyland California has disability access?

Disneyland California has extensive guidance and infrastructure to accommodate a wide range of disabilities. Details can be found here.
Disneyland California Reviews
We enjoyed two days here.

Trusted Customer reviewed Disneyland California 24 Sep, 2023

Good value and payment structure.

Stephen Samways reviewed Disneyland California 13 Sep, 2023

Easy purchase, competitive prices. Good communication.

Patricia Sumner reviewed Disneyland California 12 Sep, 2023

Amazing easy to use tickets

Trusted Customer reviewed Disneyland California 09 Sep, 2023

Our children were a little older now for Disney but it was still worth a visit and the 100 years of Disney firework show is spectacular. Disney Adventureland was one of our main reasons for our visit to LA as our children grew up with Cars and are big fans. Radiator Springs is fantastic! And even more so at night all lit-up in neon. The Star Wars area was brilliant. Just fantastic theming. The Incredicoaster is a great ride too for teens. The fast passes are cheaper at Disney than at Universal and are definitely worth the spend. Absolutely worth the visit.

Trusted Customer reviewed Disneyland California 07 Sep, 2023
©Disney © & ™ Lucasfilm Ltd
People who purchased Disneyland California also viewed...