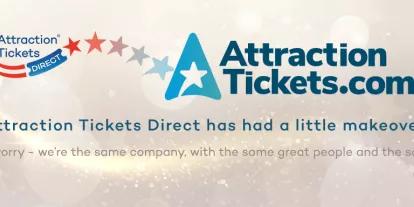 We are the UK's No. 1 Provider for Florida Attraction Tickets & Theme Park Hotels
Who we are & what we do
We founded our business as Attraction Tickets Direct in 2002, before becoming AttractionTickets.com in 2019. Throughout this time our mission has always been to Add Happiness® to holidays and make it easier for you to buy tickets to the world's leading attractions. Since 2002, we have sold over 15 million tickets and our values and customer promises are the same today as they were when we started.
We're members of ABTOT, so you know your booking is in safe hands. Why is ABTOT important?
We provide expert advice every weekday from 9.00am in the morning until 7.00pm at night and on Saturdays from 9.00am to 5.00pm. Contact us via phone, live chat, email or social media.
We issue gate-ready digital theme park tickets as we don't see the point in customers pre-purchasing a voucher only for you to spend the first 30 minutes of your holiday in a queue to exchange it for a real ticket.
We ensure your tickets are available in your customer account as soon as possible once they are paid for in full. That means many of our tickets are available for instant use, even on the day of purchase!
We will save you money as we are always cheaper than the gate price. Plus, you can pay in instalments to help spread the cost.
There are no hidden extras - the price you see is the price you pay.
We will throw in loads of extras such as free tickets, discount vouchers and top tips to help you make the most of your holiday.
Lowest Price Promise
We will not be beaten on price! Our price promise ensures that you are booking the best value tickets.
We believe that the prices of attraction tickets on our website represent excellent value.
Consequently, if you book via AttractionTickets.com and subsequently find the same theme park tickets cheaper elsewhere, we will pay you the difference in price.
Likewise, if you are yet to book and find the exact same tickets cheaper, we will match the price.
At AttractionTickets.com, we offer our customers
Real tickets. Real value. Real fast. And this formula seems to have worked as we have served over 5 million customers since 2002, making us the UK's largest attraction ticket provider for Walt Disney World Resort, SeaWorld, Universal Orlando Resort and Disneyland Paris.
Real tickets

Official gate-ready tickets that allow access straight into the parks - no fuss!

Real tickets mean that you will receive digital gate-ready tickets that can be downloaded directly from your customer account and either printed or shown straight from your smartphone to gain entrance into the parks*.

In contrast, if you have a voucher, you will have to queue to exchange your voucher for a real ticket. This is obviously annoying on the first day of your holiday when you're keen to get on your first ride! However, what could be more annoying is if the voucher doesn't work. A voucher is only like a cheque and it's always possible that it won't be honoured if the supplier of that voucher is late paying their bills or is over their credit limit.

Real value

Tickets are guaranteed to be cheaper than the gate price and backed up with our price promise.

Price is important and we always ensure that our prices are cheaper than the 'gate' price. We also promise to match any genuine, like-for-like price that you find in the UK (see our price promise for more details on this). However, value is not all about price and at AttractionTickets.com, we are always looking to add value to your booking and your holiday. For example, we allow you to pay for your tickets in instalments so that you can spread the cost over a number of months.

We offer a very low-cost deposit scheme that enables you to guarantee our low prices a long way in advance of your departure date to protect you against foreign exchange fluctuations and price increases. We use our buying power to negotiate discounted rates and added value at major attractions. 

Real fast

We don't want or need to hold on to your money, so we make sure your digital tickets are in your customer account almost instantly. 

As soon as possible after you have paid us in full, your tickets will be available to download from your AttractionTickets.com customer account, ready to use straight away. Or, if you'd like the excitement of receiving something in the post, we can print your Walt Disney World Resort tickets and have them delivered to you in just a few days, along with extras like our exclusive travel wallet and our Tips 'n' Tricks guide. 

Some travel companies hold on to your money until the very last minute to earn interest on it or ease their cash flow.

We aren't one of those travel companies!
A little more about us...
In 2006 we became the first Company ever to sell '1 million visits' to Walt Disney World in Florida in a single year - a feat we have achieved every year since.
We've also won 'Best Attraction Ticket Provider' at the British Travel Awards - as voted for by readers of The Sun and viewers of Sky Travel - twelve times, and 'Best Attraction Website' at the Travolution Awards seven times. 
With dedicated websites and offices in the UK, Ireland and Germany, no ticket agency offers their customers a better service and we very much look forward to being of service to you!
*Tickets for Walt Disney World Resort in Florida must be linked to a MyDisneyExperience account and Disney MagicMobile Pass or Magicband for immediate access. A Disney Park Pass reservation is required in addition to your valid theme park ticket for entry into the Walt Disney World parks. 
Brilliant experience

Trusted Customer reviewed 28 Nov, 2023

Competitive price for park tickets and great service. We had a slight issue linking tickets to our account and it was solved quickly by email

Jennifer reviewed 28 Nov, 2023

This was a quick and reliable source for our park tickets. Happy with information and service.

Elizabeth Mcarthur reviewed 28 Nov, 2023
Must reads