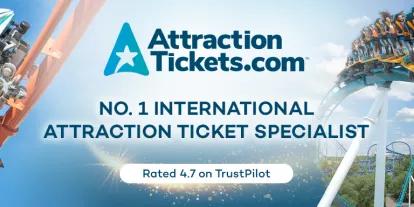 We are the No. 1 International Attraction Ticket Specialist
Who We Are & What We Do
We founded our business, AttractionTickets.com, in the UK in 2002. Throughout this time our mission has always been to Add Happiness® to holidays and make it easier for you to buy tickets to the world's leading attractions. Since 2002, we have served over 5 million happy customers and our values and customer promises are the same today as they were when we started.
We provide expert advice every weekday from 9.00am-7.00pm Monday to Friday and 9.00am-5.00pm on Saturdays. Contact us via phone, live chat, email or social media.
We issue gate-ready theme park tickets as we don't see the point in pre-purchasing a voucher only for you to spend the first 30 minutes of your holiday in a queue to exchange it for a real ticket.
We have ratings of 4.7 on Trustpilot and 4.8 on Feefo, so you know your booking is in safe hands
We ensure your tickets are available in your customer account as soon as possible once they are paid for in full. That means many of our tickets are available for instant use, even on the day of purchase!
We will save you money as we are always cheaper than the gate price. Plus, you can pay in instalments to help spread the cost.
We won't charge you to pay on a credit or debit card and there are no hidden extras.
We will throw in loads of extras such as free tickets, discount vouchers and top tips to help you make the most of your holiday.
Lowest Price Promise
We will not be beaten on price! Our price promise ensures that you are booking the best value tickets.
We believe that the prices of attraction tickets on our website represent excellent value.
Consequently, if you book via AttractionTickets.com and subsequently find the same theme park tickets cheaper elsewhere, we will pay you the difference in price.
Likewise, if you are yet to book and find the exact same tickets cheaper, we will match the price.
At AttractionTickets.com, we offer our customers
Real tickets. Real value. Real fast. And this formula seems to have worked as we have served over 5 million customers since 2002, making us the no. 1 international theme park specialist for Disneyland Resort California, Universal Studios Hollywood, Walt Disney World Resort in Florida, SeaWorld, Disneyland Paris and more!
Real tickets

Official gate-ready tickets that allow access straight into the parks - no fuss!

Real tickets mean that you will receive gate-ready tickets that can be downloaded directly from your customer account and either printed or shown straight from your smartphone to gain entrance into the parks*.

In contrast, if you have a voucher, you will have to queue to exchange your voucher for a real ticket. This is obviously annoying on the first day of your holiday, when you're keen to get on your first ride! However, what could be more annoying is if the voucher doesn't work. A voucher is only like a cheque and it's always possible that it won't be honoured if the supplier of that voucher is late paying their bills or is over their credit limit.

 

Real value

Tickets guaranteed to be cheaper than gate price and backed up with our price promise.

Price is important and we always ensure that our prices are cheaper than the 'gate' price. We also promise to match any genuine, like-for-like price that you find in the Dutch market (see our price promise for more details on this). However, value is not all about price and at AttractionTickets.com, we are always looking to add value to your booking and your holiday. For example, we allow you to pay for your tickets in instalments so that you can spread the cost over a number of months.

We use our buying power to negotiate discounted rates and added value at major attractions. Plus, we throw in loads of free extras, such as guides, holiday planners, discounts, meal vouchers and free tickets to attractions.

 

Real fast

We don't want or need to hold on to your money, so we make sure your digital tickets are in your customer account almost instantly. 

As soon as possible after you have paid for your tickets, they will be available to download from your AttractionTickets.com customer account, ready to use straight away - some of our tickets can even be used on the same day as purchase! Some travel companies hold on to your money until the very last minute so that they can earn interest on it or ease their cash flow.

We aren't one of those travel companies!

 
A little more about us...
In 2006 we became the first Company ever to sell '1 million visits' to Walt Disney World in Florida in a single year - a feat we have achieved every year since.
We've also won 'Best Attraction Ticket Provider' at the British Travel Awards - as voted for by readers of The Sun and viewers of Sky Travel - twelve times, and 'Best Attraction Website' at the Travolution Awards seven times. 
With dedicated websites and offices in Australia, Ireland, Netherlands, Germany and the UK no ticket agency offers their customers a better service and we very much look forward to being of service to you!
*Tickets for Walt Disney World Resort in Florida must be linked to a MyDisneyExperience account and Disney MagicMobile Pass or Magicband for immediate access. A Disney Park Pass reservation is required in addition to your valid theme park ticket for entry into the Walt Disney World and Disneyland Resort parks. 
Our customers rate us
Based on 50,505 reviews
Average 4.8 out of 5 (50,505 customer reviews)
Definitely recommend have used twice and if you need to speak to someone always helpful and will sort out your problem
5 stars:
Trusted Customer reviewed 26 May, 2023
I used attraction tickets for the first time this year to buy theme park tickets for California. They were a great price, competitive - it was easy to purchase, then the tickets were sent to download straight to my email. I linked my disneyland tickets the same day to be able to reserve the dates - and I used the live chat to confirm some questions which was super speedy. I will definitely use them again for future trips, and recommend to my friends and on my insta.
5 stars:
Gigi reviewed 26 May, 2023
Used these guys a few times for my Disney tickets and pricing has always been competitive and often cheaper than other vendors. Agents I have spoken too also had a good knowledge of the Disney parks and are therefore able to answer any questions someone may have.
5 stars:
Grahame Sandling reviewed 26 May, 2023