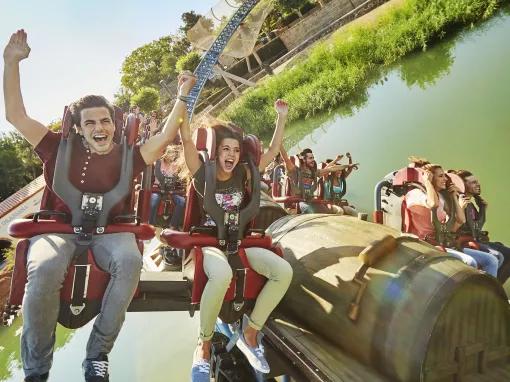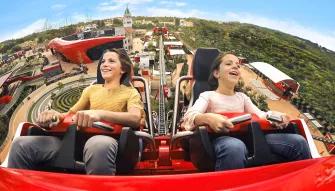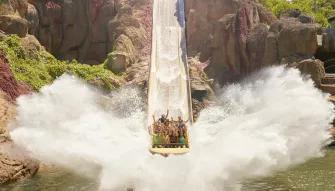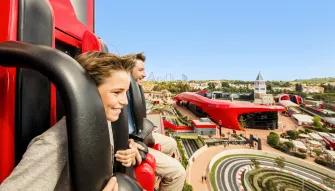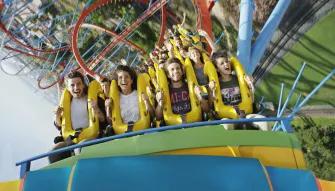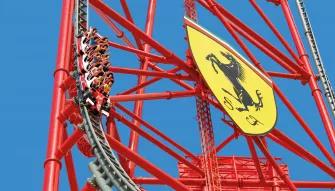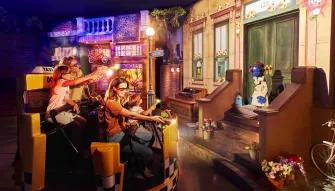 PortAventura & Ferrari Land One Day Ticket
Buy Now with AttractionTickets.com and SAVE up to 23% compared to the Gate
47 booked
1,346 reviews rated 5 stars
Mobile ticket
Not Available
This ticket is currently not available
This could be because:
We have sold out
New seasonal tickets are not yet available
In the meantime:
Call us on 0800 223 0324
Sign up to hear the latest news and offers:
Sign up for our newsletter
Best Seller
no ticket modal
Full details
Get the full PortAventura World experience with a combined PortAventura Park and Ferrari Land Ticket. Enjoy same-day admission to Europe's most exciting theme park with more than 40 rides and Ferrari Land, featuring over 70,000 square metres of pure Ferrari excitement, adrenaline and fun.
Our guide to PortAventura & Ferrari Land One Day Ticket
A day of fun and thrills beyond your imagination awaits at PortAventura World. Use your PortAventura & Ferrari Land One Day Ticket for same-day admission to PortAventura Park- featuring six worlds of adventure and over 40 rides - and Ferrari Land offering 70,000 m2 of pure Ferrari pleasure from the tallest and fastest vertical accelerator ride in Europe to a real family 570-metre racing circuit and state-of-the-art simulators for an authentic F1 driving experience. 
PortAventura Park
Embark on an unforgettable adventure around the world as you visit exotic places such as China, Polynesia, the Wild West, México, Mediterrània and SésamoAventura, an ideal world of fun for all the family together with the characters from Sesame Street. Each land features an abundance of rides, shows, shops and themed restaurants.
Looking for thrills? Head to China and test your nerves on the 8-loop Dragon Khan which reaches speeds in excess if 110km/h or perhaps tackle Furius Baco in Mediterrània. PortAventura's incredible horizontal catapult flings you at 135 km/h in just 3 seconds through trenches and tunnels over the spectacular PortAventura lake! Shambhala is a rollercoaster of giant proportions! Measuring 76 metres tall this roller coaster boasts the longest drop and is the highest in PortAventura Park.
Angkor transports you to the Lost Kingdom of Cambodia for an exciting interactive river adventure that the whole family is sure to enjoy. Board your boat at the temple and embark on a spectacular journey through the jungle, using your water cannon to shoot at the pythons, monkeys and tigers so that your boat can freely pass through.
For children, PortAventura Park offers rides to guarantee a fantastic time such as the Canoes small boat circuit, the lively stroll through Los Potrillos or the fascinating Coco Piloto where you will fly a fun aeroplane, soaring high above SésamoAventura.
Ferrari Land
Start your engines and get ready to live an unforgettable experience as Ferrari Land comes to Europe. With your Ferrari Land ticket, discover a world of pure Ferrari pleasure.
Standing at 112 metres high, Red Force is a spectacular ride taking you from 0 to 180km/h in just 5 seconds for the full range of F1 sensations.
Discover a real family racing circuit with a 570-metre track where you can burn some rubber and feel like a professional Ferrari Driver as you take the wheel of an authentic F1 simulator – there is even a simulator for kids!
Feel the movement of genuine Ferrari engine pistons as you are launched skyward on Bounce-Back Tower and feel the rush of adrenaline as you experience the hair-raising 55-metre drop from the Free Fall Tower.
Enter the stunning Ferrari Experience building for a journey into the history, technology and passion of Ferrari. Marvel stunning sports cars in the Ferrari Gallery and feel the power of a Ferrari GT in the Virtual GT Experience. Tour the whole world in an extraordinary lap from the inside of a Ferrari GT.
Ferrari Land is not just for thrill-seekers, there's plenty for kids too! This action-packed park now boasts a dedicated kids area with 5 new attractions.
Location
PortAventura World is located at Tarragona, Costa Dorado, just over an hour from Barcelona or 10 minutes from Reus Airport. PortAventura Park Gate normally opens at 10.30am and Ferrari Land normally opens at 2pm until 10pm..
Terms and conditions
Terms and conditions for PortAventura & Ferrari Land One Day Ticket
Your gate-ready PortAventura & Ferrari Land One Day Ticket(s) will be uploaded to your customer account. Since these are official barcoded digital ticket(s), there is nothing to redeem locally and you simply go straight through the gate on arrival at PortAventura Park.
PortAventura Park Gate normally opens at 10.30am and Ferrari Land normally opens at 2pm until 10pm, but opening hours may change without prior notice and you are advised to check before your visit date.
Tickets are not valid for Costa Caribe Aquatic Park.
Parks, attractions or entertainment may change operating hours, close due to refurbishing, capacity, weather, or special events, and may otherwise change or be discontinued without notice and without liability.
Height and age restrictions apply on certain rides.
Children aged 0-3 years enter free and do not require a PortAventura ticket.
*CANCELLATION POLICY: Free cancellations for bookings cancelled with the operator up to 72 hours before your chosen activity date. No refunds are given for cancellations made within 72 hours.
FAQs
Frequently Asked Questions for PortAventura & Ferrari Land One Day Ticket
Location
Where is Portaventura World?

PortAventura World is in Salou on the Costa Dorada, which is just 1 hour away from Barcelona.

How close is PortAventura station to theme parks?

PortAventura station is located 3 minutes walking from the park.

How close is PortaAventura World to the Beach?

The closest beach is in Salou which is just under a 20 minute walk.

Where should you fly to if you are travelling to Portaventura World

The nearest airport to PortAventura World is Reus, however for more frequent flights Barcelona Airport is a great option and just under 2 hours
away by car.

Which bus shall I catch from Reus Airport to Portaventura World

You can take a shuttle bus from Reus airport to Portaventura theme park. There is a desk in the arrivals hall which you can visit when you have landed. This is operated by
the Autocares Plana company. The bus stops at the hotels next to the theme park which is a a 5 - 10 minutes walk to enter the parks.

How do you travel from Barcelona to PortAventura World?

Where is Ferrari Land?

The Ferrari Land park in PortAventura World, Salou on the Costa Dorada which is is 1 hour away from Barcelona.

How far is Ferrari Land from PortAventura?

It's entrance is adjacent to PortAventura Park's main entrance.
General Information
What is Portaventura World?

PortAventura World is an entertainment resort in Salou on the Costa Dorada, it hosts many amazing rides, attractions and hotels too. Please take a look at our blog on the
Ultimate Guide to PortAventura World.

What time does Ferrari Land open and close?

Opening and closing times vary, please check the up to date information before travelling

Is Ferrari Land part of PortAventura World?

Yes, Ferrari Land is the resort's second theme park, separate from PortAventura Park.
Ticket Information
Can I buy Express Tickets for PortAventura online?

On top of your addmission tickets you can purchase express passes locally whislt you arrive into the park.

How do you buy a PortAventura ticket when you have purchased a Barcelona Card?

Please take your Barcelona Iventure Flexipass to collect tickets from the Julia Travel Office (Carrer Balmes, 5. Barcelona) for 1 days admission to
PortAventura.

Do infants need a ticket for Ferrari Land?

Infants aged 0-3 years shall not need a ticket as their entrance is complimentary.
Rides & Attractions
Do PortAventura offer child swap on their rides?

Currently, PortAventura does not offer a child swap facility.

How fast is the Tower at PortAventura?

The Hurakan Condor is a tall tower that measures more than 100 metres and whilst at 283 feet (86 m) you free fall at 71.46 miles per hour
(115.00 km/h).

What time do the rides stop in PortAventura?

Rides and attractions shall close in accordance to the park closing times, for further information please check before you travel.

How fast is a Ferrari Land's Red Force roller coaster?

Feel the speed as you accelerate from 0 to 180 km/h in 5 seconds with a force of 1.3 g on Ferrari Lands fastest roller coaster

What is the tallest roller coaster in Ferrari Land?

Red Force is Ferrari Land's tallest roller coaster at 112 metres high.

What rides are in Ferrari Land?

There are many amazing rides in Ferrari Land, from their tallest and fastest Red Force Coaster to Thrill Towers, a free fall tower where you feel the adrenaline rising as you experience a sheer drop. There is even a Junior Red Force, for little ones to enjoy their very own roller coaster experience! Please check out our blog on the 5 fantastic new attractions at PortAventura.
Duration of Visit
How much time do you spend in PortAventura?

It is recommended to spend about 2 days in Portaventura. There are also 2 other parks to enjoy which are Ferrari Land and Caribe Aquatic Park
which is open seasonally.

Can you visit Portaventura and Ferrari Land in one day?
Accessibility
How do you get from Girona Airport to PortAventura?

PortAventura is around 2 hours by car from Girona Airport

Is Portaventura World accessible?

They are continually adapting their facilities making sure the architecture at PortAventura Park is fully accessible, please check for further information before travelling.
Opening Information
Is PortAventura World open in the winter months?

PortAventura is closed from the middle of January to the middle of March each year, please check for up to date details before travelling.

Can you re enter Ferrari Land once you have exited?

You are permitted to leave and re enter the park on the same day, provided you keep hold of your ticket.
Upon exit you may also ask for a stamp which they might require upon your return.
© PortAventura.
Attraction Tickets Direct act as retail agent for PortAventura. The theme park's terms and conditions will apply to your booking as well as our own. To view the theme park's terms and conditions click here. To view our full terms and conditions please click on the link at the bottom of the page.