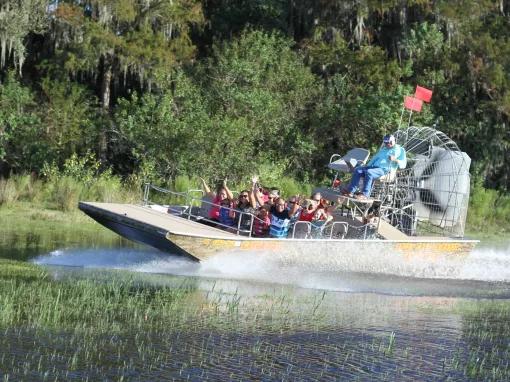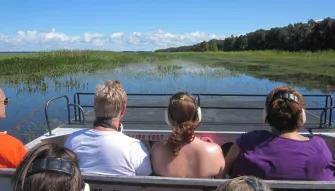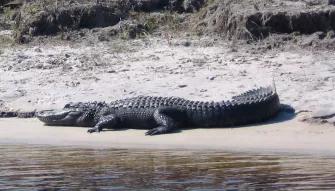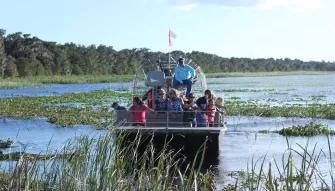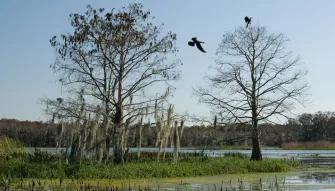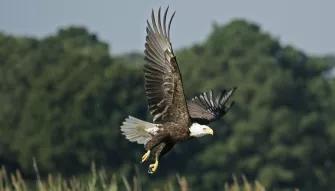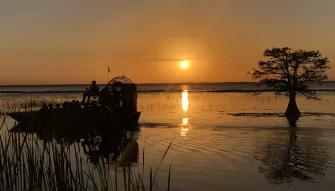 Boggy Creek Orlando Airboat Adventures
Full details
Don't miss this quintessential Floridian experience...
Discover territory that remains unaltered by man in the wilderness of Central Florida. Travelling at speeds of up to 45 miles per hour, an airboat Ride is the best way to experience the iconic Central Florida Everglades and see exotic birds, turtles and alligators in their natural environment.
Our guide to Boggy Creek Orlando Airboat Adventures
An airboat ride is a thrilling and unique way to discover the natural beauty of central Florida but just remember... keep your eyes peeled for 'gators!
Situated on the edge of Kissimmee, Orlando, Boggy Creek is a simple 30-40 minute drive from International Drive and is home to miles upon miles of unspoilt swampy Everglades. And what better way of exploring this iconic terrain than aboard a classic airboat? Sit back and relax as your expert pilot steers you through the tall grass, exploring the hidden waterways in search of turtles, exotic birds and of course the local 'gator population.
Native American Experience included with all daytime Orlando Airboat Ride Tickets - Learn how the Native Americans thrived in Central Florida with a presentation at the village with demonstrations on cooking, toolmaking, weapons and much more!.
Boggy Creek also features a Gator Pond housing over 30 juvenile alligators for an up-close and personal view of Florida's favourite reptile. Watch as they bask in the sun or you can feed these mini-dinosaurs - gator chow is available for $5.00 a bag. Adults will love the Tiki Bar set on the shores of a beautiful lake. Enjoy a cold beverage and snacks as you soak up the views. For a more substantive meal, try Boggy Bottom BBQ serving authentic Florida style southern fixins' made from recipes handed down from generations.
There are a variety of Boggy Creek Orlando Airboat Ride tickets available for you to choose from:
30-Minute Airboat Ride – enjoy a leisure cruise down a natural canal viewing exotic birds, turtles and the Florida alligator in their own natural environment before your captain cranks up the speed for an exciting ride through walls of grass.
One Hour Scenic Nature Airboat Ride - Enjoy an extended airboat ride on the beautiful Central Florida Everglades and experience the breath-taking beauty of these natural wetlands.
One Hour Airboat Night Ride – great for those who crave adventure and are not afraid of the dark! Discover the amazing Floridian Nightlife that comes out after dusk. The night tour is your best chance to see alligators in the wild!.
Location
Southport Road, Kissimmee. Boggy Creek is a 30-40 minute drive from International Drive.
Why we love it!
This is a uniquely Floridian experience that you won't forget in a hurry!
Reviews
Very quick to receive our tickets.

Jessica French reviewed Boggy Creek Orlando Airboat Adventures 08 May, 2023

We visited here years ago but it has changed so much. Great time on the boat. Wish I'd paid for a longer trip. Very calm place, stayed longer for drink at the bar, brought some of the crafts and my grandson was sieving for gems etc. such a lovely calm place away from the parks.

Jane Boon reviewed Boggy Creek Orlando Airboat Adventures 01 May, 2023

Amazing time at Boggy Creek Airboat Adventures!' We were lucky enough to see gators while we were on our airboat ride. There are also other activities to do other that the airboat, we had a great half day here. Would absolutely recommend and return!

Trusted Customer reviewed Boggy Creek Orlando Airboat Adventures 18 Apr, 2023

we all enjoyed our trip on the airboat

Trusted Customer reviewed Boggy Creek Orlando Airboat Adventures 11 Apr, 2023

Great airboat rides saw lots of gators tickets good price easy to download and easy to use. Always use this site to buy them

Trusted Customer reviewed Boggy Creek Orlando Airboat Adventures 28 Feb, 2023
People who purchased Boggy Creek Orlando Airboat Adventures also viewed...