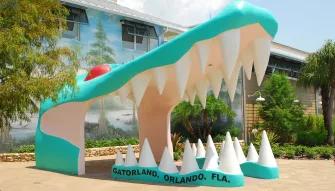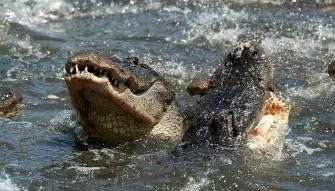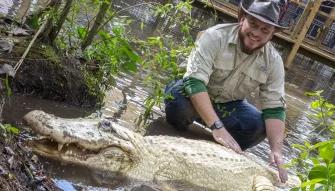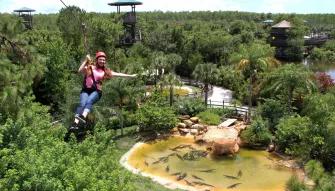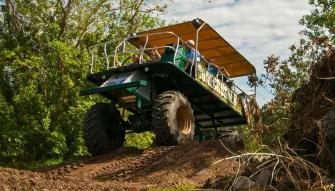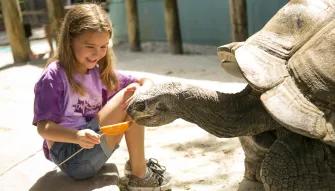 Gatorland Tickets
Special Offers

for Gatorland Tickets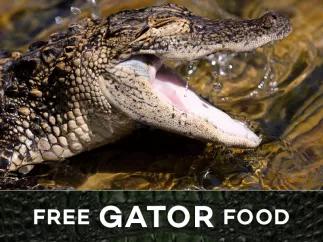 Buy your Gatorland Admission Tickets in advance and get FREE Gator Chow as an added value extra to feed the Gators! Excludes the Gatorland and Boggy Creek Airboat Combo.
Full details
Gatorland has been creating Fun, Smiles and Special Memories for millions of visitors for more than 70 years!
Adventure begins at Gatorland Orlando – the alligator capital of the world! Gatorland provides affordable family fun with thousands of alligators and crocodiles, plus an aviary, natural breeding marsh with observation tower, petting zoo, nature walk and 'thrilling' Screamin' Gator Zip Line.
Our guide to Gatorland Tickets
For 70 years, Gatorland Orlando has been creating smiles and magical holiday memories for millions of visitors who have entered through its gaping gator mouth entrance.
Located between Orlando and Kissimmee on the South Orange Blossom Trail, Gatorland is one of Central Florida's classic attractions and provides a unique and natural alternative to the larger theme parks of today.
Known internationally as the 'Alligator Capital of the World', Gatorland offers affordable family fun showcasing thousands of alligators and crocodiles including four extremely rare leucistic 'white' alligators. Get up-close and personal with gators, crocs, birds, turtles, zebu, deer and much more as you explore the swamp walk and natural breeding marsh.
With your Gatorland Tickets you can also discover a free-flight aviary, petting zoo, one of a kind animal shows like Alligators - Legends of the Swamp where the bravest daredevils at Gatorland takes the stage with a 6- 8 foot alligator in order to demonstrate the amazing survival features of this amazing creature.
Cheer on the stars of the famous Gator Jumparoo as they jump 4 to 5 feet out of the water, demonstrating their awesome powers. You never know what kind of animal you'll be encountering next at the Up-close Animal Encounters Show. You'll get to meet fascinating creatures from around the globe as well as Florida's native wildlife - including some of the most dangerous snakes alive.
Looking for something more thrilling? Try the thrilling Screamin' Gator Zip Line or take on the Stompin' Gator Off-Road Adventure. 
Don't miss Orlando's 'best half day attraction. 
Upgrade Options
All tickets include a full day's admission to Gatorland. 
Gatorland & Stompin' Gator Off-Road Adventure: In monster-style off-road vehicles, get ready to experience Florida's natural beauty as you venture through several different ecosystems. You'll go over hills, trudge through mud puddles, creep through a real alligator graveyard and splash through a pond full of hundreds of alligators
Gatorland Screamin' Gator Zip Line Ticket: Enhance your Gatorland experience by upgrading your ticket to include the all-new 'The Screamin' Gator Zip Line'. This one-of-a-kind ride takes you on a breathtaking journey through the park along 1,200 feet of high-flying thrills at speeds close to 30 miles per hour. It's one wild adventure!
Gatorland Trainer for a Day: An experience you will not forget! Trainer-for-a-Day program will give you a glimpse into what it takes to be able to work with, and around dangerous animals.
FAQs
Frequently Asked Questions for Gatorland Tickets
Rides & Attractions
What is Gatorland?
Gatorland is a wildlife park in Orlando with a focus on, you guessed it, 'gators! Set on 110 acres, the wildlife park offers a real taste of native Floridian wildlife, as well as a petting zoo, an exotic bird aviary and unique reptilian shows. There are plenty of fun add-ons you can include in your day too, such as a zip wire adventure and a Stompin' 'Gator Off-road Adventure.
What snakes do Gatorland have?
There are four types of venomous snakes – the Eastern Coral Snake, the Florida Cottonmouth (also known as the Water Moccasin), the Dusky
Pygmy Rattlesnake and the Eastern Diamondback Rattlesnake. To see four types of snakes - check out the Gatorland Mile of Monsters and
the Up-Close Encounters Show in the park!
Location
Where is Gatorland in Orlando?
Gatorland is located along South Orange Blossom Trail south of Orlando. The address is 14501 Orange Blossom Trail, Orlando, FL 32837
How far is Gatorland from Walt Disney World?
Gatorland is around a 15 minute drive from Walt Disney World and boasts ample free parking. Alternatively, you could use a taxi service like Uber or Mears. 
How do you get to Gatorland from International Drive?
You can catch the bus with a change at the Florida Mall or you can drive and enjoy the ample free parking!
Food & Drink
Can you bring food into Gatorland?
No food of any kind is allowed in the park, including animal feed. No coolers, picnic baskets or similar items designed to carry food or beverages.
Does Gatorland serve alcohol?
Gatorland serves alcohol at their Snackbar inside the park.
General Information
What should I wear to Gatorland?
The best dress code is comfortable shoes and clothes to easily walk around the park in. If you're undertaking one of the add on experiences, make sure you check for any specific requirements on your ticket info. 
Is Gatorland indoors?
Gatorland is mostly outdoors with some covered walkways with fans inside to help with the heat.
Accessibility
Is Gatorland wheelchair accessible?
The Gatorland park is accessible and they also have a Wheelchair-Accessible Gator Gauntlet Zip Line too!
Opening Information
What are Gatorland's opening and closing times?
Opening and closing times may vary, please check for up to date information before travelling.
Reviews
We purchased trainer for the day - if you are considering this, get it purchased now. One of the best experiences we have ever done. We arrived at 8am before the park opens and had a personalised experience holding and feeding gators, as well as other animals. When we go back we will be doing this again!

Steven Christmas reviewed Gatorland 02 Jun, 2023

Kids loved this, good shows

Trusted Customer reviewed Gatorland 08 May, 2023

Very quick to receive our tickets.

Jessica French reviewed Gatorland 08 May, 2023

Was good value and really easy to book online. Had a fabulous day at Gatorland with my grandchildren and would recommend people go there. It's a nice break from the parks .

Joanne Hayes reviewed Gatorland 06 May, 2023

Fantastic day out at Gatorland, having been to Florida many times this is the first time we have visited Gatorland and I'd happily go back. My little one loved the splash pad which was a welcome little break from the heat and walking.

Trusted Customer reviewed Gatorland 18 Apr, 2023
People who purchased Gatorland Tickets also viewed...