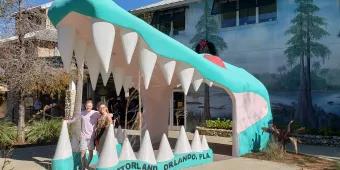 By AttractionTickets.com's Florida Experts, Susan and Simon Veness
Want to get a good look at the 'locals' in Central Florida? Look no further than Gatorland!
When it comes to family-owned attractions in Orlando, it's hard to beat the one that has been open on the Orange Blossom Trail since 1949 and shows no sign of stopping.
It started life as the rather ambitiously named Florida Wildlife Institute, the brainchild of local entrepreneur Owen Godwin, and it went through several incarnations before settling on the right name. Today, we know it as Gatorland.
And it goes hand in hand with one of the questions we hear most often from first-time visitors to the Sunshine State - where can we see alligators. The answer is quite simple. There is absolutely nowhere like Gatorland, so, if alligators are on your must-see list for Orlando, this is definitely the place to go for a truly unique experience.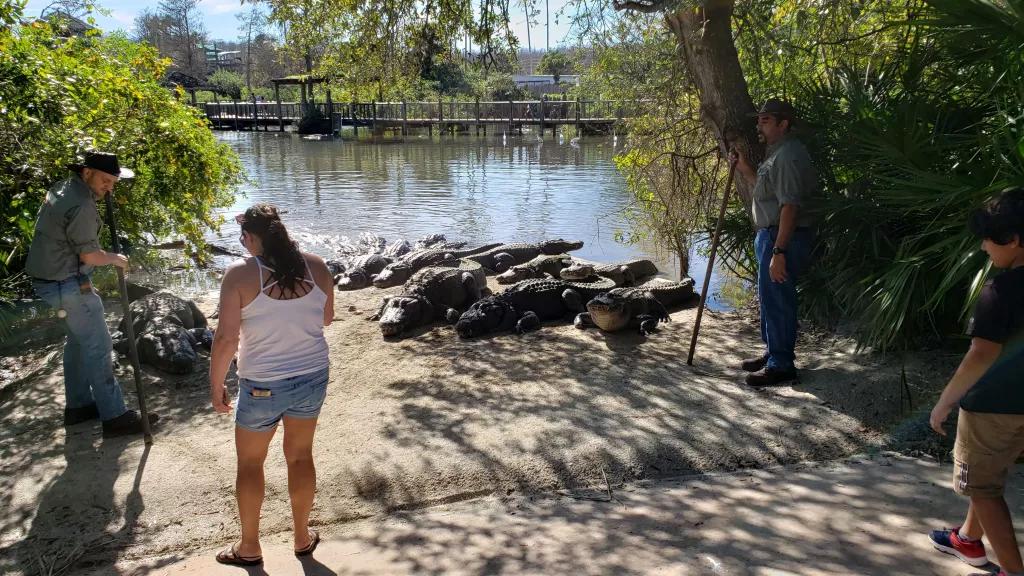 Because Gatorland is so much more than just a chance to see a bunch of gators. In recent years they have added a zipline course, a giant buggy ride, a white alligator exhibit and enhanced their children's water-play area.
It is a mixture of thrills, amusement and real-life education into Florida's wildlife, enough to make Owen Godwin's original name for the park pretty relevant today. 
Godwin actually gave his creation its current name in 1954 (after also calling it Snake Village & Alligator Farm for a few years) and there's little doubt he hit the nail right on the head when it comes to creating a compelling attraction.
Here are 10 reasons why: 
10. Start with the train. Yes, in the best tradition of Disney and other theme parks, Gatorland has its own railroad, the Gatorland Express, which completes a circuit of the main areas of the park, including a few glimpses of the backstage sections. It does cost an extra $2/person, but you can ride as often as you like and it provides a great narrated introduction to the park, especially its rich Florida sense of humour, which is a notable feature.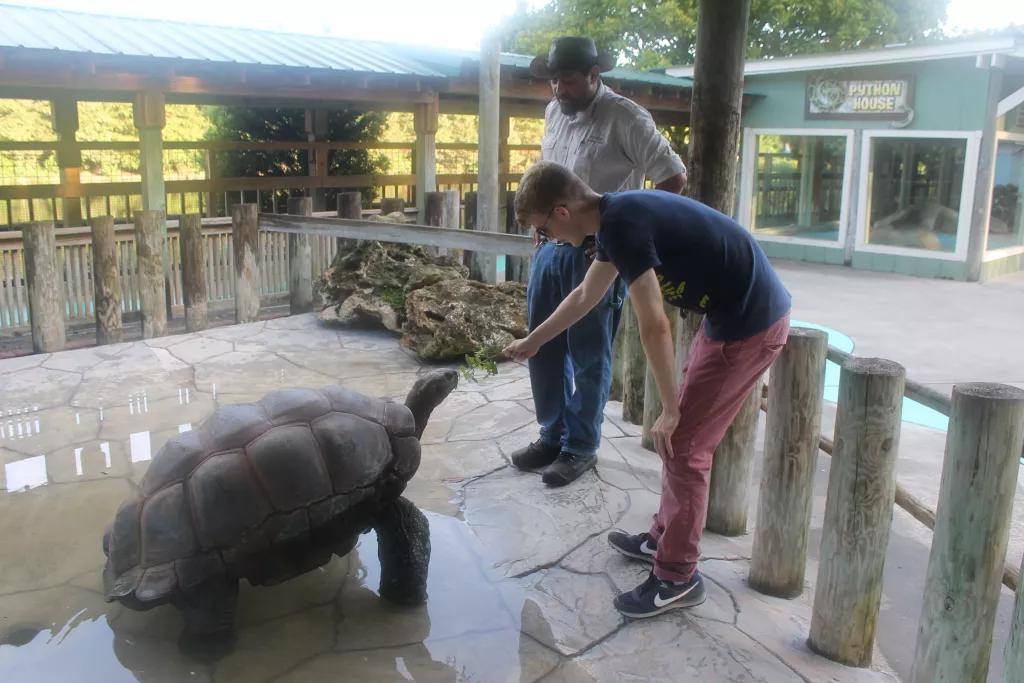 9. It's still owned by the Godwin family, and they have taken great care and attention to keep the park relevant. To that end, you'll find way more than just gators here. There are a host of other animals, both Floridian and more exotic, like Ben, Boba and Mochi the capybaras on Flamingo Island. There's Marshall the kookaburra from Australia; Lomasi, Osceola and Abiaka the bobcats; Jabari the serval; Lucy the 300lb Galapagos tortoise; a wide variety of snakes and other creepy-crawlies; and a profusion of birds, including flamingos, emus, storks, budgies and macaws. It's not a zoo in the traditional sense, but you will see a LOT of animals.
8. It's no surprise to find the way out also includes the Gift Shop (it's some kind of Florida law, we believe), but this one is well worth checking out. Here, you'll find an extensive array of original gift ideas and souvenirs, plus you can even visit it on its own if you're just passing. You'll also find more merchandise and knick-knacks at Gator Joe's Adventure Outpost. Just remember, you can't bring alligator products back into the UK.
7. The food's pretty good. As well as a Coffee Shop, Gator Jake's Fudge Kitchen and a Snack Bar, you'll want to try Pearl's Good Eats, named for the founder's wife, Pearl Godwin. In addition to some typical theme park fare, such as hamburgers, hot dogs and chicken tenders, you can sample the local speciality of fried gator nuggets. It's definitely something you won't find at Disney and Co, so give this unusual choice a try and decide if you think it tastes like chicken!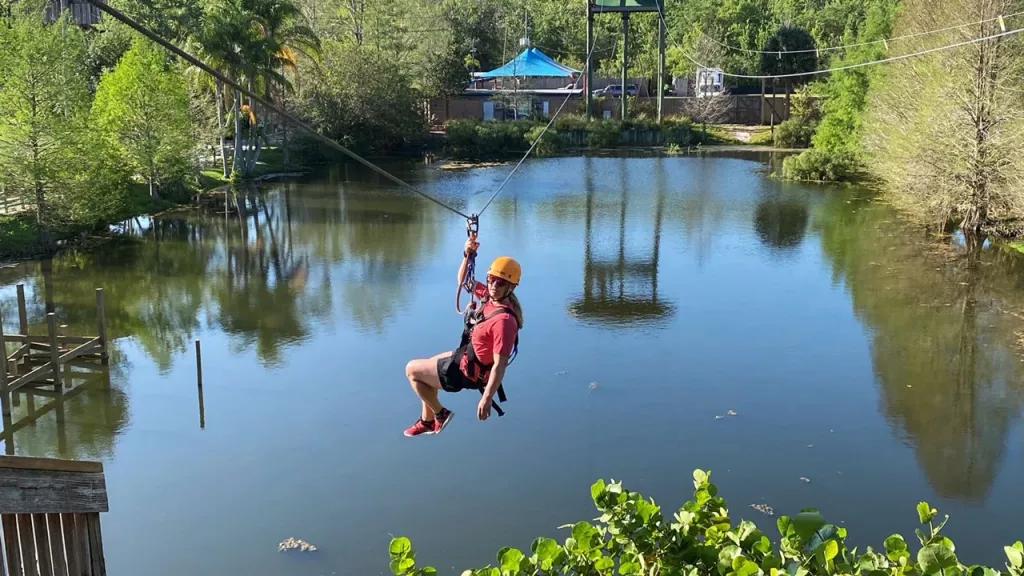 6. Added in 2011 and now a major Gatorland highlight that is guaranteed to raise the thrill level of your holiday, the Screamin' Gator Zip Line offers the chance to go ziplining above the Gator Breeding Marsh and crocodile habitats! With seven-storey towers and multi-level launching points, the views are truly breathtaking, and there are five ziplines in all, covering a total of 1,200ft. It costs an extra $70/person but is genuinely one of the most original experiences in the state.
5. Keeping the adrenaline going, how about Adventure Hour, and the chance for a REAL up-close encounter with the locals? This is a supervised trip INSIDE the Breeding Marsh to feed some of the gators and get the coolest souvenir photo you are ever likely to get. Again, it is an add-on price but, at just $12/person, it offers major bragging rights and an intense thrill.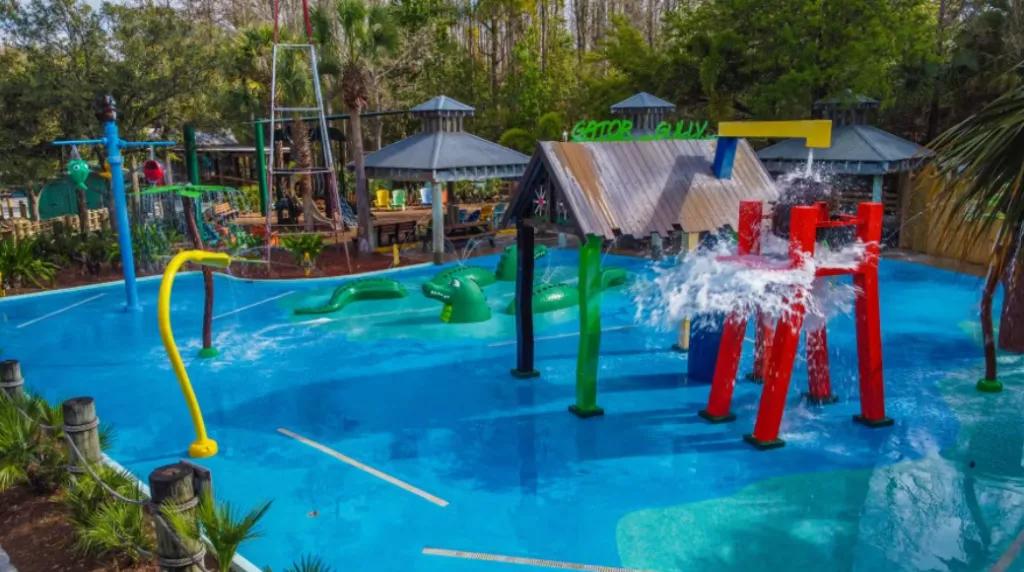 4. When the kids need to cool down or just let off some steam, Gator Gully is the place to go. This imaginative water playground is ideal for young 'uns, as it features an eye-catching variety of squirt-guns, fountains and massive bucket dump that always spells energetic fun for the right ages. It was enhanced this year with new coconut palm sprayers and large animal sculptures, while there are Adirondack chairs and shade for mum and dad to be able to sit and watch in comfort. Just remember to bring the kids' swimsuits - or a change of clothes!
3. Brand new this year is the Croc Rock Adventure, a three-in-one experience that combines a 30-foot rock-climbing wall with a bridge challenge and zipline ride. It starts with the rock climb, which is designed to mimic local sandstone and keeps climbers hooked into an auto belay safety system, then follows up with the 150ft cable-tethered swinging bridge and concludes with a 350ft zipline race back to terra firma. It costs an extra $45 per person.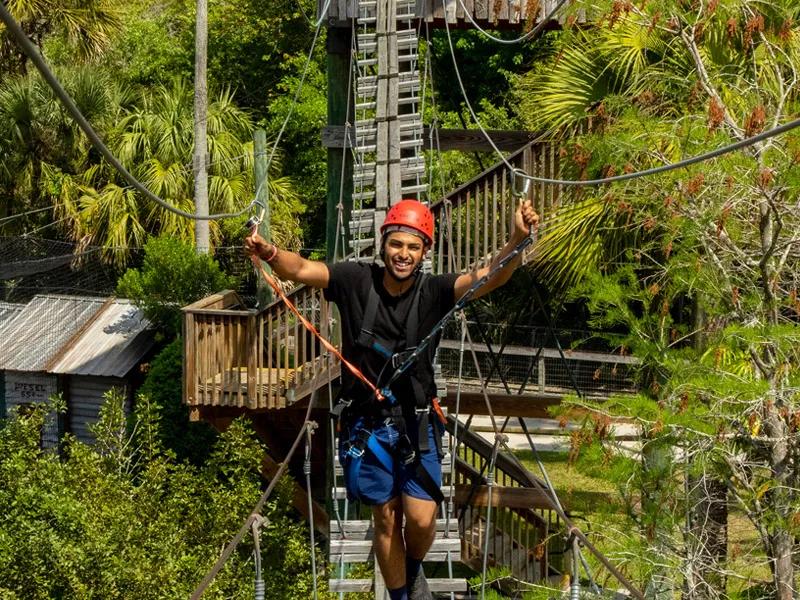 2. The other extra paid-for experience is another one you'll definitely want to try. The Stompin' Gator Off-Road Adventure is a rollicking 15-minute backroads journey into the swampy land adjacent to the park. Aboard a 12ft-high offroad monster truck, you'll be bounced around and introduced to various wacky characters who allegedly inhabit this make-believe world of gator imagination.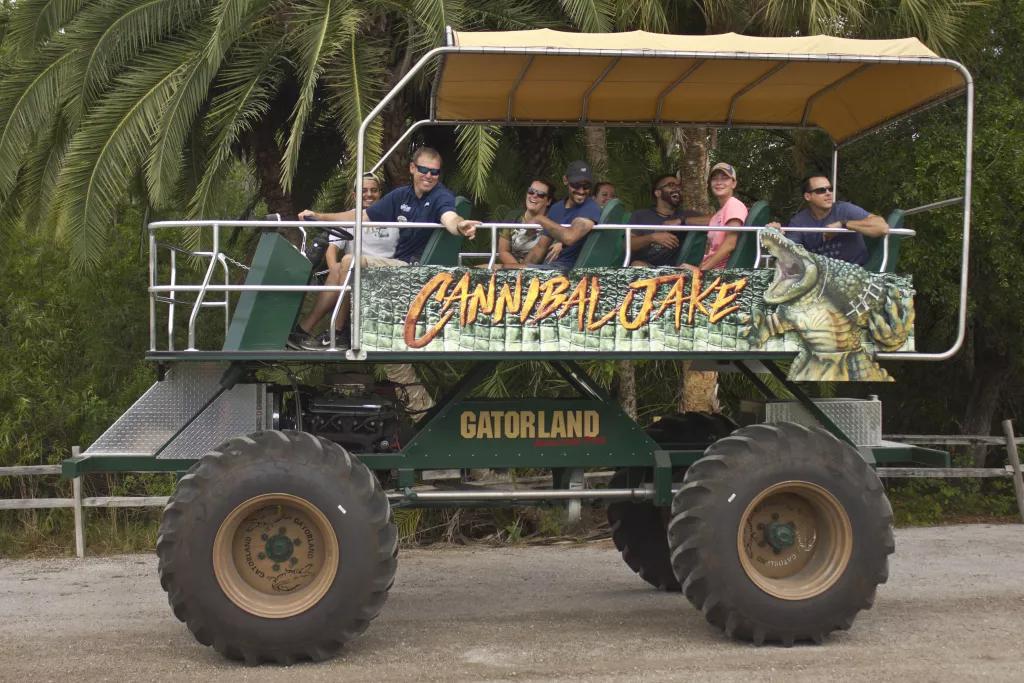 1. The one element that keeps people coming back time and time again is the Shows. No matter how many times you've seen them (as we have), there is something outrageously fascinating about Gatorland's wranglers getting within a hair's breadth of multiple sets of bone-crushing jaws. The Up-Close Encounters show features some smaller-scale creatures - notably snakes and spiders - but both the Gator Jumparoo and Alligators: Legends of the Swamp demonstrates how insanely powerful the park's main denizens are, with the kind of antics that make you hope the handlers are extremely well insured.
And that's Gatorland in a nutshell. We used to say this was a good park for a half-day visit or on your final day of the holiday, before heading to the airport. But, in all honesty, this is now a full day of fun and excitement, a real edu-tainment experience. It remains a true original and children seem to love it, so that's why we rate it a must-see these days.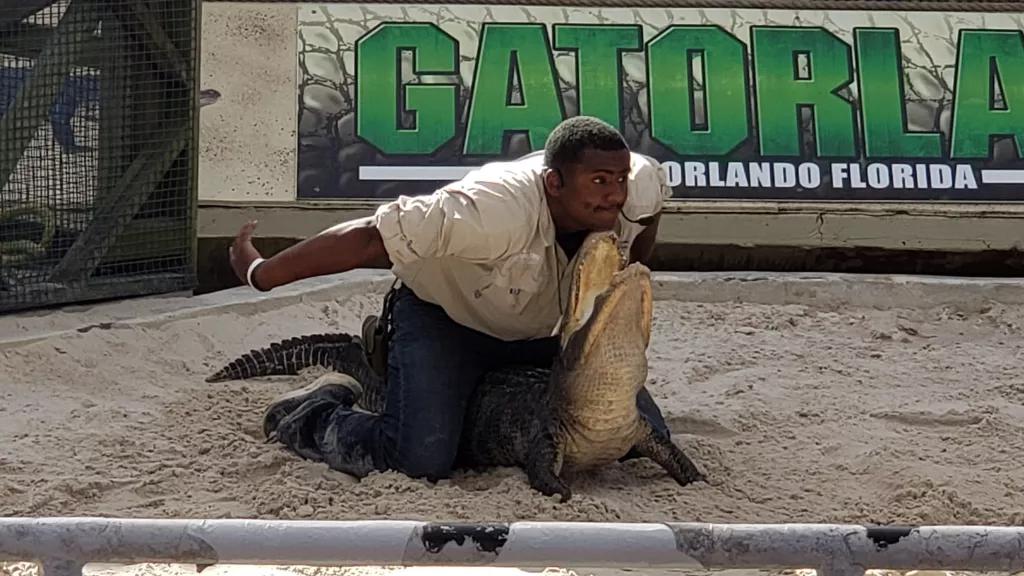 Have you been to Gatorland in the past? Tell us about it on the friendly Attraction Tickets forums, our Community Facebook page, on Twitter or Instagram.