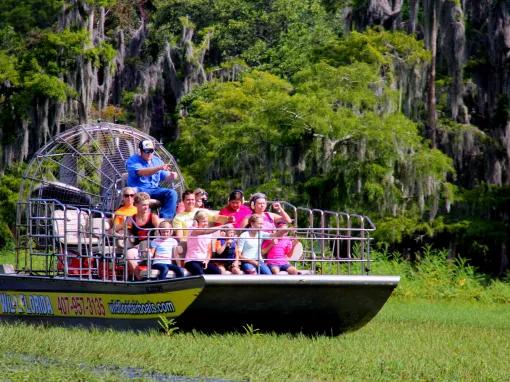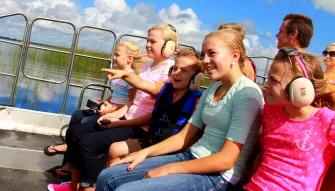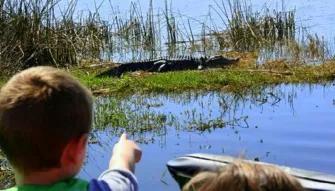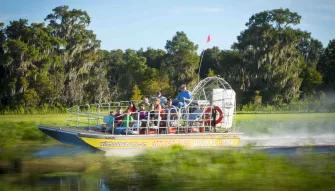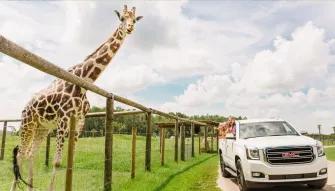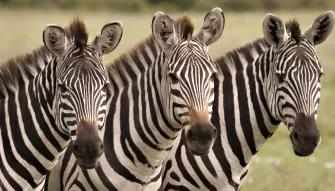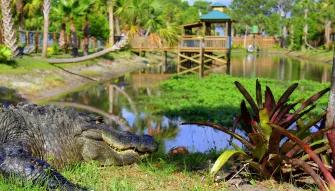 Wild Florida Airboat Rides & Gator Park
Special Offers

for Wild Florida Airboat Rides & Gator Park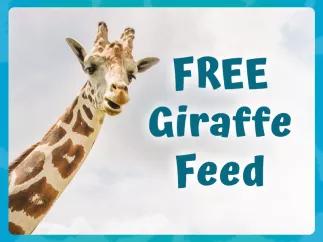 Buy your Wild Florida Drive Thru Safari Tickets in advance and receive FREE Giraffe Feed as an exclusive added value Extra. Offer only available with AttractionTickets.com
Full details
Fantastic animal encounters and an exhilarating airboat ride...
Explore Wild Florida's amazing gator park, home to over 200 animals, before travelling deep into the area's pristine swamps, marshes and rivers in search of alligators, eagles and other wildlife on a thrilling airboat adventure! This exceptional park allows you to experience a part of Florida that hasn't changed much over the years.
Our guide to Wild Florida Airboat Rides & Gator Park
Experience more than just an Airboat Tour when you visit Wild Florida's incredible gator park. Home to more than 200 hundred native and exotic animals you will have the chance to see zebras, turkey, watusi, zedonk, deer, sloths, wild boar, zebu monster alligators and much more! 
Not only will you get to see and learn about these amazing animals, but you have the opportunity to touch and even feed them. Stroll through the 500ft Hawk Swamp boardwalk, a pristine Florida cypress swamp ecosystem, enjoy the tropical bird aviary, witness a spectacular hands-on alligator demonstration, and visit Wild Florida's gator platform for the unforgettable opportunity to feed the gators.
Just when you thought this place can't get any better, go wild as you venture on an extraordinary airboat adventure. Glide across 100,000 acres of beautiful shoreline on one of Wild Florida's U.S Coast Guard-approved airboats in search of alligators, eagles, and other native wildlife. Sit back and enjoy the ride as your captain takes you deep into the swamps, marshes and rivers allowing you to savour the stunning scenery around you and have a glimpse into the true wild side of Florida.
Wait there is more......... Wild Florida's Drive-Thru Safari! Take a fascinating car journey across 170 acres of untouched scenic landscapes and discover more than 150 native and exotic animals roaming freely. See animals such as zebra, eland antelope, scimitar oryx, American bison, mouflon sheep and feed giraffes on the elevated giraffe feeding platform. Wild Florida really does have it all!
Choose from six unique experiences, which all include FREE admission to the wildlife park
Wild Florida is fun for the whole family and with such a wide variety of things to see and do we know you will love it as much as we do!
Opening Hours
Wild Florida's Gator Park is open Monday to Saturday from 9.00am – 6.00pm. Airboats operate frequently throughout the day with the last ride at 4.30pm. The night ride operates at 6.00pm, 7.00pm and 8.00pm. Wild Florida Drive Thru Safari will open at 9 a.m. and close at 6 p.m. with the last car allowed in at 5:00 p.m., Monday through Saturday. The park is closed on Sundays, Christmas day and Thanksgiving.
Location
3301 Lake Cypress Road, Kenansville, Florida, FL 34739. Top Tip The best airboat tour time is 9:00 a.m. in the summer and noon in the winter!
Reviews
Airboat ride was fantastic, captain of our airboat was amazing. Only negative is I wished I took a longer trip out on the airboat! Gator park is amazing, real up close gator experiences. Feeding the gators and seeing the shows was amazing. Animal safari is included, little disappointed as there wasn't a massive amount of different animals. But we fed the giraffes at the end which was a great experience

Steven Christmas reviewed Wild Florida Airboat Rides & Gator Park 02 Jun, 2023

Airboat ride was an excellent adventure with the family. Mike educated us on a lot of facts about the crocdilles and Bald Eagle. There was a time when America's national Bird "Bald Eagle" was getting distinct, Thanks to Canada , they provided 30 Bald Eagles , otherwise America's national bird would had been "Turkey".

Trusted Customer reviewed Wild Florida Airboat Rides & Gator Park 10 Feb, 2023

Great value and educational for kids

Andrew Blackburn reviewed Wild Florida Airboat Rides & Gator Park 24 Dec, 2022

Great park and the air boat ride was brilliant, this is the third time we have been and would go back again

Glyn Rogers reviewed Wild Florida Airboat Rides & Gator Park 09 Nov, 2022

Same reasons as above great service

Mark Atherton reviewed Wild Florida Airboat Rides & Gator Park 23 Oct, 2022
People who purchased Wild Florida Airboat Rides & Gator Park also viewed...