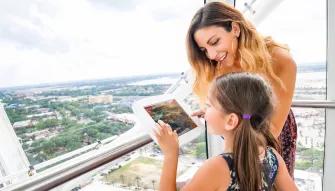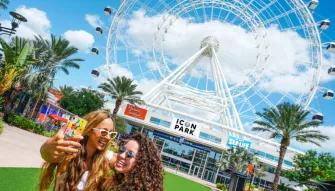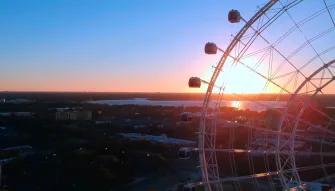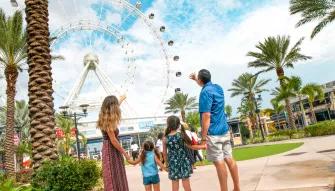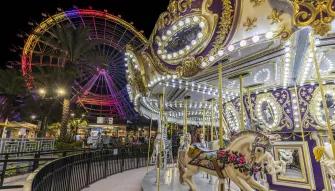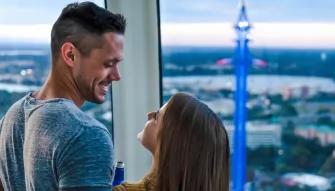 The Wheel at ICON Park™
I purchased this before we went as i don't like heights but really wanted to do it with my father. It was fantastic. I just downloaded the ticket showed it when entered and all was good & worked. We loved this wheel the views are amazing
The Wheel at ICON Park
5 stars:
Trusted Customer reviewed 19 Mar, 2023
Full details
On a clear day, you can see as far as Kennedy Space Center on Florida's East Coast!
The Wheel at ICON Park™ offers a new way to see Orlando as you've never seen before. As you gently rise to 400 feet, experience stunning 360-degree views across Central Florida including the nearby theme parks, downtown Orlando, beautiful lakes and even as far as Cape Canaveral on Florida's East coast.
Our guide to The Wheel at ICON Park™
ICON Park™ is a play-at-your-own-pace kind of place. It starts with the wheel, but the fun keeps going around and around long after the ride.
At 400 feet tall, the largest observation wheel on the East Coast of the United States, ICON Orlando™ truly earns its name. Towering on the horizon and visible from miles away, ICON Orlando™ offers guests the ability to see downtown, the theme parks and the Central Florida landscape like never before
You can also explore other unique attractions such as SEA LIFE Orlando Aquarium and Madame Tussauds Orlando. Don't miss the all-new Orlando StarFlyer, the world's tallest swing ride at 450 feet. Refuel at one of the many full-service restaurants and keep the party going well into the night.
Dining, entertainment, attractions and shopping, all in one beautiful, vibrant setting. Find your Iconic Moment.
The total ICON Orlando™ experience lasts around 30 minutes.
ICON Park™ Tickets
All our tickets to The Wheel at ICON Park™ are fully flexible, allowing you to take a flight at any time of the day. Tickets are open-dated so you do not need to commit to a time or date to visit the ICON Orlando™ at the time of booking.
Reviews
Average 4.4 out of 5 (63 customer reviews)
★★★★★ ★★★★★
I purchased this before we went as i don't like heights but really wanted to do it with my father. It was fantastic. I just downloaded the ticket showed it when entered and all was good & worked. We loved this wheel the views are amazing
- The Wheel at ICON Park
Donna Harris reviewed The Wheel at ICON Park 19 Mar, 2023
Amazing I enjoyed every minute of the ride
- The Wheel at ICON Park
Kris Barlow reviewed The Wheel at ICON Park 19 Oct, 2022
This was amazing, one of our highlights while out and about on I drive.
- The Wheel at ICON Park
Leanne Whitehouse reviewed The Wheel at ICON Park 24 Feb, 2022
Great view of the area, location of park easy to find, plenty to do afterwards at the park.
- The Wheel at ICON Park
Trusted Customer reviewed The Wheel at ICON Park 20 Feb, 2020
Excellent value for money. Wheel gets you some good views of Orlando
- The Wheel at ICON Park
Trusted Customer reviewed The Wheel at ICON Park 14 Jan, 2020