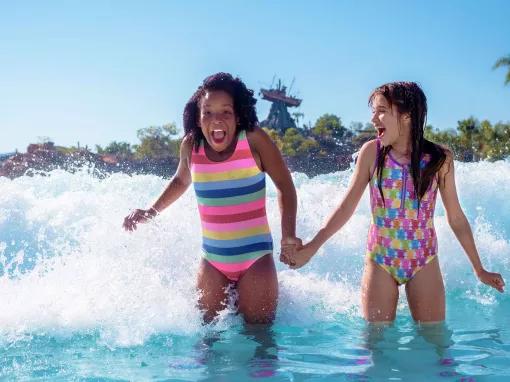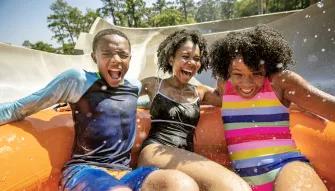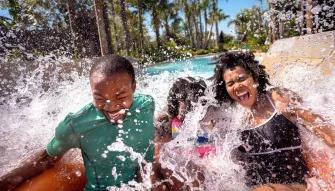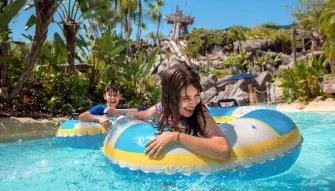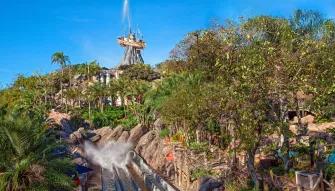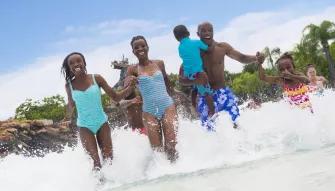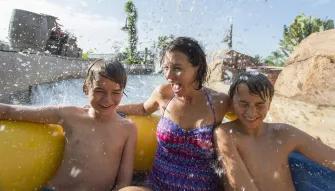 Disney Tickets - Disney's Typhoon Lagoon Water Park
Get better value by Combining Disney's Typhoon Lagoon Water Park with other attractions
Full details
A fun-filled water park offering a watery adventure...
Use your Disney World Tickets to dive into the waves or soak up the sunshine at Disney's Typhoon Lagoon Water Park. The largest inland surfing lagoon in Florida, for tots and teens! Thrills like you've never seen. Everyone can hang ten, or take five in this tropical paradise.
Our guide to Disney's Typhoon Lagoon Water Park
Get active at this water park with a difference. At Disney's Typhoon Lagoon you can learn to surf in the regular waves, snorkel with Stingrays, Leopard Sharks and tropical fish in the awesome Shark Reef and tackle numerous rides and flumes which are primed and ready to soak!
Fun for Kids
Bay Slides Twin body slides offer scaled-down thrills and spills suitable for even tiny tots.
Ketchakiddee Creek An area just for them with pint-size slides, fountains and waterfalls.
Castaway Creek Grab an inner tube and ease into the relaxing retreat of this continuous, flowing river that winds its way around the whole Water Park.
Thrill Rides
Humunga Kowabunga The screams you hear are your own as you plunge 65 metres down Mount Mayday.
Crush 'n' Gusher The only white-knuckle water coaster of its kind in Central Florida.
Mayday Falls Brave the rapids — and the bumps — on the highest waterslide at Disney's Typhoon Lagoon.
Family Fun
Miss Adventure Falls Board a treasure raft and hit the high seas for family fun during the longest ride in the history of the Disney Water Parks!
Surf Pool Experience the drama of a six-foot swell in this huge azure blue lagoon.
Sandy White Beach Slow the pace right down as you lie back and relax on the beautiful white shores surrounding the Surf Pool.
Your Disney Tickets allow you to experience all of the fantastic attractions at Disney's Typhoon Lagoon Water Park - click on the 'rides' tab for a full list of what's available.
Please Note: The Disney Water Parks are subject to closure in the winter for their annual maintenance. Only one water park will be closed at any one time.
Rides
Our guide to Disney's Typhoon Lagoon Water Park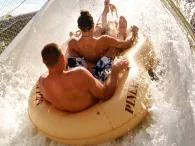 Crush 'n' Gusher Water Thrill Ride
Minimum Height Required: 122cm or taller
Defy gravity and discover surprise after surprise as gushing jets of water rush your raft through this white-knuckle thrill ride. Up to 3 guests can ride at once, or you can take the plunge yourself! Each of the 3 waterslides propels you approximately 400 feet through hairpin turns, sudden drops and gravity-defying uphill climbs for an exhilarating plunge into Hideaway Bay.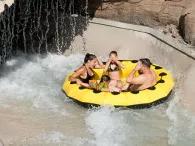 Gangplank Falls
Get carried away aboard a giant inner tube with room for the whole family! Hop onboard and whoosh through caverns down a 300-foot long waterslide. Enjoy the view on your crazy, curvy way down the mountain and watch for special effects and rock formations. This ride is dripping with fun so get ready to laugh your rafts off!
Humunga Kowabunga
Minimum Height Required: 122cm or taller
Seize your courage and shoot almost straight down Mount Mayday in any of 3 side-by-side, 214-foot long enclosed speed slides. You won't see where you're going as you zip downhill in the dark, drop 5 storeys in seconds then splash down to a surprise ending. Drop in if you dare! Are you brave enough to take a plunge down a near-vertical, 5-story waterslide?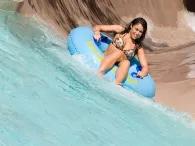 Keelhaul Falls
Take a tropical whitewater adventure on a scenic, palm-lined course on Keelhaul Falls. Grab your single-rider inner tube and get ready for a curvy waterslide through caverns and waterfalls before splashing down in a refreshing pool at the bottom. Look for some surprises along the way down the mountain!
Ketchakiddee Creek
Minimum Height Required: 122cm or shorter
Ketchakiddee Creek is a special aquatic play area just for young kids. Full of sloshy, small scale slides, fun-filled fountains, watery whales, slippery seals, crawl tubes, waterfalls, a leaky tugboat and a mini ripply-rapids ride. There are 10 different activity areas with tons of fun for little ones who are less than 48 inches tall.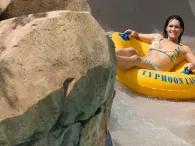 Mayday Falls
Mayday Falls is the longest waterslide in Disney's Typhoon Lagoon Water Park, and the highest and most intense waterslide of the 3 Falls raft rides. Careen down this swervy, curvy waterslide through caves and waterfalls. Brave the rapids for a fast, turbulent trip down Mount Mayday and remember to hang on - this one's a rush!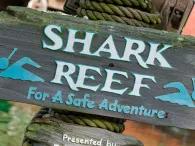 Shark Reef
Shark Reef is a snorkeling adventure where guests swim freely with leopard and bonnethead sharks, stingrays and schools of colorful tropical fish in this fascinating coral reef environment. Anyone who just wants to get a spectacular view of the sharks without snorkeling can enter a tanker and view the undersea creatures through the portholes.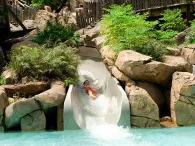 Storm Slides
Storm Slides are 3 wet and wild body slides. Plunge down these winding waterways for a wild ride and a watery splash. Each of the high-octane body slides zips you through caves, waterfalls and geysers then drops you into an invigorating pool at the bottom. This tangled trio of twisting waterslides offers waves of excitement, choose from the Jib Jammer, the Stern Burner and the Rudder Buster.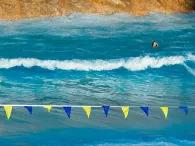 Surf Lessons
Ever wanted to try surfing but found the ocean intimidating? Now, guests can learn how to surf in a fun, safe, controlled environment. Have the bay to yourself before the Water Park opens to master the fine art of shooting the curls. Professional instructors and small classes at Craig Carroll's Cocoa Beach Surf School can help anyone improve their form during a 2-hour session where there's surf every 90 seconds.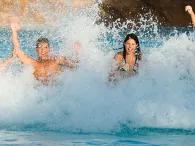 Surf Pool
Take a dip in the azure blue waters of one of the world's largest wave pools, Surf Pool. The surf's up all day long so you're sure to catch a wave! Whether you're a body-surfing enthusiast awaiting a wave or seeking relaxtion in the gentle waters away from the shore, there's something here for all water lovers. Dive right into the excitement!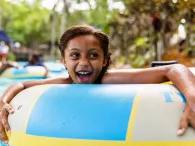 Castaway Creek
Castaway Creek is an inner tube ride in a meandering stream. Guests of all ages can grab a raft and ease into the tropical retreat of this continuous flowing, 2,000-foot long, winding river that winds its way around the entire Water Park. Relax on an inner tube as your gentle journey takes you through cool mists and grottoes, lush rainforests and invigorating waterfalls.
FAQs
Frequently Asked Questions for Disney's Typhoon Lagoon Water Park
Rides & Attractions
How many rides are there at Typhoon Lagoon?

There are 11 attractions at the park including exhilarating slides, a lazy river, wave pool and a dedicated kid's area.

What can you do at Typhoon Lagoon?

As well as enjoying 11 waterslides and attractions, you can also enjoy a lovely day of relaxation on a sunbed with an ice cream or drink in hand.

Does Typhoon Lagoon have a lazy river?

Typhoon Lagoon has 'Castaway Creek' which is a 2100-foot scenic lazy river which you can float down on an inner tube.

Are there Disney characters at Typhoon Lagoon?

There are occasionally characters at Typhoon Lagoon for a photo opportunity. If you want to be sure you'll meet some of your favourite Disney Characters at Typhoon Lagoon however, we recommend booking Disney H2O Glow Nights Pool Party Tickets, which is usually held after park closing in summer.

Can you swim with sharks at Typhoon Lagoon's Shark Reef?

Unfortunately this is no longer available at Typhoon Lagoon.

How big are the waves at Typhoon Lagoon?

The waves in the Typhoon Lagoon Surf Pool can reach up to 6ft in height every 90 seconds.

Is the water heated at Typhoon Lagoon?

The water is heated during colder months which makes this a great park to visit throughout the year.

Does Typhoon Lagoon have snorkelling?

Unfortunately snorkelling is no longer available at Typhoon Lagoon as the Shark Reef has now closed.

How deep is the water at Typhoon Lagoon?

Each pool is a different depth for safety. This is advised by each attraction or a member of staff will be able to advise this to you if unsure.

Does Typhoon Lagoon have saltwater pools?

The Shark Reef was a saltwater pool, however this has since closed.

Can I have a surfing lesson at Typhoon Lagoon?

Yes. You can learn to surf like a pro in the Surfing Program. On select days prior to the park opening, you can have a lesson to either learn how to surf or to improve your current skills. This needs to be booked and paid for directly with Disney.
Opening Information
What are Typhoon Lagoon's opening times?

The park typically opens from 9am until 5pm daily. Disney do close the waterpark during off-peak/winter seasons. Please check timetable before travelling.

Does Typhoon Lagoon close when it rains?

The waterpark will usually remain open for a bit of rain. The park may close temporarily if the weather becomes more severe due for health and safety reasons.

Does Typhoon Lagoon have magic hours?

Usually Typhoon Lagoon do offer extra magic hours to hotel guests on select evenings. You can check if this is available via the My Disney Experience app.
Clothing & Accessories
Do you need to take towels to Typhoon Lagoon?

It is recommended to take your own towel with you. Towels are available at Typhoon Lagoon for rent from $2 per day each, although these are complimentary for hotel guests.

Can you wear t-shirts at Typhoon Lagoon?

T-shirts are allowed to be worn whilst in Typhoon Lagoon.

Do you need water shoes at Typhoon Lagoon?

Water shoes are a great purchase to take with you to the waterpark. During hotter times of year, the ground can be quite hot as you walk around.

Are there life jackets available?

Life jackets are complimentary although guests must leave their driver's license or credit card as deposit. Water wallets are also available. Guests may NOT bring their own flotation devices.
Facilities & Amenities
Does Typhoon Lagoon have showers?

Typhoon Lagoon has an enormous restroom at the front of the park complete with rows of changing booths, showers, restroom stalls, mirrors, and benches.

Are there lockers available?

Lockers are available from $15 per day and are located in the dressing rooms.

Do you have to pay for sunbeds at Typhoon Lagoon?

There are complimentary sunbeds available although they are limited and not always in the shade. At an additional cost, you can however reserve a Getaway Glen Umbrellas or Typhoon Lagoon Beachcomber Shack directly.
Location
How do you get to Typhoon Lagoon from Disney Springs?

You can get one of the shuttle buses that depart frequently from Disney Springs to Typhoon Lagoon.

How far is Typhoon Lagoon from Blizzard Beach?

It is approximately 10 minutes from Typhoon Lagoon to Blizzard Beach via car or shuttle bus.

Which Disney hotel is closest to Typhoon Lagoon?

The closest hotel is the Disney's Riviera Resort which is approximately a 5 minute drive away.
Fun Facts
When was Typhoon Lagoon built?

The park opened on the 1st June 1989 as the first of Disney's waterparks.
Food & Drink
Can you bring a cooler/picnic to Typhoon Lagoon?

There are 2 picnic areas available to use whilst at the park. Glass containers and alcoholic beverages are not permitted.

Where is there to eat in Typhoon Lagoon?

In Typhoon Lagoon the dining options are mostly counter service (Grab-n-go) including sandwiches, wraps, nachos and hot dogs. There are also lots of lovely sweet treat options to try.
Parking
Do you pay for parking at Typhoon Lagoon?

Standard parking is complimentary to guests visiting the park.
General Information
How much is a cabana at Typhoon Lagoon?

A cabana or Typhoon Lagoon Beachcomber Shack is around $345 for the day. This can fit up to 6 people in, cushioned furniture, a cooler with bottled water, towels, locker and a Typhoon Lagoon-themed mug, refillable at a nearby drink station for the day. A cast member will also be available to take your orders throughout the day and deliver these to you. An alternative, is the Getaway Glen Umbrellas (max 4 people) which includes two loungers, two low beach chairs, a cocktail table, and four towels. This is about $58 per day.
Ticket Information
Can you use magic bands at Typhoon Lagoon?

Magic bands can be used for admission into the park. There are locations in Typhoon Lagoon where professional photographers can take photos although this is limited compared to the main parks.
Restrictions
Are there smoking areas in Typhoon Lagoon?

Disney's Typhoon Lagoon has a designated smoking area at the main entrance. Smoking around the park in prohibited.
Disney's Typhoon Lagoon Water Park Reviews
Had a good day. It was cold but still had a good time

Helen Plumley reviewed Disney's Typhoon Lagoon Water Park 23 Nov, 2023

Great location good fun to have

Rita King reviewed Disney's Typhoon Lagoon Water Park 22 Nov, 2023

A really fun good all round park and part of our disney ticket package with you

Kelly Lockey reviewed Disney's Typhoon Lagoon Water Park 20 Nov, 2023

Great park but food options very limited

Trusted Customer reviewed Disney's Typhoon Lagoon Water Park 18 Nov, 2023

Enjoyed half a say here as closed at 5pm,also closed second week and blizzard beach opened,so only one water park open october and november and only till 5pm

Anne Luty reviewed Disney's Typhoon Lagoon Water Park 17 Nov, 2023
©Disney © & ™ Lucasfilm Ltd
People who purchased Disney's Typhoon Lagoon Water Park also viewed...